Sports: Divergent Story Lines Dominate Championship Weekend
by Lucas Garrison, Sports Editor
Championship weekend continues to loom on the horizon, and we could potentially see a rematch of Super Bowl 1, which would make Roger Goodell ridiculously happy. On the other hand, we could see the "feel good" story of the year surprise all the doubters and make it to the big dance. Whatever teams move onto the Super Bowl will provide some high-end entertainment for viewers across the world.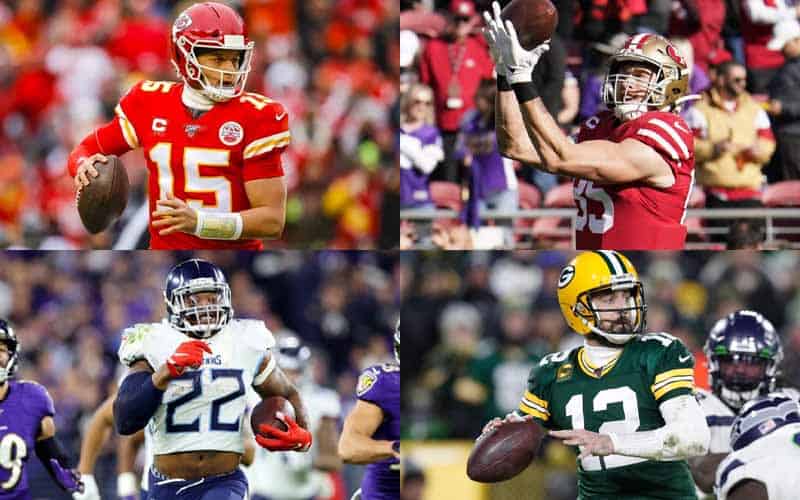 AFC
Titans vs. Chiefs, arguably the most unpredictable match up, takes place Sunday at 12:05pm (PST). The Titans are rolling on the offensive side of the ball because of one man. The man nicknamed "Tractorcito" finished the regular season as the league's leading rusher and has been steamrolling over defenses this postseason. 
Derrick Henry ran the ball 64 times over the last two playoff games and put up 377 rushing YDs, but wait he only has 1 TD. How have these Titans knocked off the Patriots and the Ravens? The answer: head coach Mike Vrabel, who continuously this season has proved he can coach.
He's adjusted his defensive scheme each game this postseason and made the decision to put the ball in Ryan Tannehill's hands week 6 and make him the starter for the remainder of the season. Vrabel continues to show that if you run a balanced offense, and adjust your defense each week to who you are playing, you will consistently contend against any team. The Titans will be a headache for Andy Reid and the Chiefs this week.
The Chiefs have arguably the league's top Quarterback, an innovative coach, and a new and improved defense. Kansas City this season overcame the loss of Patrick Mahomes, for two weeks, and completely reshaped their defense, which proved to be the Achilles' heel last season. We all remember the Dee Ford incident. The Chiefs' off-season included several moves to bolster a weak defense and add one key piece to an offense that lost their Pro Bowl running back to suspension.
Kansas City began this off-season by adding defensive coordinator Steve Spagnuolo and allowing him to bring in the defensive position coaches that would allow the Chiefs to be elite. The second large move was trading for Frank Clark, who in my personal opinion is a huge upgrade over Dee Ford, who has moved on to the 49ers. Then general manager Brett Veach and head coach Andy Reid signed free agent safety Tyrann Mathieu and drafted safety Juan Thornhill. 
Thornhill continuously proves that he is going to become a star. Thornhill, however, suffered a devastating injury. Yes, he tore his ACL, an injury that has become more and more prevalent in the league. Before his injury week 17, Thornhill forced 3 INT, 5 PD, and 1 TD. But, not all is lost, Tyrann Mathieu continues to be the unsung leader of this defense. All experts thought that Mathieu was having a Pro Bowl season, but unexpectedly was snubbed from the roster. Mathieu has put up numbers, which include 4 INT and 12 PD. Those are Pro-Bowl numbers, and Mathieu is such an impact player that when he is just in the zone a QB will think twice about throwing to his side of the field.
NFC
The Packers will travel to the West Coast this week to take on the 49ers in Levi Stadium, Sunday afternoon at 3:40 (PST). Both teams this season have had Super Bowl contending years and would be fit to represent the NFC. However, these teams faced off earlier this year and the 49ers won convincingly by a score of 37-8. Do I expect the same outcome? No, the Niners, in my opinion, have taken a step back since that game, but still are great, but the Packers are a different team in the playoffs and are nothing short of DANGEROUS.
The Packers have a former league MVP and arguably the most talented QB to ever play the position in Aaron Rodgers, along with a young and innovative head Matt Lafleur. Packers fans also have two huge playmakers on the offensive and defensive side of the ball to look forward too, respectively.
Aaron Jones, who tied for first place in league rushing TDs and averaging 4.7 yds per carry, is a top-three rusher in the league this season. Jones posted numbers that included 1,084 rushing yds, 236 rushing attempts, which all resulted in a league-best 16 rushing TDs. The Packers also have arguably a top-five WR in the NFL, Davante Adams.
Adams this season struggled a bit with production early on. However, he was able to turn this around the second half of the season, and posted numbers which included 997 receiving yds, 5 TDs, and 83 receptions. Yes, these are low numbers for a leagues star WR, however, the majority of these numbers were posted second half of the season which allowed for him to be top 15 in the league numbers second half of the year. 
On the defensive side, you have the "Bash Bros," Preston and Za'darius Smith. These two guys continue to prove that they are headaches for offenses. Za'darius Smith is popularly viewed as either one of, if not, the best pass rusher in the NFL this season. Smith posted numbers that included 41 solo tackles, 13.5 sacks, and one forced fumble.
The 49ers this season proved that they are the league's best all-around team. Niners fans waited for years for their team to return to the top. They've done it, and you might be asking, "How?."
Well, it began with drafting smart, namely Nick Bosa, Mike McGlinchey, George Kittle, and Deebo Samuel. Every single one of these guys brings something to the table. The Niners' front office was also smart by allowing themselves to spend money on big free agents and trading for Stars. Most notably, Richard Sherman, Emmanuel Sanders, and Kwon Alexander. The Niners will prove to be a headache for the Packers.
This weekend will show either a true underdog story, a rematch of Super Bowl 1, or even a team most people overlooked before the season started. Either way, we are in for an exciting weekend and an even better Super Bowl.
FINAL SCORES:
Chiefs 35 – Titans 31
Packers 28 – 49ers 21