Around Bosco
AROUND BOSCO: HISTORIC WINTER FORMAL KING CROWNED DURING HOMECOMING BASKETBALL GAME
by Isaac Mays, Sports Editor
At St. John Bosco High School's very own Thunderdome, St. Joseph's Associated Student Body (ASB) revealed the Winter Formal Dance King, Phansidilang "King" Dina, who is the first ever international student elected King.
Anticipation arose leading up to Friday, January 20th, where the court and King was celebrated. During halftime of the Bosco Basketball Homecoming Game, all nominees lined up for the reveal. Much of the study body gathered to watch the Braves face off against the Servite Friars, as they also cheered on their classmates in the race for Formal King.
One senior would be crowned as the King, while the others would serve on the Winter Formal Court. The 2023 senior nominees included Alex Palmer, Ryan Gutierrez and King (Phansidilang) Dina. Additionally, junior princes Max Abrahamson and Grant Hidalgo-Villanueva were given the opportunity to serve on the court after winning their respective elections.
During halftime, candidates were escorted by Saint Joseph's ASB onto the gym floor. Senior Grace Maxwell crowned King Dina as the official 2023 Winter Formal King. The crowd erupted into applause as the King, King, would now be supported by Ryan, Alex, Max and Grant as his Formal Court.
"I feel like I belong somewhere. I am also representing Asian communities out there, not just Saint John Bosco or Saint Joseph's," King said.
King is an international student from Phnom Penh, Cambodia, and is a member of the Bosco's International Exchange Program. King has become the first exchange student to win the title of Formal King in school history. King participates in extracurricular activities, such as Kairos, and also maintains a job as a barista at a local boba shop.
"I just want to say thank you to Bosco and Joseph's for voting me on as Formal King."
Spectators were also very impressed with the overall preparation that the Bosco administration had put into the event. All of the pairs walking up to the gym floor were dressed in formal attire as they processed in perfect fashion. FULL STORY
AROUND BOSCO: BOSCO'S 3 VS. 3 INTRAMURAL BASKETBALL TOURNAMENT CATCHES BUZZ ACROSS CAMPUS
by Brett Baligad, Senior Editor
During Winter Homecoming week, the Braves hosted their second annual Intramural Basketball Tournament. The finals took place last Friday in St. John Bosco's Thunderdome during the Winter Sports Rally.
Basketball is in full swing on St. John Bosco's campus. Despite the excitement surrounding the Braves' varsity basketball team's eight-game winning streak, it seems that Bosco's second annual intramural basketball tournament has garnered the focus of the entire student body, who were fixated about who would come out on top. Founded in 2022 as the proverbial successor to "Bosco NBA," the inaugural tournament featured the teachers, "The L.B. Dawgs," winning it all, as they knocked off "Wavy Navy" in the finals.
In order to join, teams registered their three person roster, an alternate and a team name. From there, the bracket and game schedule were created. Executive Board Co-President Tyler Baligad was a major contributor to organizing the rosters.
"I know the student body really well and I wanted to make sure there were exciting first round matchups. By doing so, it would attract a lot of viewership over the two weeks, and I believe that was achieved. I also [felt] like we [had] a pretty solid group of teams heading into the Final Four," Tyler said.
The tournament has taken place over two weeks leading up to the finals this Friday. With four rounds, the finals will take place in front of the student body at the Winter Sports Rally. The games are single elimination with all baskets being worth one point up until the finals where three pointers are awarded two points. Lastly, games are played with a fifteen minute game clock.
The Final Four teams included "Chadwell (Linda)," "Top 2 Not 2," "Fantastic 3" and "The Teachers." FULL STORY
AROUND BOSCO: THE BLACK STUDENT UNION WILL HOST THEIR FIRST ANNUAL COOKOUT
by Noah Dawson
The St. John Bosco's Black Student Union (BSU) cordially invites everyone to their inaugural BSU Cookout event, an occasion to celebrate the diversity and culture of the greater community.
Get ready for a day of fun and food on February 4th, as the cookout event marks a unique opportunity for members from across the Bosco community and beyond to come to participate in games, eat food and connect with students from across the Los Angeles area and celebrating the strength of different cultures.
From 2-4:00 pm, the event is open exclusively to Bosco students and faculty, as the Brave family will be treated to an array of mouthwatering Cajun dishes from local caterers that represent black culture and business in partnership with Black on the Block. There will also be side dishes, such as potato salad, coleslaw and baked beans. The event opens to the public starting at 4:00 pm and ending at 8:00 pm. Food will be still be available to purchase during that timespan for those non-Bosco attendees and latecomers.
Following food, there will be an array of games and activities. This includes a three-legged race and a water balloon toss sponsored by St. Joseph's High School's Black Student Association. The night will conclude with a showing of the film Do the Right Thing.
"We are incredibly excited to be partnering with St. Joseph's to make this happen. This is going to be such an amazing opportunity for all of the black students from different schools to come together, meet each other and form partnerships for years to come," said BSU faculty moderator Mrs. Michelle Dolphin.
The excitement is palpable, as students, teachers and staff eagerly await the cookout in the school's Mary Help of Christians Quad.
"I am beyond thrilled that we are hosting our first-ever cookout," said counselor Alyssa Skipper. "Celebrating different cultures and putting our amazing Black Student Union at the forefront is so important for our school community. This is going to be a fantastic event that brings everyone together." FULL STORY
AROUND BOSCO: ANNUAL MOTHER & SON BREAKFAST BRINGS CHRISTMAS JOY TO BOSCO COMMUNITY
by Brett Baligad, Senior Editor
This past Sunday, Braves and their maternal figures celebrated Bosco's annual Mother and Son Breakfast.
As the holidays are in full swing, members of the Bosco community are not shy about welcoming the Christmas cheer. To kick off the month, the Parent Association hosted their annual Mother and Son Breakfast. The event took place at Quiet Cannon in Montebello, as it invited all Bosco students to attend a morning mass, enjoy breakfast and hear from a guest speaker. Students were accompanied by mothers, aunts and grandmothers who have impacted their lives the most. Faculty were in attendance, too, as Principal Dr. Kris Anderson and President Dr. Brian Wickstrom were in attendance with their families.
Mass began at 9 a.m. on Sunday morning. Father Ted led mass while being accompanied by a choir and band consisting of Bosco students. Fr. Ted would dedicate his Homily to the mothers in attendance, as he recollected a story about a man who donated holiday goods to a Canadian family years ago.
"Fr. Ted had a very moving Homily. It resonated deeply with me since the story took place in Alberta, Canada and my in-laws are from there," said Mrs. Janine Mays, mother of senior Isaac Mays. "It is brutally cold in the winter time, and I can only imagine how that single mother must have felt when the man showed up with food and toys. That was a miracle on its own, and when the child asked, 'Is that Jesus?' That gave me chills. 'Yes, my child, he is our Jesus.' Jesus lives in all of us all time, not just at Christmas."
The Homily came with perfect timing, catering to all of the mothers that sacrifice for their children along with a sense of hope during Christmas time.
Following the Mass, a catered breakfast was open to guests. While breakfast was being served, there were raffles, silent auctions and vendors. Raffles included gift baskets from notable sports teams on campus including Football, Baseball, Basketball and Esports. FULL STORY
AROUND BOSCO: THE BROTHERS OF BOSCO ARE THE NEWEST SERVICE CLUB ON CAMPUS
by Marco Castro
The Brothers of Bosco strive to make an impact on the communities of Baja California, Mexico. With the help of Co-Presidents Tyler Baligad and Christopher Facio, the club hopes to continue to unite the Brave community through service.
As St. John Bosco Braves, students are called to be men of service, and one new club has certainly answered that call. The Brothers of Bosco, founded by seniors Brett and Tyler Baligad, is a new service club on campus that donates money and supplies to the communities of Ensenada, Mexico.
"We started the club earlier this year because my brother Brett and I saw an opportunity to give back to our grandparents' church," said Tyler. "During Covid-19, our grandparents retired in Ensenada, Mexico. Working with their pastor, Fr. Rodolfo, we saw an opportunity to do good."
After recognizing the chance to help, Brett and Tyler reached out to their friends in the Bosco community for assistance in providing to these people. One person who answered the call to help is the club's other Co-President, senior Christopher Facio.
"When Brett and Tyler brought up the idea, I was really excited and honored that they wanted me to be part of the moment," said Christopher.
After assembling a group of students to lead the club, they needed a teacher moderator to officially become a club on campus. Luckily for them, science teacher Mr. Ruben Solorza, Class of '13, was more than willing to help. FULL STORY
AROUND BOSCO: RECTOR MAJOR FATHER ÁNGEL FERNÁNDEZ ARTIME VISITS ST. JOHN BOSCO HIGH SCHOOL
by Noah Dawson
Prior to the Thanksgiving break, the Tenth Successor of Don Bosco, Fr. Ángel Fernández Artime, also known as the Rector Major, came to our campus to share with us his story and offer blessings to St. John Bosco's students and staff.
Father Fernandez was born on August 21st 1960 in Luanco-Gozon, Asturias, Spain and was ordained a priest on July 4th, 1987 in Leon, France. He went on to become the Provincial Superior of South Argentina in 2009, meaning he would oversee the religious operation for the Salesians in Argentina from Buenos Aires. He then went on to climb the ranks of the Church when he was appointed Superior of the new Province of Mediterranean Spain, dedicated to "Mary Help of Christians."
He continued and took upon himself a new role on March 25th, 2014, when he was elected as the new Rector Major of the Salesian Congregation and the Tenth Successor of Don Bosco. The Rector Major position is one of the highest honors one can receive in the Salesian order, and the position holds much responsibility and power.
"The Rector Major is the succession of Don Bosco himself and has the expectation to not only continue but build upon Don Bosco's mission," said St. John Bosco's Spiritual Director, Father Ted Montemayor. FULL STORY
AROUND BOSCO: ST. JOHN BOSCO AND ST. JOSEPH HIGH SCHOOL REVIVE LONG MISSED TRADITION OF SENIORS TRADING PLACES
by Isaac Mays, Sport Editor
St. John Bosco and St. Joseph's High School seniors brought back an old tradition of swapping campuses and enjoying a "day in the life" of fellow Braves and Jesters.
Brave and Jester seniors were given the opportunity to enroll in a raffle that gave them both a chance, if chosen, to trade places with one another to experience what life is like in each other's shoes.
Bosco made sure to accommodate the St. Joseph's Jesters as much as possible, as faculty members designed specific lesson plans for their visitors.
"The faculty has been really nice. They've helped me out with any questions I've had," said St. Joseph's senior Cynthia Ortiz.
Braves and Jesters alike were contributing in classes and were given a fun chance to bond, making many envy the co-ed schooling system.
Bosco's Senior Board provided lunch inside the MPR with pizza for all the seniors to share together. Seniors were able to converse with their peers without being separated by their gendered schools. Throughout the entire experience, many new friendships were made, as people interacted that typically never would.
The level of friendliness that was shown throughout the school impressed the Jester visitors. Any negative dispositions held against the Bosco Braves were quickly disproved, as new perspectives were gained.
Many Jesters spoke of being apprehensive regarding their journey to Bosco, although all were happy they did. Most credited the Braves for helping them with tasks that would be difficult without prior knowledge of the school. Jesters were specifically grateful that the Braves helped guide them throughout campus and walk them to their classes. FULL STORY
AROUND BOSCO: BOSCO HONORS LIVES OF THE DECEASED AT ANNUAL DIA DE LOS MUERTOS CELEBRATION
by Brett Baligad, Senior Editor
Filling the Mary Help of Christians Quad with lights and colors, Dia de los Muertos brought the solemnity and unity of the Brave community, as they mourned and celebrated the lives of their passed loved ones. The successful event was filled with clubs and organizations from across campus honoring family, friends and fallen Braves.
Dia de los Muertos is a special celebration within the Catholic faith, specifically in the Los Angeles Archdiocese. With a large influence of Hispanic culture within the Bosco community, Dia de los Muertos celebrations have always been a significant part of the Bosco community. Preparations for this annual event have been going on for months, as altars, vendors, and artists became the stars of the evening.
Last Wednesday, students could find clubs setting up for the evening as early as the start of school that morning. Altars lined the center of the quad honoring different loved ones, such as former St. John Bosco staff, grandparents, family members, pets and veterans. These altars were hosted by on-campus organizations, such as the Religion Department, World Language Department, Parents Association, ASB, Golf, Football and many more.
Accompanied by the altars were marigolds and ofrendas. Marigolds are orange flowers that use their scent to attract the souls of the dead toward the ofrendas. The ofrendas are offerings that are typically the deceased loved ones favorite foods or items. FULL STORY
AROUND BOSCO: BOSCO FOOTBALL MEET WITH RAMS' PRO BOWL CORNERBACK JALEN RAMSEY
by Marcelles Williams
Four-Star St. John Bosco Football cornerback Marcelles Williams recounts his encounter with NFL star Jalen Ramsey.
On Tuesday, October 18th, Bosco Football welcomed Jalen Ramsey, a member of the Los Angeles Rams, Super Bowl Champion, three-time First Team All-Pro and five-time Pro Bowler, who met with all of the varsity defensive backs, including me, for around an hour and a half. He left me awestruck as he stood before me. Not only does he play for my favorite team, he happens to be my favorite player in the NFL.
I was sort of star-struck and couldn't believe that I was able to meet and talk with arguably the best player in the world at my position. Ramsey's where I strive to be someday and to hear how he got there inspired my Bosco Brothers and me. He gave some strong and influential messages during his time on campus. He talked about a lot of things that related to us, like college recruitment, watching film and the things he did at a young age to set himself up for success in the future. I feel that I will be able to use his words and advice to help guide me throughout my athletic journey.
When things go wrong, Jalen does not let it get to him and that can really help me in life by not letting my emotions get the best of me.
"Stay steady. Let me not get too mad, too down, too angry at myself, I just need to stay steady," Ramsey said.
Ramsey is not your average NFL defensive back. What I believe separates him from the others is his mentality and all the extra work he puts in. Ramsey's mantra is: "Be The Best. Simple." He proves he is year in and year out. All the extra work he puts in contributes to that. FULL STORY
AROUND BOSCO: BOSCO AND ST. JOSEPH'S CELEBRATE "A DANCE FOR THE AGES" FOR THIS YEAR'S HOMECOMING
by Isaac Mays, Sports Editor
Following a blowout victory during Friday night's Homecoming Game against Orange Lutheran High School, the Homecoming Dance took place on Sunday afternoon, as the Natural History Museum of Los Angeles County hosted St. John Bosco and St. Joseph's to provide a unique and exciting Homecoming experience. 
Bosco's administration chose this venue because it allowed exhibits to be open and accessible, setting a Jurrassic age tone for the dance. Complete fossil structures and life sized dinosaurs were large centerpieces for the evening, and right as the doors opened, they were made clearly visible.
Throughout the dance floor many prehistoric animal enclosures depicted and showcased many animals in their natural environment. The area known as "Mammal Hall" helped the students feel surrounded by the prehistoric setting. The venue played a major part in the awe-inspiring evening, with many feeling as if they traveled back in time.
"The theme was 'Back to the Ages,' so being in the Natural History Museum it kind of set the theme for itself," said freshmen Associated Student Body (ASB) member and commissioner Kai Maldonado.
The Homecoming Dance Planning Committee more than did their part, providing food and refreshments for the evening. Ample drinks, such as punch, lemonade and refreshing water, were available throughout the entire night, while cheese displayed elegantly on charcuterie boards was readily available.
"The Homecoming Planning Committee really went above and beyond this evening," said senior and ASB Co-President Ryan Gutierrez. "I helped choose this venue, and it really stood out to me. I hope it made a really positive impact and a memorable experience on all the guests in attendance."
Students felt that the dance also provided an experience that they could be proud of. Many Bosco Braves and St. Joseph's Jesters alike brought dates from other schools. It allowed many new faces to have a great impression of our community. FULL STORY
AROUND BOSCO: BOSCO WELCOMES BACK "BRAVE FOR A DAY" SHADOW PROGRAM
by Marcelles Williams
The "Brave For a Day" shadow program is one of Bosco's top admissions resources. With a successful start to the application season, more prospective students are learning about Bosco's Brotherhood.
St. John Bosco hosted its first group of "shadows" on September 7th and have been going strong ever since. The school has hosted around 150 shadows so far and that number is going to grow with more future Braves shadowing over the upcoming months. There is expected to be over 500 shadows by the end of the application season. The shadow program is essential for our admissions as over 50% of shadows end up attending Bosco and joining the Brotherhood.
When students shadow, the parents of those prospective students are able to take a tour around campus. Spearheaded by Ms. Patty Lazcano, parents get to learn about the Bosco experience and the programs the school has to offer.
"We start in the 200 building, go over to the 300/400 buildings, then we crossover to the athletic side and show them the weight room and talk about the garden, then talk about our other soccer and lacrosse fields, then we come back with a Q and A at the end," said Ms. Lazcano.
Ms. Lazcano as the Shadow Program Coordinator has a big role in the school's admissions and getting new students into the Bosco Brotherhood. When asked how parents feel about shadowing at Bosco, she replied, "Really really good. The kids are no different, either; they always say they had a great day." FULL STORY
AROUND BOSCO: BOSCO'S SURF TEAM CATCHES A WAVE AS THE NEWEST CLUB ON CAMPUS
by Marco Castro
Senior Isaac Mays leads the newest club on campus, as he hopes to bring the joy of surfing to St. John Bosco High School. The club is open to all levels of surfing and plans to host their inaugural meeting this Saturday morning at the Seal Beach Jetty.
Isaac Mays has been surfing for many years, and with the help of club co-founder, fellow senior Ryan Gutierrez, Isaac looks to extend his love for aquatics with all of the Bosco community. Inspired by the success of nearby schools, Isaac was in awe with the camaraderie that was built within the surf community. Being a part of both Varsity Water Polo and Swim, he wanted to make a club that went in hand with his love for water sports.
"We have a competition planned with Long Beach Poly High School around winter time this year," Isaac said.
Surf competitions are scored by judges and participants are given points based on the skills displayed while surfing. More points are awarded for doing tricks, which Isaac doesn't think many people will be doing at their competitions.
Although there will be frequent competitions, potential members do not need prior experience to be a part of the Surf Team.
"No experience is necessary; we're just looking to have a fun time," Isaac said. FULL STORY
AROUND BOSCO: ST. JOHN BOSCO AND ST. JOSEPH'S SENIORS GOT THEIR GROOVE ON AT ANNUAL SENIOR LUAU
by Brett Baligad, Senior Editor
This year's Senior Luau was filled with plenty to see, do and eat. The successful night is a strong indicator for what the rest of the year has in store for the graduating Class of 2023.
After long preparation, the Senior Luau made it's return to St. John Bosco High School. Every year, each class hosts an annual class bonding event. This includes the Freshmen Barbecue, Sophomore Lock In, Junior Picnic and Senior Luau. A luau is a Hawaiian party with food and live entertainment. Due to the COVID-19 pandemic, the Senior Luau is only the second class event for the class of 2023, as they hosted a successful Junior Picnic last spring.
The luau was held last Wednesday and started at 6:30pm and concluded at 9:00pm. Upon entering the Mary Help of Christians Quad, seniors were greeted with Hawaiian music, pick up volleyball games and plenty of students dressed to the theme. The quad was lined with round tables for Bosco and Joseph's seniors to socialize.
Not long after the beginning of the luau, seniors were served Hawaiian food, while they caught up with their Brave brothers and Jesters sisters. Even after four years together, to many, it was surprising to see there were still a lot of new faces to meet and befriend.
"Because this was only our second class event, I was still unfamiliar with some [St. Joseph's] seniors, as we don't see them everyday. However, it was good to introduce myself and make new friends," said senior Sam Hentges. FULL STORY
AROUND BOSCO: BOSCO TO REQUIRE FINANCIAL LITERACY COURSE AS PREREQUISITE TO GRADUATE
by Brett Baligad, Senior Editor
The Entrepreneurship Pathway opens its doors to the student body, offering the entire campus the opportunity to learn financial literacy. 
Although the Financial Literacy course has already been around since 2018, the course was exclusive to the Entrepreneurship Pathway seniors by coordinators Mr. Bryce Weiglin and Mr. Shane Beatty. In collaboration with President Dr. Wickstrom, Mr. Weiglin felt that it was necessary that all students be able to graduate with financial literacy.
"Financial literacy at SJB teaches students the basics of money management: budgeting, saving, debt, investing, giving and more," said Mr. Weiglin. "That knowledge lays a foundation for students to build strong money habits early on and avoid many of the mistakes that lead to lifelong money struggles."
This course will be offered in-person and virtually in partnership with SJB Global. SJB Global is Bosco's new online schooling platform that may potentially have students enrolling across the world. This is a major change in Salesian education, extending the boundaries and wisdom St. John Bosco has to offer.
"It's important to empower the next generation and teach them to handle their money wisely. We want our kids, and honestly all students to beat the statistics. This course will be offered online for non-SJB students as well, to allow for a much greater reach," said Mr. Weiglin. FULL STORY
AROUND BOSCO: THE BRAVES WELCOME BACK A FAMILIAR FACE TO SPEARHEAD NEW LUNCH PROGRAM
by Marco Castro
St. John Bosco High School's new lunch service has created positive buzz around campus, catering to all students, faculty and staff with fresh and delicious food.
Bosco has had its fair share of struggles with keeping a lunch program, with this program being its fourth lunch program in four years. Otto Rafael Penarredonda, CEO of Alumni Solutions and member of the Bosco Class of 1974, has come to end those problems, implementing a new lunch program made to last. When Bosco reached out to Mr. Penarredonda, he was hesitant at first but after much prayer and consideration, he decided he was going to help.
"If any school other than St. John Bosco asked, I would've said no," said Mr. Penarredonda.
Being an alumnus of the school, he understood the problems Bosco was facing and felt he owed the community.
"St. John Bosco gave me a foundation that led me into my early 20s to become an entrepreneur."
Bosco's Principal, Dr. Kris Anderson, played an instrumental role in bringing Alumni Solutions to the Bosco Campus. After hearing the many complaints about the last food service, he knew it was time to look for a permanent solution to this problem.
"We were listening to the parents," Dr. Anderson said.
Their voices were heard, and Alumni Solutions was brought to the Bosco campus. As many students have noticed, Alumni Solutions is not a typical food service. One major difference is the cashless system, which raised the eyebrows of many students on campus. FULL STORY
AROUND BOSCO: NEW MARINE BIOLOGY COURSE ADDED TO CURRICULUM
By. Robert Visty III
St. John Bosco High School added a new course to its semester one curriculum: Marine Biology. Spearheaded by Bosco alumnus and environmental science teacher Mr. Ruben Solorza, the class aims to expand on the unit of marine biology previously taught within Environmental Science.
"Last year in Environmental Science, I told Mr. Solorza that I liked marine biology, and he told me, 'Let us create a class,' and so now here we are," said marine biology student and senior Myles Vaughn.
Student enthusiasm is abundant in the Marine Biology classroom. Many students in this year's course were in the previous Environmental Science class, and because of this previous experience, they are quite passionate about the new course and its subject matter.
"A lot of students were excited about the marine biology unit in last year's Environmental Science class," said Mr. Solorza. "There was a lot of student support, so I'm glad we did it," said Mr. Solorza.
This year, Mr. Solorza plans on doing multiple extracurricular activities with the Marine Biology class, including dissecting squid and a trip down to the tide pools at Palos Verdes. FULL STORY
AROUND BOSCO: ST. JOHN BOSCO CAPS OFF THE FIRST WEEK OF SCHOOL WITH A WELL-RECEIVED Y2K DANCE
by Isaac Mays, Sports Editor
Last Friday, the St. John Bosco Brave and St. Joseph's Jester communities took a blast to the past with 2000s inspired music, clothes and Polaroids. The welcome dance's success shows promise for what the rest of the school year has in store.
Last week's Y2K Welcome Dance was the first of many for incoming and transfer students. With over 300 freshmen combined between the Bosco and Joseph's classes, the dance welcomed over 700 students in attendance from not just the Brave and Jester communities, but also students from neighboring Catholic schools.
Hosted in the Bosco gymnasium, the Thunderdome, the dance brought the theme back to the year 2000 with all Y2K themed décor. The throwback featured many aspects unfamiliar to the typical lives of teens growing up after the early 2000s. Associated Student Body (ASB) and Bosco's Dance Committee, who spearheaded the planning of the event, implemented a Polaroid camera station for patrons of the dance to attend and get photos on the spot in Y2K style.
The theme offered students options to expand their wardrobe's fashion options. A glow in the dark lighting scheme incorporated black lights to illuminate the dance floor. FULL STORY
AROUND BOSCO: ROBOTICS BREAKS RECORDS IN RETURN TO COMPETITION
by Matthew Parsons
After the disastrous era of the COVID-19 pandemic, Bosco's robotics program started from the ground up to make a strong return to the field of competition.
The robotics program at Bosco competes in the international program known as, For Inspiration and Recognition of Science and Technology (FIRST), also known as the FRC (FIRST Robotics Competition).
This is the first year since the beginning of the COVID-19 pandemic that Bosco has been able to have a team compete in the robotics competition, meaning that the so-called veterans of the team who are the juniors still only had the experience of their freshman year under their belt. Although their team is extremely young and inexperienced in working together, they pulled through.
In the FRC, a challenge is set that teams internationally assemble a robot that fulfills the parameters of said challenge. This happens on the day known as Kickoff Day, where teams across the world tune in to a live stream that reveals the challenge. Kickoff Day signifies the beginning of the build season which lasts around 8-9 weeks. FULL STORY
AROUND BOSCO: BOSCO THEATER PERFORMS SHREK THE MUSICAL
Last week, the Five Sisters Theatre Company of St. Joseph's High School took the audience's breath away with their Spring performance of Shrek: The Musical.
Based on the book by William Steig and the popular Dreamworks film, Shrek: The Musical is a touching tale about learning to love people for who they are. Most are familiar with animated film, but the musical adaptation brings the show to new heights and seeing Bosco and St. Joseph students up on stage made the story all the more entertaining.
Directed by Larry Van Deventer, the story follows an ogre named Shrek, played by junior Connor Sheehan and his trusty sidekick, Donkey, played by junior Alex Palmer. Together they set off on a quest to deliver Princess Fiona, played by junior Oliva Herron, to Lord Farquaad, played by senior Kriss Valente, in exchange for the swamp Shrek calls home.
At the beginning of the play, others see Shrek as a scary monster, so he shuts the world out, believing that people will only ever see him this way. However, as the story progresses, Shrek learns that just because he looks like a monster on the outside, he doesn't have to act like savagely on the inside. This heart-warming message of self-love is aligned with the Salesian message of St. John Bosco. FULL STORY
AROUND BOSCO: ANNUAL FATHER AND SON CAR SHOW REACHES RECORD ATTENDANCE
by Brett Baligad
Last weekend, the Brave community welcomed students and their fathers at the annual Father and Son Car Show.
Landing with a POW, over one hundred cars showed up to this year's superhero-themed car show. Plenty of fathers and sons showed up with a BANG, repping their favorite superhero apparel. With the recent opening of The Batman, Gotham's caped crusader proved to have had the most love. This year's event had an outstanding two hundred students and fathers attend.
The Sunday morning began with mass in the Chapel presided by Fr. Ted Montemayor. During his procession, Fr. Ted was welcomed by Theater Director Martin Lang who accompanied the piano for the service. Upon entering, students were given their 'Participation Passport' that, if fully completed, would be their ticket for being entered for a chance to win an Xbox Series S later in the afternoon. With plenty of more incentives, students and their fathers were more inclined to visit all of the activities the Car Show had to offer.
Following the mass, students were free to visit all of the classic, muscle, and sports cars the intramural field had to offer. The event sponsor this year was Team Mopar 360 who showed with the majority of the vehicles. On top of this, many unique cars made an appearance too. FULL STORY
AROUND BOSCO: CALIFORNIA LIFTS INDOOR MASK MANDATE FOR SCHOOLS
by Andrew Fierro, Managing Editor
Starting tomorrow and in full effect when students arrive to class on Monday, St. John Bosco High School will adhere to the new guidance of the California Department of Public Health (CDPH), eliminating the indoor mask mandate in schools for the first time in two years.
Going along with Orange County, Los Angeles County lifted their indoor mask mandate for businesses and was one of the few remaining counties in the whole country to do so. Following this, K-12 schools through will also be lifting their mask mandate. However, the CDPH still strongly recommends teachers, staff and students to continue to wear masks indoors, despite the fact it is no longer required.
More and more students have been itching to go without masks, and as the COVID-19 numbers continue to diminish, they has been an eagerness for the mask mandate to be lifted.
"I think that the masks make it difficult in class. Sometimes I am not able to hear my teachers because of their masks and it also makes my glasses fog up which can be very annoying," said senior Joshua Joson. FULL STORY
AROUND BOSCO: CELEBRATING THE LIFE AND SERVICE OF MR. MONTY MCDERMOTT
by Eric Torres, Editor-in-Chief
Last Friday, the Brave community gathered to celebrate and remember the life of the ultimate Brave, Mr. Monty McDermott, class of 1986.
Fittingly, the funeral took place in Panish Family Stadium, a large symbol of the culture that Mr. McDermott instilled, especially in the area of athletics.
As a reminder of who Mr. McDermott was, and what he valued, the stadium was filled with Bosco alumni, from past teachers to old friends and family of Mr. McDermott.
The service began with a rendition of the song "Beth" by the American rock band Kiss, who Mr. McDermott was a noted superfan. The music was played by theater instructors Mr. Martin Lang, Tim McNalley, James Flaherty and Marco Soronio, who in addition played the music for the rest of the mass, with a rock twist.
Furthermore, the speakers who participated in the mass were a well-chosen list of Bosco and St. Joseph alumni, both students and teachers, who either had a strong connection with Mr. McDermott or are a member of his department. These speakers included religious studies teacher and football coach Mr. Joseph Griffin, class of 1975, Director of Football Operations Mrs. Jessie Christensen, St. Joseph class of 1989, former golf coach and former religious studies teacher Mr. Jack Hastert, class of 1970, football player Jairus Satele, baseball player Jake Ellison and cross country runner Chris Chavez, all class of 2022. FULL STORY
AROUND BOSCO: BRAVE TEACHERS DEFEAT STUDENTS IN THRILLING 3V3 TOURNAMENT
by Aydn Morris
In Bosco's Winter Spirit Week's 3v3 basketball tournament, both teachers and students enjoyed friendly competition, with the teachers coming out on top.
In the 16-team tournament, the Long Beach Dawgs came with the win, following two huge back-to-back victories against Bosco Baseball and Wavy Navy in the championship game. For winning the tournament, the Dawgs' players received a $40 Nike gift card for their effort. The Dawgs team consisted of basketball coach Michael Bartelt, history teacher and former baseball coach Mr. Mario Cordero, water polo head coach and Olympic Hall-of-famer Mr. Jeff Powers and basketball coach Ms. Allegra Weinstein.
Mr. Cordero randomly selected the team to participate in tournament.
"I clicked the link to sign up for the 3v3 tournament, and put down myself, Powers, Bartelt and Weinstein, and they didn't even know until I sent them a screenshot saying 'Congratulations, you're on the LB Dawgs,'" said Mr. Cordero.
Due to this random selection, some Dawgs players were not ready to play, which gave them some trouble throughout the tournament. FULL LINK
AROUND BOSCO: ST. JOHN BOSCO ROBOTICS KICKS OFF THE YEAR IN PREPARATION FOR 2022 COMPETITIONS
by Brett Baligad
Moderated by Engineering Pathway Coordinator Mr. Walt Wippler, Tribe Robotics looks to pick up where they left off from last year's success.
Led by junior Loreto Albaran, the young squad will rely on many new faces to help bring the program to glory.
During the offseason, leaders mentored newcomers by teaching them basic programming and building skills in preparation for the start of the 2022 season. Students were given the option to become skilled in coding or hands-on building. The squad has high hopes as more students are becoming involved in STEM at Bosco by joining the Tribe Robotics Team.
"You can have entry-level experience and we will take you. We teach you in the preseason, and by the kickoff date, you have enough experience to make a solid impact for the team," said junior Loreto Albaran.
This year, all robotics teams across the country are required to complete multiple specific tasks. These include creating a hundred-pound robot that can collect and shoot rubber balls into a hoop for points, along with having the hundred-pound robot remarkably climb on its own along with a climbing frame. This work has the team meeting six days a week in preparation for their first competition in March. FULL STORY
AROUND BOSCO: BRAVE COMMUNITY CELEBRATES BOTH FATHER LENTI AND THE FEAST OF ST. JOHN BOSCO
by Andrew Fierro, Managing Editor
Today is not only the feast day of St. John Bosco, but also the birthday of Fr. Arthur Lenti, who was gentle, kind-hearted and a great role model to the school.
St. John Bosco was born on August 16, 1815, in Italy. He became a role model for young children and most importantly helped underprivileged children to reach their full potential. This was his moral mission from a young age, and he always looked out for children his entire life.
At the age of eleven, St. John Bosco had a dream that changed the course of his life and many others'. In this dream, he was in a field, with a lot of kids fighting, and he saw Mary, who taught him how he could win the children over and how to guide them. After that dream, he went on to help children and later start an oratory for the underprivileged children of the region.
St. John Bosco High School is of course modeled off of the views and methods of its namesake, St. John Bosco, and the teachers and faculty do everything they can to create the same environment for the students as St. John Bosco did for his children. St. John Bosco High School's Fr. Ted Montemayor is well-versed on St. John Bosco's life. FULL STORY
AROUND BOSCO: BRAVES RETURN WITH A NEW YEAR'S RESOLUTION TO KEEP CELL PHONES OFF CAMPUS
by Aeden Alexander, Sports Editor
St. John Bosco welcomes the students back on campus after a three-week vacation, looking to finish off the 2021-22 school year strong with new policies and rules.
This new policy officially started January 10th, the day students returned to class, and is in full effect with rules and consequences should the policy be violated.
The new policy states that all students must keep their cell phones in their backpack the entire school day, and must not be used unless in the case of an immediate emergency. If a student chooses to go against the policy, their phone will be taken away and the student will be given a Saturday detention.
For many months teachers have had issues with students having their cell phones out, and often talked about what it would be like with a policy like this in place. FULL STORY
AROUND BOSCO: ST. JOHN BOSCO MOURNS THE LOSS OF LONGTIME ATHLETIC DIRECTOR AND ALUMNUS MR. MONTY MCDERMOTT
by Eric Torres, Editor-In-Chief
Last week, the Brave community lost Mr. Monty McDermott, class of 1986, who most notably served as the Director of Athletics, but to many, was far more than that.
For 29 wonderful years, Mr. McDermott was a pillar of St. John Bosco. Since taking over as Athletic Director in 2002, St. John Bosco enjoyed the most successful athletic department run in the school's history. Including a move into the elite Trinity League, Mr. McDermott is responsible for many of the changes that led to the successes that the school and its community have been accustomed to for quite some time now.
During his time as Athletic Director, St. John Bosco won a remarkable 52 varsity league titles, 79 CIF titles, 26 state championships and 11 national championships.
"They (Mr. McDermott and former principal Pat Lee) made an institutional commitment to compete with the teams in the Trinity League," said instructor of Religious Studies Mr. Joe Griffin, class of 1975.
Although all of Bosco's athletic teams have seen vast improvements since the beginning of his tenure, Mr. McDermott's transformation of Bosco football into a powerhouse on the national level was one of, if not his most incredible accomplishment. Bosco football's success began roughly a decade ago, with league titles in 2012, 2013, 2014, 2015 and 2018, state championships in 2013, 2016, and 2019, with those 2013 and 2019 campaigns ending with the Braves as National Champions. FULL STORY
AROUND BOSCO: ST. JOHN BOSCO FIGHTS TO STAY OPEN AMONG COVID-19 SURGE
by Andrew Fierro, Managing Editor
As the new Omicron variant continues to spread rapidly across the nation, colleges across the state are beginning to return to online learning. However, St. John Bosco has taken preventive measures in order to stay in person as initially planned.
The first detected case of the variant in the United States occurred on December 1st in California. Since then, the variant has spread rapidly across the state and as well as the country. This variant has proven to be more contagious than the prior variants and has caused turmoil everywhere it has spread.
Since the first arrival of the variant, cases of COVID-19 have risen to record high numbers, with the average number of cases per week being more than double than that of a year prior, according to data released January 5th.
Though there has been an astronomical increase in the number of cases, the amount of hospitalizations are very low compared to the amount of contracted cases. The chances of someone being hospitalized due to the variant is only 2% with only a 5% chance of being admitted to the emergency room. FULL STORY
The Bosco Community Enters the Christmas Season with the Annual Door Decorating Competition
by Jeremiah Davis
Last week, many teachers and students got into the Christmas spirit through the annual door decorating contest at St. John Bosco.
The competition, started by ASB and available to all who wanted to participate, gave each teacher a chance to truly show their creative side, while also having fun. Because this is a competition, the top three decorative doors were selected for the final round. Out of the three finalists, one door was selected as the winner.
One finalist, Mrs. Becky Ellison, decorated her door in a very creative fashion, centered around Bosco and what it has to offer. In addition, she added something that was near and dear to her heart: her kids' old toy named Freddie the Elf, which was used by her kids to spread Christmas cheer in and around their household.
"I wanted to base my door around Admissions, and I was able to do this using Bosco the Elf, whose real name is Freddie the Elf. It was a toy that my kids had previously owned when they were little, and it was used to spread Christmas cheer in our household. The elf takes a tour of every Pathway and sport on campus which is pretty neat," said Mrs. Ellison. FULL STORY
Father Nguyen Vien Arrives at Bosco to Spread Faith
by Ethan Gibbs
Before Thanksgiving Break, St. John Bosco welcomed Father Nguyen Vien to campus to share valuable insight.
Father Vien has faced many challenges when trying to get young people involved in the faith. Due to new lifestyles and options, fewer and fewer young men are being involved with the faith and God.
The number of Priests and Brothers in the Church is decreasing. Since 2017, there has been a decline in the number of members of the Church. The Salesians of Don Bosco USA West have seen very few new vocations for many years now.
Another issue that Father Vien has observed is social media. Although he believes that it can be beneficial and helpful, it can also be a distraction to life in front of you. FULL STORY
AROUND BOSCO: ST. JOHN BOSCO HOSTS FIRST DÍA DE LOS MUERTOS EVENT IN TWO YEARS
By Nicholas Neoman
Last week, various Bosco clubs and organizations filled the quad in celebration of Día de los Muertos, or Day of the Dead.
Beginning in the afternoon, pictures of deceased loved ones, candles, marigolds and other treasured paraphernalia packed the quad. These items, of course, made up an "ofrenda" in honor of people in the Saint John Bosco community that passed away. Students and teachers alike came together to assemble these altars and remember the loved ones that they miss.
In the evening, the celebration of life began. Vendors from Bosco sold Mexican food while people from all around the community gathered together. As always in the Salesian tradition, Father Ted and the Youth Ministry team began the event in prayer, asking God to remember those who have passed on. Father Ted passed by each "ofrenda," raising incense in their honor and blessing their pictures with holy water.
After this prayer service, the festival of life began. Latin music filled the air as people from all around the community started to socialize and celebrate Día de los Muertos. Some students and faculty, who grew up in communities that celebrated Día de los Muertos, felt very at home during the event.
"My family used to take Día de los Muertos very seriously, especially in the factor of not being fearful in the face of death. The only thing that you should fear is God, and death is just a byproduct, and it is actually an entrance to a new world," said faculty member Mr. Rummel Requerme. FULL STORY
AROUND BOSCO: BOSCO FOOTBALL DEFEATS SERVITE AS STUDENTS CELEBRATE A HOMECOMING FOR THE AGES
by Aeden Alexander, Sports Editor
Last Friday, the Bosco Braves played their final football game of the regular season against Trinity League rivals, the Servite Friars, as both Bosco and St. Joseph's High School celebrated their first homecoming since 2019.
The weekend started under Friday night lights, with Bosco taking on another nationally ranked league opponent in Servite. Both sides played a magnificent game, though the Braves edge out the Friars in the end by a final score 24-10.
The homecoming court was brought out during halftime and consisted of junior princesses Nicole Milliman and Valerie Moreno as well as senior princesses Judy Uyanne, Brianna Golini and Amy Rincon. During halftime, they would also announce the Homecoming Queen along with a spectacular firework show.
After the court was brought out, it was time to announce the Queen, with the entire stadium rumbling as Judy Uyanne was announced. She was given the coveted tiara as the fireworks were set off capping off an unforgettable night.
"It caught me by surprise. I was not expecting to win. There [were] so many beautiful girls up [there] alongside me, and I was just so happy to even be [there]. But, it was an honor to be named as Homecoming Queen and feel so blessed," said Homecoming Queen Judy Uyanne.
The following night was the Homecoming dance, which began at 8:00 PM at Santa Anita Park in Arcadia. The venue overlooked the storied horse racing track that has been home to many big races in the past. FULL STORY
AROUND BOSCO: AFTER A YEAR APART, SENIORS FROM BOSCO AND ST. JOSEPH COME TOGETHER FOR THE ANNUAL SENIOR LUAU
by Aydn Morris
Polynesian culture has been incorporated into the Salesian community after the fantastic Senior Luau event put together by St. John Bosco and St. Joseph.
There is absolutely no better way to throw a party that celebrates the seniors of SJ and SJB, than a Hawaiian luau theme. The senior luau was held on Wednesday, October 28, 2021, and started at 6:30pm and concluded at 9:00pm.
A luau is a Polynesian ritual, the act is meant to socially gather and unite the community in a celebration of a significant event. After losing a year of social interaction due to COVID-19, the luau acted as an incredible opportunity to unite the Bosco and Joseph community together, with both schools having an amazing, as well as unique, high school experience.
The senior luau was a great opportunity for the two schools' students to come together to meet and get to know more about each other. With both classes having spent a whole year online, it was great for the community to get back together and meet new people.
The luau consisted of a beautiful entertainment performance, with music, dancing and most importantly great food. The performers included three women and one man, who danced and sang for different polynesian countries such as Fiji, New Zealand and many more. The show lasted about an hour long and not only did they perform to the senior class, but they also educated many of them in the polynesian ritual.
Although the performance as a whole was outstanding, many believed the best part of the performance was the finale. FULL STORY
Around Bosco: New Hip-Hop Class Becomes One of the Most Popular Electives at Bosco
by Jeremiah Davis
St. John Bosco continues to innovate by bringing new courses to campus. One such class that is taking the school by storm is Hip-Hop: Formation, Structure and Production.
St. John Bosco High School has always had a curriculum that is ever evolving and always open to the acquisition of new courses. The new hip-hop class, taught by Mr. Martin Lang and Mr. Ramon Villanueva, had students lining up for the opportunity to learn about one of America's most significant and influential music genres.
The class has only one available section, but it is filled to capacity with 28 kids. The main goal for this class is to help students learn to write their own lyrics while also teaching them how to record and produce a song from top to bottom. The class instruction is exactly like the students would expect from the name: "Formation, Structure, and Production."
"The students have particularly enjoyed the overall dynamic of what we are trying to teach them in this class which makes our job easier," said Mr. Villanueva, Bosco's Band Director and one of the hip-hop course instructors.
The class was introduced on campus this year and instantly gained interest from a lot of students. FULL STORY
Around Bosco: Bosco E-Sports Unveils Brand New, State-of-the-Art Gaming Room
By Ethan Gibbs
In partnership with the technology giant Razer, St. John Bosco invested in its growing E-sports program with a pristine gaming room, equaling several thousands of dollars.
The brand new E-sports room is filled with top-of-the-line equipment, including 20 personal computers (PCs), three Xboxes, three PlayStations and three Nintendo Switches.
This new room, located on the third floor of the 200 building, is a significant improvement over the previous E-sports facility. Previously, E-sports was based in the 300 building computer lab, and their computers were too weak to run most video games, leading them to only be able to compete in one video game, League of Legends.
However, the new, stronger computers, can run any game that is currently on the market. For example, the games that are now offered for the E-sports team in addition to League of Legends are Valorant, Overwatch, Fortnite, Smite, Rocket League and Splatoon.
The new E-sports room has helped increase the interest in E-sports from Bosco students. Since last fall, the Esports team has gained at least 15 new members.
"I believe E-sports is growing. The gaming industry is about four billion dollars in the world, and with so many different games and growth, there are so many jobs. There is a lot of opportunity there," said Coach Giangualano, the head coach of the E-sports team. FULL STORY
Around Bosco: Students Learn Horticulture In Bosco's New Community Garden
By Dominic Ramirez
Following the construction of a 6,000 square foot garden, St. John Bosco is getting students more involved in the food-making process with agriculture classes and a Horticulture Club.
The garden is located beyond the left field fence of the baseball field. Construction of the garden, which consists of eight planter beds, one vineyard and one citrus orchard, broke ground in January and was completed over the Summer.
In the wake of the new garden's construction, students founded the Horticulture Club, which is open to anyone on campus who is passionate about plants and gardening. In addition, agriculture classes are available to juniors and seniors.
Prominent figures involved with the horticulture program at St. John Bosco include Mr. Nathan Corkhill, moderator of the Horticulture Club, Mrs. Diaz, a master chef and leader of the Bosco Bread Company, and Ms. Aleshire, a master gardener who helps with gardens in schools across Los Angeles.
The food grown in the garden is sold in the student store in menu items such as breakfast burritos or zucchini bowls, which can be bought and eaten by the entire student body.
"The original design is built for growing food on campus that students can have for lunch and snack, which gives students a farm-to-table experience," said Mr. Corkhill. FULL STORY
Triduum Week Returns To Spread "Brave Love"
by Eric Torres, Editor-in-Chief
In keeping with Salesian tradition, St. John Bosco celebrated Triduum this week, a period of self-reflection and preparation for a new school year, which includes the release of the new strenna for 2021-2022.
The word "Triduum" itself is defined as a three day preparation for an event. The most notable is the Paschal Triduum, or the three day period that precedes Easter Sunday. The Salesians of Don Bosco, however, observe another Triduum, one which is observed in September and is celebrated by the release of a strenna.
The strenna, which is taken from the Italian word for gift, is a theme that students and members of the Salesian community strive to live by. This year, the strenna released by the Salesians of Don Bosco was: "Do all through love, nothing through constraint." At St. John Bosco High School, however, it is adapted to align more with the school community. Thus, at Bosco, the strenna amended, while still maintaining its general meaning: "Brave love still stands, even when all else has failed."
"We wanted to make our strenna something that is more personal for us. We get to live out the same prayers that St. John Bosco used to give the same spirit and joy to the students, and we want to carry that tradition," said Brother Quang Nguyen, Bosco's director of Campus Youth Ministry.
Although COVID-19 regulations have limited some of the more festive celebrations of the Triduum at Bosco, the three-day period still has a lot of spiritual value. At St. John Bosco, students had the opportunity to reflect, go to Reconciliation, and celebrate Mass, which was the first event on campus with the new strenna. FULL STORY
Club Carnival Returns to Widespread Excitement
by Eric Torres, Editor-in-Chief
St. John Bosco High School hosts its first Club Carnival in two years after a long drought caused by the COVID-19 pandemic.
On Wednesday, students had the opportunity to participate in clubs around the campus and get more involved with the school.
Twenty-nine clubs, representing many different students' interests, filled the quad with each club having a table designed with posters and other decorations. From Tribe Robotics to the International Club, students had a wide variety of options. Hundreds of students, of all grade levels, signed up to participate in clubs with many students joining multiple clubs.
At St. John Bosco, every student has the opportunity to start or join a club that piques their interests. If a student finds that there is no club for them, all they need to do is find a teacher to moderate and they can start their own club. Although clubs are student-ran, staff members are still active members of the club process. FULL STORY
Bosco Community Rejoices as On-Campus Learning Returns
by Aydn Morris
After a long 522-day wait, St. John Bosco High School has finally completely reopened for on-campus learning.
On May 13, 2020, St. John Bosco closed their school campus due to the spread COVID-19. As of Aug 17, 2021, St. John Bosco has officially reopened their whole campus for all students and staff, but still has to hold strict restrictions due to the Los Angeles County Health Guidelines.
As everyone would expect, the school wants to be able to have the campus open for the entirety of the school year. This would mean that there will have to be health and safety restrictions and complete cooperation between students, teachers and staff.
"The best way to keep everyone safe is to follow the rules with mask and if there is any sort of symptomatic feeling of COVID-19 to not come to school because it would be safer for everyone, even if it feels like it's a sacrifice to make," said newly appointed Vice Principal of Student Affairs, Mrs. Jen Schnorr. FULL STORY
by Ian Cook
St. John Bosco announces a new and improved strength and conditioning facility just as the 2021-2022 school year and athletic seasons kick off.
A brand new, state of the art Strength and Conditioning Center will open at St. John Bosco High School in just a few days. Although the Pandemic has put many obstacles in front of Bosco, this has not stopped the school from working toward the goal of helping boys become men in all facets of the academic and athletic experience.
The school received brand new dumbbells, bumper plates branded with the St. John Bosco Brave logo, squat racks, leveled out rubber flooring and more modern technology.
"We have a camera system coming in that will record every athlete's reps, sets and also track their speed and velocity so that our guys will have something to shoot toward," said Steven Lo, the football program's offensive coordinator and the school's Strength and Conditioning Coordinator. FULL STORY
by Diego Santizo, Sports Editor
After a long delay due to the COVID-19 pandemic, Bosco Football is back, as the Braves are set to take on Sierra Canyon at Panish Family Stadium tomorrow. Despite some new names and younger players leading the team this year, the Braves are still overwhelmingly favored to defend their championship throne.
The last time St. John Bosco played in an official game wearing its school uniforms, it was while beating De La Salle High School in the 2019 state championship that also crowned the Braves the undisputed National Champions. Prior to the COVID-19 shutdown, St. John Bosco were originally scheduled to kick off their season with an opening game against the same Northern California powerhouse De La Salle, but that game was canceled as the pandemic forced the state to shove football back several times.
St. John Bosco will now instead host reigning CIF-SS Division 2 champion Sierra Canyon this Saturday on their home turf looking to show the world they haven't missed a beat. Last Saturday, St. John Bosco and Damien High School got together at Damien for a scrimmage before both team's upcoming season openers.
While they spent the first half hour working on special teams and scrimmaged just two quarters, it was worth it for both teams to finally feel what it's like to trade paint again. It won't be a full season, but for St. John Bosco High School Head Coach Jason Negro, it's something to celebrate. FULL STORY.
by Joshua Hernandez, Editor in Chief and Joaquin Medrano, Managing Editor
The St. John Bosco High School community is one step closer to true normalcy. At the start of 2021, the school opened its doors to students for the first time since its initial shutdown due to COVID-19 in March of 2020, albeit in a much different manner than students and teachers are accustomed to.
Before being allowed to return to campus, students who felt comfortable enough to return to school were subject to showing proof of a negative COVID-19 test as well as agreeing to adhere to the standard protocols set by school officials and local guidelines while on campus.
Amongst the protocols and guidelines those who returned must follow are social distancing, mask-wearing, using sanitizers and following passing period walkways set by the school. Moreover, students are subject to temperature checks upon their arrival to campus.
In addition to this, students who returned to school only go to campus twice a week with specific cohorts, or a designated classroom they must remain in. While the students on campus are doing three of their four classes virtually through Zoom, they are under the supervision of the teacher who is in charge of their specific cohort. FULL STORY.
by John Udabe
In striving to keep tradition going, St. John Bosco's annual tree lighting goes virtual.
St. John Bosco is staying busy during the Christmas season. The unusual circumstances that we all are facing have definitely put a damper on the year, yet Bosco is not letting that get the best of them.
For obvious reasons, in-person events this year must be kept to a minimum. Because of this, the annual tree lighting that we are typically used to cannot happen on campus. Yet this is a minor issue to overcome for the Braves.
This year, the annual tree lighting is going virtual. Premiering Tuesday, December 15th on YouTube, it will feature the same Christmas cheer we are all used to. Hosted by Student Leadership, the online event will feature the music, entertainment, and good tidings that have occurred in the past events. FULL STORY.
by Zach Gardiner
Due to the COVID-19 Pandemic, Bosco's Class of 2021 may not be able to experience Kairos, the well renowned senior retreat which brings the class together and creates memories that last a lifetime.
Kairos is the spiritual trip that the seniors of St. John Bosco High School take every year. The trip is supposed to bring seniors together and is a prime example of the famed Bosco brotherhood. As a 2021 graduate I speak for myself and plenty others when I say that Kairos is something that is very looked forward to. With this year's unprecedented events, that might not happen.
Earlier this week, Mr. Jaramillo, head of the retreat committee, spoke about the possibility of not having a Kairos retreat this year. When asked about how many Covid-19 cases the city of Bellflower would have to be under for a month, he said that it was "unclear at the moment but that it was most likely the same number for Bosco to have permission to go back to school next semester". FULL STORY.
by Diego Santizo, Sports Editor
In what was supposed to soon be the grand reopening for De La Salle and St. John Bosco, kicking off the high school football season in California will have to be delayed once again due to the ongoing Coronavirus pandemic.
The rematch of last season's Open Division state championship game, won by Bosco nearly 12 months ago, was scheduled to unfold in Southern California on January 8th.
The announcement last Tuesday has determined that high school football practice in California won't start until state health officials provide guidelines for youth sports, presumably once COVID-19 cases are flattened once again, thus the De La Salle-Bosco game won't happen in early January.
De La Salle coach Justin Alumbaugh said Tuesday that it could, noting that in conversations he's had with coaches, including Bosco's Jason Negro, everybody is on the same page. FULL STORY.
by Pedro Ochoa
For the first time in history, St. John Bosco will light up its 36-acre campus and invite the community to come enjoy a contactless, socially distant Christmas Lights Experience!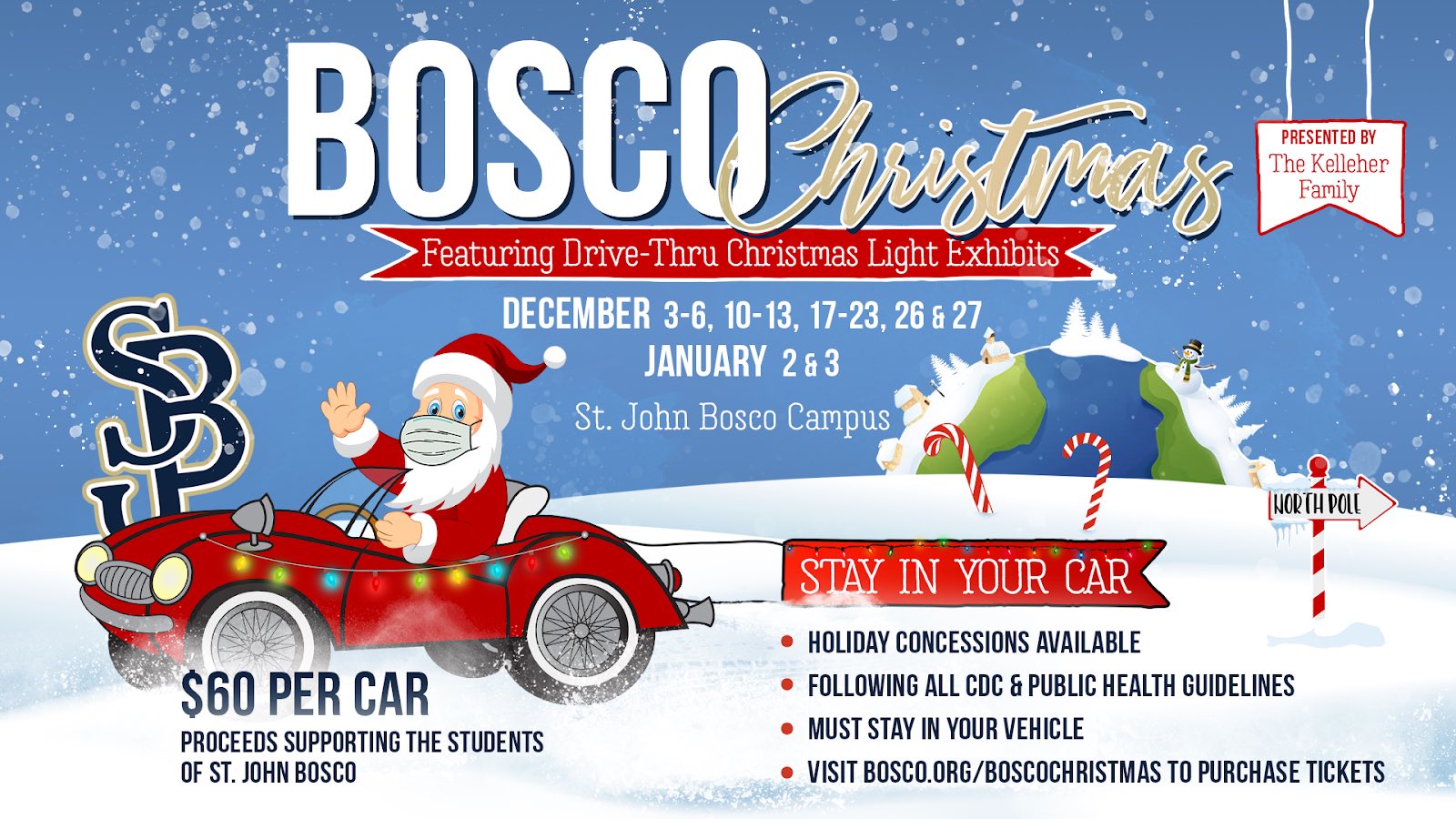 The biggest St. John Bosco fundraiser of the long 2020 year has officially begun! St. John Bosco has always been known for their involvement with the community. Some of the main events that they have hosted have been annual Tree Lighting and the Día De Los Muertos celebration.
Due to the Covid-19 guidelines, Bosco has been unable to do many involved community events. This is why this big Drive-Thru Christmas Lights Exhibit is so important. This is a once in a lifetime opportunity to view the new lit up 36 acre campus! Not only will you be able to view the beautiful Christmas lights, but you will also be supporting Bosco Student-Life, as all of the proceeds will go towards the students! FULL STORY.
by Pedro Ochoa
Different members of our community at Bosco are preparing to make a difference in these season of Benevolenza both locally and internationally.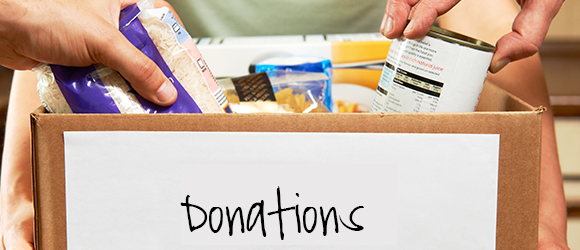 The Season of Giving just got a little more brighter and joyful! The second opportunity of giving during the Season of Benevolenza has started with the Toy Drive. There will always be a time for you to be able to donate, as there will be toy bins in front of the school until December 17th.
We are approaching the end of the Season of Benevolenza, the season of giving, with the Toy Drive being part of the last event! The Toy Drive has been going on for more than 25 years at St. John Bosco High School, and it is only getting bigger every year. FULL STORY.
by Diego Santizo, Sports Editor
The St. John Bosco High School E-sports team is currently on the rise and is already getting eyes looking their way as they have struck a deal with Gamer Company Razer.
Bosco E-sports is a relatively new program who not so long ago weren't even a club on campus and now have struck a deal with one of the world's leading lifestyle brands for gamers, Razer.
It has been nothing short of a long road to get to where the program is today and a huge contributing factor to why the program exists is Bosco E-sports Head Coach Gabe Giangualano.
"I had a proposal for the school and next thing we know we had a big fifty player tryout which we narrowed down to twenty and that twenty was ultimately the twenty player roster we carried last season " said Giangualano.
Razer is a company known for landing huge partnerships as they sponsor Evil Geniuses who are one of the best E-sport teams in the world, UCLA who always have a solid E-sports program and now they've partnered with St. John Bosco High School. FULL STORY.
by Aydn Morris
Attention Braves! Attention Braves! One of the latest additions to the Saint John Bosco community is Ms. Yesenia Moreno, our newest counselor, take some time to know more about her!
Q. What college did you attend?
A. I attended the University of San Diego for both undergraduate and graduate degrees.
Q. What was your major/minor in College?
A. I majored in Psychology and double minor in Theatre Arts and Spanish.
Q. What high school did you attend?
A. I attended Cantwell Sacred Heart of Mary High School.
Q. Are you from California, if not where are you from?
A. Yes, I am from California. Born and raised in Montebello.
Q. If there was any place in the world you could travel, where would you go?
A. The next place I would love to visit is New Zealand. I have been interested in visiting since high school but have not had the opportunity to visit yet. FULL STORY.
by Ryan Tavera
St John Bosco's Season of Benevolenza highlights the importance of giving from ourselves to others especially in the time of solidarity and confusion the event calls out to our Bosco Braves in order to contribute to our community.
The Season of Benevolenza has always been a staple event in St John Bosco High School's history, as it marks our time to give back to the larger community and make an impact in other's lives. The specific drives that Bosco does annually are the Food Drive and Toy drive.
"Giving is always important but recognizing that there are particular times of the year we should focus on these things and around Thanksgiving and Christmas it represents a good opportunity and recognizing that it's really about giving. It's giving of ourselves to other people like our family and to our larger community," said Christian Service Coordinator John Weinandy. FULL STORY.
by Joaquin Medrano, Managing Editor
During recent months, several plans for a future reopening of the school have been thwarted by health guidelines keeping Los Angeles County in the state's "purple tier," as St. John Bosco High School waits to open its doors for in-person learning.
As cases in LA County remain high, the chance for the school to reopen in the near future gets further and further delayed. But that hasn't been all negative, as it's given Bosco time to prepare and create a safe environment.
"I think that COVID is something that could help us prepare for any type of challenge that comes in the future," said Bosco CEO and President Dr. Brian Wickstrom. "We have implemented bipolar ionization, which actually helps viruses and bacteria in the air, which I think it's a big positive in all student areas: classrooms, hallways, gathering spots. So I think our school is more prepared than most with all our agile space [on campus] for lunch and student gatherings." FULL STORY.
by Miles Bondoc
Prior to state and local COVID-19 protocols and guidelines, Bingo served as a major fundraising event at St. John Bosco. Bosco Bingo temporarily shut down following the closure of the campus in March, but returned to campus in new form last month, bringing back the funds and the fun.
Bingo returned amidst the COVID-19 chaos safely, introducing "car hop" bingo in partnership with BingoMeNow. Now, like back in the "old normal," Bosco hosts bingo each week – albeit in the parking lot – from 5:00-8:00 PM. Participants can reserve their spots now via the Bosco website.
The BingoMeNow app allows users to buy in and participate in car hop bingo. Bingo Manager Steve Waller oversaw the reopening process and wrote the school's plan in accordance with state and local COVID-19 protocols and guidelines for similar events. Prior to the return of bingo at Bosco, other bingo programs reopened, but many of them promptly shut down due to their lack of sufficient precaution. FULL STORY
by Diego Santizo, Sports Editor
St. John Bosco's Spanish Honors Society and Key Club came to an agreement to unite for every single service project for the remainder of the 2020-2021 school year, which can end up becoming an agreement for years to come.
Spanish Honors Society. Key Club. Two totally different clubs, yet two clubs with the same ambitions, announced an unexpected partnership and the future looks bright!
Spanish Honor Society Executive Director Joaquin Medrano, Key Club President Hector Andrade, Key Club and Spanish Honor Society Vice President Diego Santizo and Club Ambassador Pedro Ochoa were the four brilliant minds behind the partnership and have nothing but amazing ideas planned for the current school year regarding these two clubs. FULL STORY
by Aharon Colon, A+E Editor
This was originally supposed to be an article previewing the rest of the volleyball season, but instead it turned into a piece centered around the new pandemic and how it ended our Spring sport season.
The spring sports had so much promise to them leading up into the Trinity League season, notably baseball and volleyball. This volleyball season was set to feature a new core of talent, such as newly minted captain junior Matthew Medina and 6'4" sophomore Maxwell Wootton, who both have great potential.
Seniors Alex Rotter, Ian Callahan and Elijah McCray have been the glue and backbone of this team since entering the program as freshman. But sadly, they won't get to finish their seniors years as they might have envisioned. FULL STORY
by Lucas Garrison, Sports Editor
As the novel coronavirus, COVID-19, continues to have pandemic ramifications, the Bosco community finds itself the most recent victim of the fast-spreading global disease, as school administrators opt to suspend on-campus classes through at least next Friday. School will continue online for students starting next Wednesday via Schoology.
The Bosco community received an emailed statement from Principal Dr. Christian De Larkin at 8:16 pm Thursday night stating that a member of our community is in the process of being screened for the novel coronavirus. In response, the Brave administration decided to cancel school tomorrow Friday, March 13th through Monday, March 16th for faculty and staff. Next Tuesday, faculty and staff will return to receive training for online-based learning for students, which will resume beginning next Wednesday.
"Further details will be communicated regarding online learning guidelines and expectations. We will reevaluate school operations for the week of March 23 and update all early next week," said Principal De Larkin in his emailed statement to the community. FULL STORY
by Johnathan Gonzalez
On Friday, March 6th St. John Bosco hosted the junior picnic along with Saint Joseph's for the class of 2021.
This year's junior picnic held at St. John Bosco was brought together by the ASB board of Braves and Jesters, they brought the class of 2021 together through music, food, and games.
These games included cornhole, ping pong, a jumper, and musical chairs. These activities created a sense of competitiveness among students along with the fun atmosphere of the event. Furthermore, students were welcomed to warm pizza and cold sodas.
The junior picnic is a way for the Braves and Jesters to socialize within their class so that they can create more bonds with new students or even those who haven't yet met. FULL STORY
by Ryan Tavera
Last Thursday, St. John Bosco students were given the chance to share their faith with thousands of different students from around the country at Youth Day 2020.

"Hopefully, the students who were involved left inspired and challenged to live as missionary disciples in their homes, schools, parishes, and communities," said Brother Quang.
Twenty fortunate students went to Anaheim for the day, to see other kids their age who come from many different backgrounds all throughout the Archdiocese.
The staff and students were able to experience many unique workshops that focused on a certain aspect of life and how God can guide one through rough conditions. Bosco students found themselves in front of Bob Perron, an advocate of his faith and speaker. Perron's workshop dealt with relationships and if they are really worth the risk many go through to maintain them. FULL STORY
by Johnathan Gonzalez, Kristopher Leal
The Feast Day of St. John Bosco is a day that brings the saint back to life and brings him with the children of his school. St. John Bosco's sole purpose was to give new life and opportunities for disadvantaged youth and delinquents by giving them a home, a place to learn and opportunities that they would have never had.
His patron is of apprentices, editors and publishers, schoolchildren, magicians, and juvenile delinquents. On January 31, The Feast Day was a day dedicated to celebrating John Bosco.
The Feast Day is a very special occasion for St. John Bosco high school and allows for the students to truly understand what it means to be apart of the Bosco community. Mr. Avila, the director of student activities, recognizes the significance of the day and what it means for St. John Bosco and the Bosco community.
"It's our Patron Saints Feast Day. It's special because it's sort of like a birthday and it's a celebration of his life," said Mr. Avila.
Following the student's shortened classes, the day began with the Feast Day mass. This mass featured the new Archbishop Savio Hon Tai-Fai from Hong Kong, which was very interesting for each of us that took part. He is a Roman Catholic archbishop and the nuncio of the Holy See to Greece. The Bishop spoke about many life stories that the Braves enjoyed. In the ending portion of the mass, a senior named Noah Quezada stepped on the stage and took one for the Braves and politely asked the Bishop for a school day off, the Bishop thought about what he said and he decided it was a great idea to give us Braves a day off (That day has been decided to be placed in the month of March). FULL STORY
by Hunter Richardson, Assistant Sports Editor
The culmination of hard work and determination from the Braves football team all came together with a celebration of their historic achievements with the national championship parade and ceremony around the campus and inside Panish Family Stadium.
Bellflower Blvd. was packed with students, faculty, and parents as the Braves Football team paraded down the street to celebrate their historic season as CIF, State, and National Champions. This was not only an event for Bosco, but the whole city of Bellflower. Down Bellflower Blvd. fire trucks, police cars, and classic cars carrying public figures like the legendary Sam "Bam" Cunningham lead the parade while the Braves followed shortly behind on top of a couple of double-decker buses.
A few prominent players could not be in attendance for the celebration such as Quarterback DJ Uiagalelei who is away at Clemson, and Kourt Williams II who both took part in early enrollment. The Braves O-line held up a picture of the star Quarterback throughout the ceremony just to remind everyone of the beast that was slinging the ball this season. FULL STORY
by Ryan Tavera and Johnathan Gonzalez
Homecoming week is a memory filled period in the school year. The week is filled with activities, food and music that all build up to the big event, where friends come together for an unforgettable night: the Homecoming Dance.
November 3rd, 2019 will certainly be a night to cherish for many St. John Bosco and Joseph students, with bright lights and lively music fueling the exciting evening.
"The dance was actually a great time. I really enjoyed the whole event," said Bosco junior Hector Andrade.
When asked about the experience, many students shared this same response, so it's safe to say the night was a success, according to a majority of students interviewed. From Freshmen to Seniors, all were able to join each other on the dance floor and enjoy the night collectively, listening to their favorite music and conversing with friends.
"It was funny to see freshman at the dance all dressed up with their friends. it brought me back to when I was a freshman and my first dance," said St. Joseph's senior Grace Gonzalez. FULL STORY
by Emilio Ceja and Matthew Ruiz
Dia De Los Muertos, or Day of the Dead, is a Hispanic Holiday that is celebrated from October 31st through November 2nd. Every year this event is celebrated throughout Mexico, some parts of Central America and some parts of the United States, including our own community at St. John Bosco High School, which celebrated the event last Wednesday in the quad.
The Mexican Culture believes the Día De Los Muertos to be a time of remembrance and honor to their loved ones who have passed. They also believe the spirits of those who have passed return to be with their families. The way families remember their loved ones is by making a shrine or altar that contains pictures of who has passed, with their favorite foods, flowers, candles and other mementos that represents the deceased.
There are many ways cities celebrate Día De Los Muertos from concerts, festivals, parades and food trucks. In Mexico, there are a lot of cities that have big celebrations or fiestas to celebrate the holiday. In the United States, some well-known cities that celebrate this holiday are Los Angeles, San Diego, El Paso and New York City. These cities host large parades to highlight celebrations.
At Bosco, the Spanish Honors Society hosts our annual Día De Los Muertos Fiesta, which offers many different activities for the students, their friends and families. The event had food, music, altars and snacks and desserts being sold by clubs from around Bosco. FULL STORY
by Lucas Garrison, Sports Editor, and Isaiah Holm
The time is here for the most anticipated high school football game of the year, as the Bosco Braves take on the "team in red." However, the height of the competition seems like it won't be taking place on the gridiron, but online and at the box office.
Yes, this game not only sold out in less than 24 hours, but it is now facing problems of scalping of tickets, security and space.
Although the game selling out in less than 24 hours could be a story in itself, with so much going on as a result of the fast sell-out, we need to cover it all.
Let us start by taking a look at the scalping of tickets and tailgating spaces. Let me remind you that the tickets were released on Saturday morning, but the following Tuesday morning had someone reselling a ticket for $200. No one has ever heard of this before; this is a straight-up high school game that is having tickets being sold at the same price that several NFL teams sell their tickets. Later that afternoon, when this had been made public, someone posted a ticket pack of 5 tickets for $1500. High school games have never had tickets sell at this high index. FULL STORY
by Jonathan Gonzalez
Schoology, an internet-based learning program for grades K-12 where students can communicate with teachers, find the school calendar and, of course, see their grades, was launched this semester to mixed reviews.
A lot of Bosco parents are extremely involved with their son's academic lives, and most of the Bosco community may be familiar with our school's old system called Moodle. However, Vice Principal Edgar Salmingo ensured that Schoology was a practical and beneficial shift. Bosco has advanced its technology so their platforms are better equipped for students.
"Schoology is better at syncing with PowerSchool with grades–seeing your class, seeing when your homework is due. And it shows you what you have to do for homework that week," said Mr. Salmingo.
Students around campus are already noticing the benefits of the change. Junior Ben Hill believes that Schoology will decrease the stress and pressure he previously felt.
"Using Schoology now for personal use just for the students gives us less stress and pressure felt on from out parents since they no longer get notifications of our grades as were the ones who have to be dependable on our grades at our own pace," said Hill.
Teachers also feel that it is easier to put PowerPoints, Ed puzzles, notes, homework, tests/ quizzes, etc.; on Schoology. However, Schoology is also just a learning tool and it will not be able to replace PowerSchool. Mr. Salmingo believes that there is still a place for PowerSchool and that it will still be needed going forward. FULL STORY
by Elias Gomez
Vice Principal Mr. Edgar Salmingo returned from Manila with our Decathlon Program with "Coach of the Year" honors to his name, as Bosco students competed against 600 schools from thirty countries. As a result of their success, they qualified for the next stage of competition, The Tournament of Champions, at Yale University.
While the football team was traveling across the country, our Brave Decathletes took a fourteen-hour trip over the Pacific Ocean and across the globe. Having such a long trip gave competitors time to study and, less importantly, watch all the complimentary movies. The food on the flight was inviting and so were the stewardesses, both of which added to create a hospitable environment throughout the long flight.
They were there for a week but only two days of competition. The first day consisted of the Scholars Challenge (120 questions multiple-choice exam), Team writing (collaborative essays) and the Scholars Debate; all of which take up the entire day. The Scholars Challenge is 75 minutes, the Team Writing is 60 minutes, and the Team Debates vary from two to three hours. FULL STORY