Life of a Brave
Senior Privileges Are Awarded To The Class Of 2023
by Brett Baligad, Senior Editor
As the class of 2023 begins their eigth semester, the Senior Board approves class privileges based on the behavior of the overall class. Through spirit wear on finals week, college sweatshirts and extended access to the Oratory, the class of 2023 reflects on their final months at Bosco.
With graduation in sight for the class of 2023, the much anticipated senior privileges have just been implemented. The privileges are conditional, as they represent the leadership and maturity of the school. Throughout their time at Bosco, the seniors had the opportunity to move up the ranks and learn how to lead by example. In turn, the decision to initiate the requested privileges was granted.
"By being role models in the first semester, the administration determines our worthiness of deserving senior privileges and how many," said Associated Student Body Co-President Ryan Gutierrez.
In collaboration with the administration, the senior class board was able to come to terms with what would be appropriate class privileges.
The first privilege is to have the opportunity to wear college sweatshirts everyday. By April, a vast majority of the senior Braves will have all of their heard back about their college application. With many students already being accepted through early decision, early action and outright athletic scholarships, the past few weeks have already featured college sweatshirts from across the country. FULL STORY
St. Joseph's High School Host Winter Formal Dance
by Carter Daley
After a relaxing Christmas Break, St. John Bosco and St. Joseph's High Schools celebrated their Winter Formal Dance at The MODERN, a venue known for unparalleled views and private jet runways.
The MODERN is located on the top floor of the Sky Harbor Hanger giving a fantastic view of not only the city of Long Beach, but also the award-winning Long Beach Airport. The venue is most notably used for weddings.
The event began at 8pm on Saturday as students arrived in party buses and carpools. Upon entering, students were greeted by each school's respective faculty as they checked in. Accompanied by two private elevators, the area also includes a lounge where students can dance, a center bar to serve food and beverages along with a terrace that overlooks the dance floor. The appearance of the venue allowed students to have a great time in a smaller environment.
"Saint Joseph's ASB Board wanted to take a more intimate and smaller approach to this year's Winter Formal dance, as opposed to this year's Homecoming Dance," said Vice Principal of Student Affairs Ms. Jen Schnorr. FULL STORY
Unsung Hero, Director Of Basketball Operations And Football Equipment Manager Coach Burrel Lee
by Christian Angel, Managing Editor
St. John Bosco's Burrel Lee plays a vital role in the basketball and football programs. He works tirelessly to ensure the CIF State Champion football team is prepared with all their equipment and the basketball program runs smoothly.
Coach Burrel is a well-known face within the Brave community. Whether it is as a substitute teacher, a proctor for an exam, Bosco Football's Equipment Manager or Bosco Basketball's Director of Operations, Burrel Lee has done it all.
Born in Compton, California, Coach Burrel graduated from Antelope Valley High School in 1993. He started off his career in the WNBA, working many years with the LA Sparks.
More recently, Coach Burrel was the Head Coach of St. Joseph's High School Basketball, and currently is the CEO and Director of SoCal Buzz, a youth basketball team he created in 2010. There, he learned everything about game day organizational skills and basketball skills.
"In 2016 when Coach Matt Dunn called me to work with Bosco Basketball, without hesitation I said yes. And that is where I came in to help manage the program and organize all the pieces needed in order to make sure this program can continue to succeed," said Coach Burrel. FULL STORY
Unsung Hero, Dean Of Enrollment Mrs. Becky Ellison
by Ed Crowe
Anyone who has walked into Mrs. Becky Ellison's office has been the beneficiary of her kindness, compassion and selfless attention. 
Mrs. Ellison is a treasure to the Bosco community. As the dean of enrollment, she has helped many students of St. John Bosco High School in their admissions process. She works with many eighth graders with their incoming freshmen interviews, along with giving tours of the St. John Bosco campus. However, her biggest work comes with the responsibility of planning and organizing Open House.
As part of the admissions department, Admissions Coordinator Mrs. Patty Lazcano works alongside Mrs. Ellison and has developed a strong friendship with her.
"I think there is no better person than Mrs. Ellison. She has a strong faith that is lived out everyday. She is always serving others and being a role model to our Bosco community. Her laughter is contagious and her heart is huge. I feel very honored and blessed to be working alongside her," Mrs. Lazcano said.
"Smart, funny, committed, honest, Godly woman. A wonderful Mother and hard working." FULL STORY
21 Questions With New SJB Global Director, Mrs. Diane Gihring
by Christian Angel, Managing Editor
St. John Bosco High School welcomes SJB Global Director Mrs. Diane Gihring, as she works to serve all students on campus and around the world with St. John Bosco High School's innovative online learning option.
Q. Where did you grow up?
A. I grew up in Corona, California.
Q. What school did you attend for university?
A. I got my Bachelors degree at Concordia University Irvine. I studied English and got my Teaching Credential at Concordia University. I also attended Chapman University and got my Masters degree in English. I am currently attending Claremont Graduate University and pursuing my Doctorate degree in English.
Q. Do you have any prior experiences working in constructing an online school program as SJB Global?
A. Yes! I helped build Orange Lutheran Online starting 20 years ago. I created online classes, trained and taught online as a teacher, became an administrator and oversaw the day to day running of the online school and visioning for the future.  This included hiring, training, and supervising online teachers, developing and overseeing curriculum creation, and working with students and our office team to support everyone in their roles. FULL STORY
21 Questions With New Learning Specialist And Counselor, Mrs. Cathy Roohan
by Noah Dawson
St. John Bosco High School welcomes Mrs. Cathy Roohan, a former Bosco parent, to the counseling staff as a Learning Specialist and STEP Counselor, working to serve all students with their academic needs.
Q. Where did you grow up?
A. As an immigrant family, I moved to where my father's job took us. After we arrived in the United States, we lived in Eagle Rock and Koreatown. I also lived in Costa Mesa, Garden Grove and Huntington Beach. When people ask where I am from, I say Huntington Beach because I spent my high school years in HB, and it is the city where I spent the most years growing up as a teenager.
Q. What school did you attend for high school?
A. For high school, I attended a very small religious-based school, Liberty Christian School, in Huntington Beach. This is significant because it formed the foundation for my spirituality and Catholic-Christian worldview.
Q. What school did you attend for university?
A. I attended Boston College, just outside of Boston, Massachusetts for my undergraduate years. At this Jesuit college, I re-discovered my Catholic-Christian identity, which reshaped or redefined my worldview. FULL STORY
21 Questions For The Newest Addition To The Athletic Training Team, Christain Knighten
by Christian Angel, Managing Editor
St. John Bosco High School welcomes new athletic trainer and sports medicine teacher, Mr. Christian Knighten, as he works his hardest to give the best possible experience, treatment, and wisdom to the athletes and students on and off the field.
Q. Where were you born?
A. I was born at Torrance Memorial Hospital.
Q. Where did you grow up?
A. From the age of three, I was raised in Mariposa California. So while I was born in Los Angeles, I consider my hometown to be Mariposa, a small little mountain town at the base of Yosemite National Park.
Q. Where did you go to college and what did you study?
A. I studied at Long Beach State university, with my major being Athletic Training.
Q. What was your dream job growing up as a kid?
A. As a kid my dream jobs changed from wanting to be a movie director or screenwriter to working in physical therapy. FULL STORY
For Alumni Teachers, Bosco Is A Home Away From Home
by William Reynolds and Ed Crowe
In the wake of Homecoming Week, alumni faculty reflect on the influence St. John Bosco High School had on their own academic career. With many alumni returning to teach at Bosco, the brotherhood continues to grow stronger within the Brave community.
Since St. John Bosco was established in 1940, the school has been constructed around four core values. These include the ideals of St. John Bosco being a home, school, church and playground. Homecoming made the students feel the pillar of home more than ever with all of the fun activities. This is especially true for the alumni faculty, as Bosco is much more than just a job.
Many great alumni teachers, such as Mr. Walter Wippler '83, Mr. Joe Griffin '75 and Mr. Derrick Fernando '00, have found their way back to Bosco. All these teachers have truly been a major part of the Bosco community over the years as students, athletes, coaches and teachers. These experiences that they have attained from all these years is now shared to the community, which brings a sense of unity. Although the reasoning for returning differs amongst teachers, the concept of the second home is viable in each of their stories.
Mr. Wippler '83 has been in the Bosco community for over 30 years. He is currently the head of the Engineering pathway as well as a physics instructor. Outside the classroom, he is the faculty moderator for Bosco's Robotics Team 4123. FULL STORY
The Bosco Community Welcomes Geoff McArthur, New Dean Of Students And Wide Receivers Coach
By Connor Sheehan, Editor-in-Chief
Mr. Geoff McArthur arrives at St. John Bosco High School seeing his younger self in many of the Brave student body and with the hope to teach the Braves about how perspective as well as respect can better the world.
Mr. McArthur grew up in South Central Los Angeles and went to Palisades High School, where he was coached by Steve Clarkson, father of current Braves quarterback Pierce Clarkson. He attributes finding out about the opening at Bosco to Coach Clarkson.
Mr. McArthur holds the record for most receiving yards at the University of California, Berkeley, where he was recruited after having the most receiving yards in the country during his senior year at Palisades. He was Green Bay Packers quarterback Aaron Rodgers' primary target during their shared time at Cal – and was a projected second round draft pick prior to his decision to walk away from playing football. Educationally, he received a Bachelor's in Social Welfare from UC-Berkeley and went on to receive a Master's in Education from Lindenwood University. FULL STORY
Bosco Welcomes Back "Brave For A Day"
By Marcelles Williams
The "Brave For a Day" shadow program is one of Bosco's top admissions resources. With a successful start to the application season, more prospective students are learning about Bosco's Brotherhood.
St. John Bosco hosted its first group of "shadows" on September 7th and have been going strong ever since. The school has hosted around 150 shadows so far and that number is going to grow with more future Braves shadowing over the upcoming months. There is expected to be over 500 shadows by the end of the application season. The shadow program is essential for our admissions as over 50% of shadows end up attending Bosco and joining the Brotherhood.
When students shadow, the parents of those prospective students are able to take a tour around campus. Spearheaded by Ms. Patty Lazcano, parents get to learn about the Bosco experience and the programs the school has to offer.
"We start in the 200 building, go over to the 300/400 buildings, then we crossover to the athletic side and show them the weight room and talk about the garden, then talk about our other soccer and lacrosse fields, then we come back with a Q and A at the end," said Ms. Lazcano. FULL STORY
BR. Artemide Zatti To Be First Salesian Brother Canonized As A Saint In The Catholic Church
By: Connor Sheehan, Editor-in-Chief
The Holy Father, Pope Francis, announced the certification and widespread publication of the decree that proclaims the miracles of God that were seen through Artemide Zatti's works as true, paving the way for Zatti to be the first Salesian brother to be canonized as a Saint.
Br. Artemide, born on October 12th, 1880, in Boretto, Italy, was a prolific lay Salesian Brother and doctor. He immigrated to Bahía Blanca, Argentina at 17 but spent the rest of his life in Viedma, Argentina. An immigrant, he assimilated to Argentinian culture by a Salesian parish in Bahía Blanca and attending Spanish language masses held by Salesian Priest Fr. Carlo Cavalli, who later guided Br. Artemide to a Salesian life.
He ran a pharmacy and hospital for the sick and poor for forty years, in which time he cared and aided countless patients and provided hundreds of jobs and opportunities for work to his community in Viedma. His philosophy, adapted from his predecessor and mentor, Fr. Evaristo Garrone, was to provide all patients, no matter their class, with high quality and holistic care. He followed Garrone's philosophy: "He who has little, pays little and the one who has nothing pays nothing." FULL STORY
21 Questions With New Counselor, Ms. Pantoja
by Noah Dawson
St. John Bosco High School welcomes new counselor, Mrs. Melissa Pantoja, to the counseling staff, as she works to serve all students with their academic needs.
Q. What is your hometown?
A. I am from La Mirada, California
Q. What school did you attend for high school?
A. La Mirada High School
Q. What school(s) did you attend for college?
A. Cerritos College, Cal State Dominguez Hills and Oregon State University. FULL STORY
St. John Bosco and St. Joseph's Seniors Got Their Groove On At Annual Senior Luau
by Brett Baligad, Senior Editor
This year's Senior Luau was filled with plenty to see, do and eat. The successful night is a strong indicator for what the rest of the year has in store for the graduating Class of 2023.
After long preparation, the Senior Luau made it's return to St. John Bosco High School. Every year, each class hosts an annual class bonding event. This includes the Freshmen Barbecue, Sophomore Lock In, Junior Picnic and Senior Luau. A luau is a Hawaiian party with food and live entertainment. Due to the COVID-19 pandemic, the Senior Luau is only the second class event for the class of 2023, as they hosted a successful Junior Picnic last spring.
The luau was held last Wednesday and started at 6:30pm and concluded at 9:00pm. Upon entering the Mary Help of Christians Quad, seniors were greeted with Hawaiian music, pick up volleyball games and plenty of students dressed to the theme. The quad was lined with round tables for Bosco and Joseph's seniors to socialize.
Not long after the beginning of the luau, seniors were served Hawaiian food, while they caught up with their Brave brothers and Jesters sisters. Even after four years together, to many, it was surprising to see there were still a lot of new faces to meet and befriend. FULL STORY
21 With New Science Teacher, Ms. Krista Welty
by Michael Barba
The Brave family is proud to welcome new biology teacher, Ms. Krista Welty.
Q: Where did you grow up?
A: Long Beach, CA.
Q: What is your ethnicity?
A: A Mix of Irish, German, Turkish and Spanish.
Q: What is your favorite meal?
A: Sushi. It's an acquired taste, so I understand why some people don't like it. I think the key is to mix your wasabi into the soy sauce then dip the sushi in. If you put it on top, you can't taste anything else.
Q: Do you have a favorite sport?
A: Football. Go Packers! FULL STORY
21 Questions With New Teacher, Mr. Brian Miller
by Robert Visty III, Photo Editor
Science teacher Mr. Brian Miller returns to education this school year after two years away from the profession and is another welcomed new addition to St. John Bosco High School.
Q. Where did you grow up?
A. I grew up in Pasadena, CA
Q. What high school did you attend?
A. I attended La Salle High School in Pasadena.
Q. What college did you attend?
A. I attended the University of California, Santa Barbara where I studied Ergonomics, or movement efficiency. Unfortunately due to family issues, I returned home and complete my degree at California State University, Los Angeles. I also have an MA in Educational Administration from Concordia University in Irvine.
Q. Have you always been a teacher? If not, what did you do before becoming a teacher?
A. I have been teaching in one form or another since my junior year in college. I did take one year off and sold insurance for New York Life when I was 27 and spent the last two years selling and training sales people at CarMax, due to the COVID-19 pandemic. FULL STORY
Triduum Week Reveals New Strenna, "Sharing Our Gifts, Transforming Our World"
By Connor Sheehan, Editor-in-Chief
During Triduum Week, St. John Bosco High School Campus Ministry unveiled a new guiding theme for the year, called a "strenna" (Italian for "gift"), which calls for Braves to embrace their gifts while pursuing improvement and change in the world.
In a society that is increasingly polarized, this message of combining individual talent with cohesive and unified action is a powerful one. It is consistent with a Bosco community that has thrived being an environment of many perspectives and ideas while retaining the core principles of a Salesian community.
"What any good strenna is meant to do is simultaneously uplift our Salesian family while presenting them with a gentle but concrete call to action," said Campus Ministry President and senior Ricardo Rodriguez. "The first step in achieving that goal is recognizing and developing a sense of courage and security from the gifts we've been blessed with as individuals. Once we do that, we are empowered to point those gifts outward to engage in the Oratory."
Rodriguez refers to the Oratory system of schooling pioneered by Don Bosco and continued at Salesian institutions around the world – a holistic educative system fostering learning around the tenets of home, school, church and playground. FULL STORY
Bosco Esports Welcomes Their Newest Alumni Assistant Coach, Damon Jimenez
By Ed Crowe and William Reynolds
St. John Bosco High School alumnus and former esports player, Damon Jimenez, serves now as an assistant coach for the program. With every alumni that comes back, the esports program and the Bosco community overall grow stronger as a brotherhood.
"The amount of brotherhood I felt when first entering the Esports Lab was unreal," said Coach Jimenez. "I was given so many opportunities. I felt like I should repay them by offering my help and giving more students the same amount of help I was given."
The decision to become a coach for Bosco Esports was backed by fellow alumnus, Head Coach Gabe Giangualano. Coach Gabe was a key factor in Damon's decision in coming back and helping out the team that he played for when he was at Bosco, which is their Rainbow Six Siege team.
"As a person, he is fantastic. He is a good young man that is very committed, focused and goal oriented. He knows what he wants to do and how to get there," said Coach Gabe.
Damon Jimenez is currently attending college. However, he is still excited in giving his spare time back to Bosco. FULL STORY
By William Reynolds and Ed Crowe
During Fall orientation for the 2022-2023 school year, the St. John Bosco High School senior class had a once in a lifetime opportunity to speak with members of Alder, an organization featuring a diverse collection of motivational speakers from various professional fields.
Principal Dr. Kris Anderson got the idea to collaborate with Alder when he met with Bosco parent, Mr. Kyle Cox. As a member of Alder, Mr. Cox possesses connections with dozens of successful entrepreneurs, doctors, lawyers and professional athletes who were willing to come and share their stories with the senior class.
Their stories were shared in the course of a panel discussion. The main focus of the discussion was the three principles of self, family and community. Alder believes that in order to help your family, you must first fix yourself, and in order to help your community, you must first fix your family. You cannot go to the next step without completing the previous step. If the steps are not followed in order, the goal will be harder to obtain. FULL STORY
Alumnus Dr. Eric Lane Returns To Fill Big Shoes As Athletic Director
By Connor Sheehan, Editor-in-Chief
Dr. Eric Lane, Class of 2003, returns as the successor to St. John Bosco High School legend Mr. Monty McDermott, with an overarching plan to, in his terms, "trust the process," as he looks to continue and evolve the rich tradition of Brave athletics.
Dr. Lane is aiming to first and foremost develop Bosco's student-athlete's as holistic young men, emphasizing the importance of both academic and athletic life. Dr. Lane mentions that to develop a holistic man, certain parameters have to be met.
"Trust the process. We are extremely blessed here at St. John Bosco high school because we have developed a reputation of excellence. We didn't get here by not being holistic," Dr. Lane said. "We've done things the right way since this school's creation in 1940. We have to continue to trust that process, and it's our job to foster those young men and continue to implement the strategies we've learned."
He believes that retaining that guiding principle will allow Bosco to continue its success in athletics, but also serve as the springboard for even greater success. Trusting that process, but reimagining it at the same time.
Dr. Lane attended Bosco from 1999-2003. During his time at Bosco, he served as team captain for the varsity basketball team, and his team won a CIF Championship in 2003. Succeeding a prolific winner in Mr. McDermott, Dr. Lane is no stranger to success and winning at a high level. FULL STORY
21 Questions With New History Teacher, Kevin Jung
By Brett Baligad, Senior Editor
A new school year welcomes new faces to St. John Bosco, and Mr. Kevin Jung is one of the more notable arrivals, as he joins the Brave family to teach AP U.S. History, AP U.S. Government and Politics as well as AP Human Geography.
Q. Where did you grow up?
A. I was born in South Korea and moved to California when I was four. I grew up in Orange County all my life, originally living in Cypress and eventually settling down in Fountain Valley.
Q. Do you have any siblings?
A. I have one younger sister named Jessica. She currently lives in Santa Cruz, contracted with Apple Maps to work on GIS models.
Q. Are you a morning person or night person?
A. I'm definitely an evening person, but I love that hygge feeling you get in the mornings. Maybe I'll eventually switch over.
Q. Where did you attend high school and college? What did you study?
A. I went to Cypress High School and attended California State University, Fullerton. I majored in English and minored in Business. Then, I got my Masters in Education from Union University and Masters in Divinity from SBTS. FULL STORY
Unsung Hero, Longtime Golf Coach And Faculty Member, Mr. Jack Hastert
By Aydn Morris
Mr. Hastert continues to make his mark in the Bosco community, even after first stepping foot on campus 56 years ago.
Mr. Hastert has been all over the Brave community. Whether it was as a student, teacher, coach or counselor, he has done it all.
Mr. Hastert taught 37 years at Bosco, focusing mainly on the religious aspect of teaching, as that is what he wanted to give back to the students. He taught sophomore Morality, Social Justice and Relationships, as well as freshmen Old Testament and New Testament. He also taught Christian Service, which was a senior class that took place off-campus. The class was for seniors to serve their community any way that they can, whether it was tutoring, helping out at handicapped kids, among many other noble causes, with the goal to follow God's will to serve others.
"I never really had much of a career plan. My goal was always to have this vague idea to help others, but I never really knew how I would go at it," said Mr. Hastert. FULL STORY
Q&A With St. John Bosco's Class of 2022
By Ethan Gibbs
As graduation approaches, many seniors are reflecting on their past years here at Bosco.
Kai Storch
Q. What is your favorite memory at Bosco?
A. The junior ring ceremony where I got to speak at the event and get our rings was my favorite moment.
Q. What advice would you give to incoming freshmen or shadows?
A. Get involved. Make sure you come to Bosco and do something. Don't come here and do nothing because you will be bored. Come here and try to get involved in something, as everyone here has open arms.
Q. Where do you imagine yourself ten years from now?
A. Hopefully I'm successful and doing what I'm passionate about, which is public health. I'm majoring in public health, and that's what I like to do, so hopefully I'll be able to be stable and happy.
Q. Who is your favorite teacher at Bosco and why?
A. My favorite teacher at Bosco would have to be Mr. Perez. I had him sophomore year for Algebra 2, and he is funny and always made me laugh. FULL STORY
Studying Tips For Final Exam Test
By Matthew Parsons
As finals week approaches, instead of stressing, here are some tips in order to prepare for all the exams.
Don't Just Read:
Too often, students just read over their books or notes. Instead, try reading the notes and then create questions or answer questions from the material. Just rereading the material isn't the optimal way to study for exams.
Practice Tests:
Retrieval tests are extremely beneficial to retaining information and being prepared for your exams. Retrieval tests can be as simple as quizzing a friend over the phone or creating flashcards with a question on the front and the answer on the back. Try to ask questions in the same way that a teacher would ask. Don't just ask surface-level questions either, try to dig deeper to be prepared for more complex questions.
Use Pictures:
The use of pictures makes it significantly easier to grasp material for some. Try to use images from class materials and if there are none, try to find or make some. Using pictures allows the brain to create more complete models in one's head. FULL STORY
by Aeden Alexander
As the 2022 school year comes to an end, St. John Bosco High School held its senior prom at Sofi Stadium. Home of the reigning Super Bowl champions the Los Angeles Rams as well as the Los Angeles Chargers.
The stars were shining bright in Los Angeles as Bosco and St. Joseph's came together for the 2022 senior prom. The venue was one of, if not, the best venue Bosco has had for their events and it did not disappoint.
Prom would begin at eight and kids would trickle in as the night went on. The loud DJ and the homemade pretzel bites were great but the announcement of the prom king and queen really took over the show.
The Bosco prom court consisted of Eric Torres, Jake Ellison, Michael Carbone, Gian Noble and David Mayoral. The winner was picked by who had the most votes which were taken on Friday during the senior retreat. FULL STORY
Unsung Heroes In St. John Bosco's Front Office, Ms. Laura Wilson, Ms. Cat Hocanson, And Diane Whitten
by Andrew Fierro, Managing Editor
Despite flying under the radar, St. John Bosco's front office continues to provide in critical ways for the school.
The front office consists of three women who take care of a variety of tasks that ensure Bosco's success. These three spectacular workers include Ms. Cat Hocanson, the supervisor, Ms. Laura Wilson, the financial operations manager, and Ms. Diane Whitten, who is the receptionist. Working together, these three operate a system that ensures the most efficient work environment.
Each member of the front office was born and raised in Southern California, and, as of now, have no intentions of leaving. Ms. Wilson and Ms. Hocanson hold a record of service at Bosco longer than most faculty members, as Ms. Wilson is in year 27 here, while Ms. Hocanson has 23 years. Though Ms. Whitten just began a month ago, she already creates an impact on the Bosco community and the front office. FULL STORY
Unsung Hero, Bosco's Director of Football Operations Mrs. Jesse Christensen
by Sione Hala
Bosco's own Jessie Christensen is an absolute necessity for the football program's success. She works hard every day on a variety of tasks to ensure the team is prepared on and off the field.
Graduating from St. Joseph High School, Mrs. Christensen started off her career professionally in the NFL and the NBA, working many years in in-game entertainment that included ten years with the Los Angeles Clippers. There, she learned everything about game day productions and ticket sales to the type of music to play to pump up a crowd.
"For the game itself, I have to prepare a manifesto of sorts, with all the elements like: Is this good music? Is it cheerleaders? Is it the video board? It's all stuff I learned when I was working for the NFL," said Mrs. Christensen.
Head Football Coach Jason Negro is extremely thankful to have her on board. She does everything no one wants to do, and Coach Negro and the rest of the coaching staff at Bosco all know that she is a necessity.
"She started in our program back in 2013. Her presence alone elevated us to a level to become a national brand. The experience that she brought and her commitment to excellence are two things that really elevated the entire profile of our program," said Coach Negro. FULL STORY
Learn More About Civil Rights Activist Cesar Chavez
by Dominic Ramirez
A week ago today, the Bosco community celebrated Cesar Chavez Day, which is a national holiday in celebration of the civil rights work Chavez accomplished in his life. Chavez was an American farm worker, labor leader and civil rights activist, whose message still resonates today.
Chavez was born on March 31, 1927, in Yuma Arizona, into a family of farm workers. Like many farmworkers at the time, the Chavez family lost their property to the great depression, and because of this, they moved to California in search of work.
After he finished eighth grade Cesar dropped out of school to help support his family as a migrant worker, he would go on to be a migrant worker into his early adult life.
However, by 1944, Cesar wasn't just a migrant worker anymore, he had started a civil rights group called the National Farm Workers Association, which is now known as the United Farm Workers of America (UFWA). FULL STORY
Unsung Hero, Engineering Pathway Coordinator and Science Department Chair Mr. Walt Wippler
by Matthew Parsons
Mr. Walt Wippler, a native of Southern California, grew up in the city of Downey and attended public schools throughout his childhood until his high school years, where he attended St. John Bosco for all four years.
Bosco was Mr. Wippler's first experience attending a private school, so it took a little bit of time for him to adjust. At first, he struggled with having friends because of the new environment that he was in. Eventually, he found his way, and he now describes Bosco as a place where everyone has a place.
"I didn't know anybody. Some guys who lived in Downey also realized that I went to the same parish. Back in those days, people would ride their bikes to school, so they picked me up and we'd all ride there together. It was a welcoming place back then. It was a place where everybody had a spot where they could fit in and do something that they were interested in," said Mr. Wippler.
Mr. Wippler wasn't the greatest when it came to academics, but even so he took a strong liking to both math and science. In addition, Mr. Wippler also pursued athletics and music throughout high school, as he was in both band and soccer. However, he eventually put soccer to the side for his interest in music, something that he began to regret as time went on. FULL STORY
Five Ways to Give Back During This Lenten Season
by Dominic Ramirez
The season of Lent is an important time to self-reflect and to discover how each person can better prepare their heart for the coming of Jesus, not just by giving something up, but by giving back as well.
5. Adopting from an animal shelter
adoptapet.com is a nonprofit website someone can use to find local animal shelters near them. Their website can be used to find local shelters with the specific breed, age, and species of pet they are looking for. Their site also has resources for those who want to volunteer or donate.
Adopting an animal from a shelter is more beneficial than buying one from a pet store as a lot of the animals in shelters were picked up from off the streets or left by people who couldn't take care of them anymore. When someone adopts from a shelter they are giving those animals a second chance at finding a home.
4. Checking up on friends
Something easy one can do is to make sure their friends are alright. A lot of people struggle with their mental health, but having good friends for support makes a world of a difference. It could be as simple as checking in on how their friends are feeling or reminding them that they are there for them, little acts of kindness can go a long way. As it is written in 1 Thessalonians 5:11, "So continue encouraging each other and building each other up, just like you are doing already." FULL STORY
by Dominic Ramirez and Andrew Fierro, Managing Editor
Starting 2024, the college board will be offering students the chance to take the SAT test digitally. This change will be made in response to Covid restrictions as well as a general rework of the structure of the exams.
On January 25, the college board made the announcement that the test will be offered digitally internationally in 2023, and in march of 2024 for the United States. The test will be taken on a laptop or tablet at school, or at a local testing facility, the test will not be available to be taken from the home.
If a student does not have a suitable electronic device, one will be provided by the college board on the day of the test. Also, if a device runs out of battery, the test will allow for the user to resume once the device finishes charging. FULL STORY
21 Questions With New Digital Marketing Director, Ms. Megan Nash
by Sione Hala
This year, St. John Bosco is excited to welcome Ms. Megan Nash to the Brave Community.
Q. Where did you spend most of your childhood?
A. I grew up here in Los Angeles. I'm from Manhattan Beach, in the South Bay.
Q. Where did you attend high school and college?
A. I went to high school at Notre Dame Academy in West Los Angeles. It's an all-girls high school, and I went to Loyola Marymount for college.
Q. What event in your life made you decide to become who you are today?
A. I grew up in a household where my dad is a Certified Public Accountant, and my mom is an artist. She's a painter. From a young age, the duality of business and creativity were instilled in me, so marketing is a blend of both. I studied business at Loyola Marymount University and loved my marketing classes.
Q. What was your first job?
A. I played volleyball at LMU, so my first job was an assistant coach at Occidental College for their volleyball program.
Q. What do you contribute here at Bosco?
A. I'm the Director of Digital Marketing and social media, so I work on the website, anything that touches the brand and the marketing of the school. FULL STORY
Guide To A Wonderful Valentine's Day
by Ethan Gibbs
This Valentine's Day, there are a variety of different places and activities to try out for couples in the Los Angeles area, including restaurants, nature walks and more.
Breakfast:
For an extraordinary breakfast and coffee, go to Culver City Super Domestic Coffee. This amazing coffee shop is located at, 10054 Culver Blvd, Culver City, CA 90232. It has a great selection of different coffee blends and a delicious assortment of pastries.
Lunch:
Nearing lunchtime, Pieloon is an amazing old-school, country diner-like destination that serves favorites such as steaks, omelets and sandwiches. This diner is in Downey and is known for its great prices and mouth-watering pies. Pieloon has been supporting the hungry mouths of Downey for over 30 years. They will take reservations, walk-ins, Take Out, Catering and Waiter Service. The diner is located at, 10822 Lakewood Blvd. Downey, California 90241. FULL STORY
Unsung Hero, Athletic Trainer and Teacher Mr. Coreyon Edwards
by Matthew Parsons and Sione Hala
Through thick and thin, Mr. Edwards serves the Brave community in many ways, doing his best to give the best possible experience to the athletes and students under his care.
Hailing from Compton, California, Mr. Edwards moved around a lot as a child. He bounced between the houses of his mother and father, which, although caused him grief as a child, allowed him to become the family person he is now, and greatly value his familial relationships.
As a child, Mr. Edwards' most impactful hobbies were his love of LEGOs and athletics. He played a variety of sports such as football, basketball and baseball, but his main priority was always football, which he played up until his senior year of high school. As a child he had always been a winner, as he acquired four championships in his youth football career.
Mr. Edwards attended Starr King Elementary School in Long Beach, and for his high school years, Mr. Edwards moved north to Palmdale, to attend William J (Pete) Knight High School. Even though Mr. Edwards originally wasn't a fan of this move he now finds himself understanding the decision to do so. FULL STORY
St. John Bosco Mourns The Loss Of Longtime Athletic Director And Alumnus Mr. Monty Mcdermott
by Eric Torres, Editor-In-Chief
Last week, the Brave community lost Mr. Monty McDermott, class of 1986, who most notably served as the Director of Athletics, but to many, was far more than that.
For 29 wonderful years, Mr. McDermott was a pillar of St. John Bosco. Since taking over as Athletic Director in 2002, St. John Bosco enjoyed the most successful athletic department run in the school's history. Including a move into the elite Trinity League, Mr. McDermott is responsible for many of the changes that led to the successes that the school and its community have been accustomed to for quite some time now.
During his time as Athletic Director, St. John Bosco won a remarkable 52 varsity league titles, 79 CIF titles, 26 state championships and 11 national championships.
"They (Mr. McDermott and former principal Pat Lee) made an institutional commitment to compete with the teams in the Trinity League," said instructor of Religious Studies Mr. Joe Griffin, class of 1975. FULL STORY
Alumni Spotlight With Joseph Griffin, Class Of '75
by Oscar Aranda
Joseph Michael Griffin first stepped foot on the St. John Bosco campus 50 years ago in 1971, where he found a home within the Brave community.
After working as a teacher for ten years, Mr. Griffin, or to many on campus, Coach Griffin, returned to campus in order to teach religious studies and to coach football in August of 1990. He joined the Bosco teaching staff together with Mr. Linares and Mr. Antonelli. Mr. Griffin is the religious department lead and is also a part of the freshman football coaching staff. In his 32 years as Bosco he has also served as vice-principal, CYM twice. He was the varsity football offensive coordinator for three years and the head freshmen football coach for several years.
Mr. Griffin always felt welcomed at Bosco and felt as if it was a second home. He was a quieter kid in high school and while not excelling in academics and sports, still felt very welcomed at Bosco. Though a lot of the campus has changed, for Mr. Griffin, the environment of the school has remained the same.
"There really are not many differences. We always had a diverse student community in those days," said Mr. Griffin. FULL STORY
Alumni Spotlight with Anthony Fierro, Class of '57
by Andrew Fierro, Managing Editor
For many, high school is a steppingstone to college. But for Mr. Anthony Fierro, class of 57', St. John Bosco changed his life, and the lessons he learned set him down the path to an incredible and eclectic career.
Mr. Fierro was born and raised in Southern California, and although he ended up loving his time at St. John Bosco, coming to school here initially was not the plan. His mother, who had reached her limit with his antics as a child, actually sent Mr. Fierro to St. John Bosco.
"I was thrown into Bosco by my mother. I was kind of a troubled child and I was always getting into hot water. The last straw was when I was in the sixth grade, when I took the flag from the flagpole and was swinging it all over the place, and it was a mess," said Mr. Fierro.
Though he may not have wanted to go to Bosco at first, the experiences he had at the school did nothing but good things for him and his future. Before going to Bosco, Mr. Fierro did not have his priorities straight, and the change that Bosco provided for him was something that had and continues to have a significant impact on his life. FULL STORY
Bosco Alumnus and First-Year Teacher, Mr. Ruben Solorza '13, Takes 14th in Impressive Showing at the Los Angeles Marathon
by Brett Baligad
Mirroring the ongoing success of Bosco Cross Country, Mr. Solorza represented the Braves very well in the Los Angeles Marathon.
Last weekend, Mr. Solorza, an environmental science teacher at Bosco, competed in the LA Marathon, as he took 14th place with a time of 2 hours and 38 minutes. This is a huge achievement, as he ran with over 8,000 runners at the event.
Mr. Solorza stands confidently in the top 2% of runners who have broken the three-hour plane. Impressively, he ran at a pace of 6 minutes per mile for the whole event.
This is not his first time running a marathon, however, as he also ran the Chicago Marathon only a month beforehand. His best run was in 2018, as he achieved a time of 2 hours and 38 minutes in the Sacramento Marathon. As a man who loves to travel, he hopes to run internationally or even possibly at the Olympic level over the next few years. FULL STORY
LIFE OF A BRAVE: ON THIS VETERANS DAY, ST. JOHN BOSCO COMMEMORATES THOSE WHO SERVED IN THE UNITED STATES MILITARY
by Oscar Aranda
With today being Veterans Day, citizens across the United States take time off to reflect on those who have served or are serving in the U.S. Military. St. John Bosco takes this day to remember those from the Bosco community who have served, as well as those who have served from all over the nation.
Veterans Day is the day that originally honored the end of World War 1, then was called Armistice Day until it was changed in 1954. Now Veterans Day has evolved into a day in which the U.S. citizens can also recognize those who have served and those who have fallen victim to any Wars throughout the country's history. The country celebrates this honorable day on November 11th of every year, and the United states recognizes Veterans Day as a federal holiday.
Veterans day became a national holiday on May 13, 1938, though it was first observed by congress in 1926 as Armistice Day. Armistice Day was the celebration of the end of world war 1 and was correlated with the peace that came with the end of said war.
Within the St. John Bosco (Bosco) community, there are many men and women who have served, or are currently serving in the military. They do a significant amount and sacrifice a great deal in order to protect, serve and keep this country safe.
Marie James- Garcia, aunt of Carlos Garcia (Bosco 22'), served the country in the United States Army and was stationed in Ft Hunter Liggett, Ca. Her interest in serving came at an early age due to possibly watching too much M*A*S*H. This was complemented by her fearless attitude that translated well into the rigors of the army. She ended her duties in 1984 and very much enjoyed her time in service. FULL STORY
LIFE OF A BRAVE: 21 QUESTIONS WITH NEW ART TEACHER TOMMY JOHNSON
by Dominic Ramirez
This year, St. John Bosco welcomes Mr. Tommy Johnson, an accomplished artist and athlete, to the Brave community.
Q. What classes do you teach?
A. I teach art classes and yearbook here at Bosco.
Q. What high school did you attend?
A. I went to Calvert Hall College High School, in Towson Maryland. I received the Princeton award for best high school artist in the country.
Q. Are you from California? If not, where are you from?
A. I am originally from Lutherville, Maryland. I had a fishing pond in my front yard, I miss that.
Q. What college did you attend?
A. I went to Loyola College in Maryland. The mascot is the Greyhounds.
Q. What was your major/minor in college?
A. I majored in arts and teaching. I was the captain of a national championship lacrosse team, and I played professional lacrosse for the Baltimore Thunder. I have been teaching art and coaching lacrosse since I graduated. FULL STORY
LIFE OF A BRAVE: ALUMNI SPOTLIGHT WITH VETERAN BRUCE HORVAT
by Eric Torres, Editor-in-Chief
From St. John Bosco High School to the United States Air Force to the Middle East, nobody knows more than alumnus Bruce Horvat, '59, about what it means to be a Brave.
Mr. Horvat was born just prior to World War II in Ohio. Being the oldest child in a lower to middle-class family with four siblings, his family moved out to California due to the better opportunities that the war industry presented. Although his family settled down in Long Beach, Mr. Horvat did not go to school there. Like many students find today, public school just wasn't the right fit, which is why he ended up at St. John Bosco.
"Public school was extremely easy for me, and so I would get into trouble. For example, I would create my own hall passes," said Mr. Horvat.
The St. John Bosco campus that Mr. Horvat attended is drastically different from what is known to the Braves' students today. At that time, the only resemblance to today's campus was the football field and the pool.
At St. John Bosco, Mr. Horvat found people who were just like him. He fit in well to the Bosco community, as he played football, involved himself with the library and was even a member of the student newspaper. This allowed Mr. Horvat to take a lot away from his experience at St. John Bosco.
"When I left, I didn't realize how much I took away from Bosco. I was taking away getting over the fear of making mistakes, which took me some time to get over. Also, I had problems getting along with people originally, but at Bosco, everybody was my peer, and I didn't have any problems," said Mr. Horvat.FULL STORY
LIFE OF A BRAVE: INSIDE LOOK IN THE MIND OF A TRINITY LEAGUE CHAMPION DIVER
by Ethan Gibbs
Being a competitor in an individual sport presents me with a uniqueexperience. Win or lose, there is no one to blame but myself.
When I am climbing up the ladder to the diving board, my brain is racing a million miles per hour. I am thinking about all the possibilities, positive or negative. "Am I gonna smack," "What if I lose my spot" and "If I squeeze my shoulders I could rip."
The second I take my first step on the board, my mind is clear. I am 100% focused on my dive and think about nothing else. It is as if every thought and emotion leaves my body.
After I hit the water, everything comes back to me, all the emotions and thoughts. I start thinking about how good my dive was, and if I am going to get good scores.
My name is Ethan Gibbs, and I am a springboard diver for St. John Bosco and for my club team, Crown Valley Divers. I will continue to dive for Bosco my senior year, as I did my sophomore year. FULL STORY
Life of a Brave: Ms. Jen Schnorr Becomes the First Female Vice President in St. John Bosco's History
by Matthew Parsons
As the first female Vice Principal of St. John Bosco High School, Ms. Schnorr is paving the way for more diversity in the Bosco community.
Ms. Schnorr grew up in an active household in the South Bay. She is the oldest of four children, with two sisters and a brother. She and all of her siblings were involved in many sports and activities throughout their upbringing, which perhaps planted the seed for her to become a fun and dynamic leader.
Ms. Schnorr participated in an abundance of extracurriculars in her school years, including volleyball, basketball, soccer and softball at the varsity level in high school. She even participated in boy's baseball her senior year. Not only was she a student-athlete, but she was also a member of her school's ASB every year.
Ms. Schnorr attended St. Margaret Mary for elementary school, St. Anthony High School and then went on to attend college at California State University, East Bay for a year before transferring to UC Santa Barbara. She double majored in Global Studies and Spanish Literature. FULL STORY
Life of a Brave: Alumni Spotlight With Computer Science Teacher Mr. Nathan Corkhill, '09
by Oscar Aranda
St. John Bosco's very own Nathan Corkhill, class of 2009, returned to Bosco to give back to the place he calls home and educate the new generation of Braves.
Mr. Corkhill attended St. John Bosco from 2005 to 2009 and follows a family legacy not too many people are aware of. Mr. Corkhill's former Bosco teacher, Mr. McMorrow, was his idol when it came to teaching. A combination of Mr. McMorrow's impact and a time of self-reflection in Europe subsequently led Mr. Corkhill down his path of teaching.
Mr. Corkhill started off as a volleyball coach at Bosco, and shortly after became an administrator due to a convenient job opening.
"It was the circumstances that got me here (Bosco), but being back on campus kept me here. No place is like it here, it's like you are coming home," said Mr. Corkhill. FULL STORY
Life of a Brave: 21 Questions With Brother Kris Tran
by Ethan Gibbs
This year, St. John Bosco High School welcomes Brother Kris Tran from Vietnam to the Brave community.
Q. Where did you grow up?
A. I grew up in Saigon, officially known as Ho Chi Minh City, in Vietnam.
Q. What inspired you to become a Brother?
A. Don Bosco. The more I learn about the life, the work and the spirit of St. John Bosco, the more I want to be like him and dedicate my life to young people.
Q. What event in your life gave you the most impact on becoming a Brother?
A. It's hard to pinpoint one singular event that impacted my decision to be a brother, because it's a gradual process. So, I guess if you think about your whole life as one event, it is that event, as God has kept working to change me for the better. FULL STORY
Life of a Brave: How Principal Dr. Kris Anderson's Path Led Him Back to Bosco
by Andrew Fierro, Managing Editor
From student to teacher to principal, alumnus Dr. Kris Anderson has gone through a long journey of being educated as well as educating, which has led him back home to become the new principal of St. John Bosco.
Dr. Anderson has filled the spot of Dr. Christian DeLarkin as the new principal of the school and could not be more thankful for the responsibility he now holds. Before coming to school at Bosco, Dr. Anderson already knew that it was the school he would attend. Dr. Anderson made up his mind pretty quickly on Bosco after seeing a role model of his enroll.
Though this role model is what got him initially interested in Bosco, it was Dr. Anderson's continued research into the school that really solidified his enrollment. Since his enrollment, Dr. Anderson has had countless great memories of the school, though one of the standout memories was going undefeated in Serra league football his junior year.
"It was the best league in California, if not the whole country, and there was no way whatsoever any team would be able to go through this league undefeated, and in its first year of its existence we went undefeated in that league," said Dr. Anderson. FULL STORY
Life of a Brave: Alumni Spotlight With Social Studies Teacher Mr. Mario Cordero
by Oscar Aranda
Students are thrilled to be back at school, but for former St. John Bosco student Mr. Mario Cordero, class of 97', he's continued to return for the last 20 years to give back to the Bosco community as one of the campus' most beloved teachers.
Mr. Cordero, a social studies instructor here on campus, attended St. John Bosco from 1993 to 1997. Mr. Cordero had already came from a Catholic school environment before attending Bosco and was accompanied by half a dozen of his closest friends. This allowed him to make the easy transition into Bosco and get involved with the school pretty early. However, as a student, teaching wasn't always the plan for Mr. Cordero.
"I wanted to be a shortstop for the Dodgers and then I realized that I shouldn't put all my eggs in that basket. The next thing I would rather do is be a teacher, and I don't want to do anything else," said Mr. Cordero.
Mr. Cordero also noted that there are differences between campus from when he was a student and now. He noticed that the campus had more students while he was at Bosco and was a little more wild. For Cordero, campus now has less kids and is a much calmer environment than the Bosco that he attended. Another difference at Bosco was the rule that the students were only allowed to eat by the 400 buildings and were not allowed to use the basketball courts.
Mr. Cordero found a sense of a community while at Bosco and felt that he had found himself at home when he attended school. He found himself back at Bosco when he was hired by his former baseball coach Chris Jondell to help out at Bosco. The fond memories and his time at Bosco as a former student was what made him excited to come back to Bosco as a teacher. Mr. Cordero has been here for 20 years, but feels the persistent need to keep coming back.
"What makes me keep coming back to Bosco is the students and the coworkers for sure. The students we have are really exceptional students that are great young men," said Mr. Cordero.
Not only was Bosco a home to Mr. Cordero, but furthermore, an environment in which he felt he belonged. Mr. Cordero was involved in numerous activities here at Bosco including student government, soccer and baseball. FULL STORY
Life of a Brave: 21 Questions With New Long-Term Sub Ms. Munoz
by Aydn Morris
St. John Bosco welcomes new long-term sub and St. Joseph alumna Ms. Munoz, who specializes in biological sciences.
Q. What College did you attend and when did you graduate?
A. I attended Cal Poly Pomona and graduated in December 2020.
Q. What did you study in and why did you choose to study that?
A. I majored in Biological Sciences because I had always planned to be in the medical field or teach on the subject.
Q. What high school did you attend and did you grow up there?
A. I graduated from Saint Joseph High School and actually had to take the bus every morning because I lived in Los Angeles.
Q. What interested you about becoming a science teacher?
A. Science has always been something I have been passionate about. Being exposed to working with and mentoring kids from high school until I received my bachelor's degree was a very rewarding experience, which made me want to pursue it. FULL STORY
Life of a Brave: Unsung Hero, Head Athletic Trainer Ms. Melody Mohebbi
by Matthew Parsons
A guardian angel for all at St. John Bosco, Ms. Melody Mohebbi, known by many student-athletes simply as "Ms. Mel," serves as both the Head Athletic Trainer as well as the Pathway Coordinator for Sports Medicine.
Born in Tehran, Iran, Ms. Mel and her family weren't tethered to any single place, constantly moving across the country. She grew up in a relatively average sized household, and it was only her, her parents and brother. Like those she treats now, she was an athlete in her youth. Coming from an athletic family, she went down the path of being a gymnast and a swimmer as a child.
"I grew up in an athletic family. My mom was actually a gold medalist in diving. And my dad was a basketball coach," said Ms. Mel.
However, her athletic career was cut short after an injury to her arm. Although she had to give up her competitive career in sports, this injury actually gave her inspiration to later become an athletic trainer.
Since she was constantly moving across Iran, she wasn't able to stay at a singular school. Somewhat similar to St. John Bosco, the schools in Iran are single-sex, rather than co-ed. She eventually went on to attend university after her high school years and studied geology. Although Ms. Mel never struggled with grades, she regrets that she did not try harder in school.
"I really didn't care about grades, never did growing up. I wasn't a bad student, but I wasn't getting straight A's. I'm being honest; I was a very procrastinating person. I would always, always – I'm not even kidding you when I say – I would study the night before," said Ms. Mel. FULL STORY
Life of a Brave: Bosco Football Brothers Make Lifelong Memories In Virginia
by Jeremiah Davis
With league play fast approaching, the Bosco Braves took a trip to Virginia to dominate in football and to experience everything the state had to offer, from BBQ food to American history.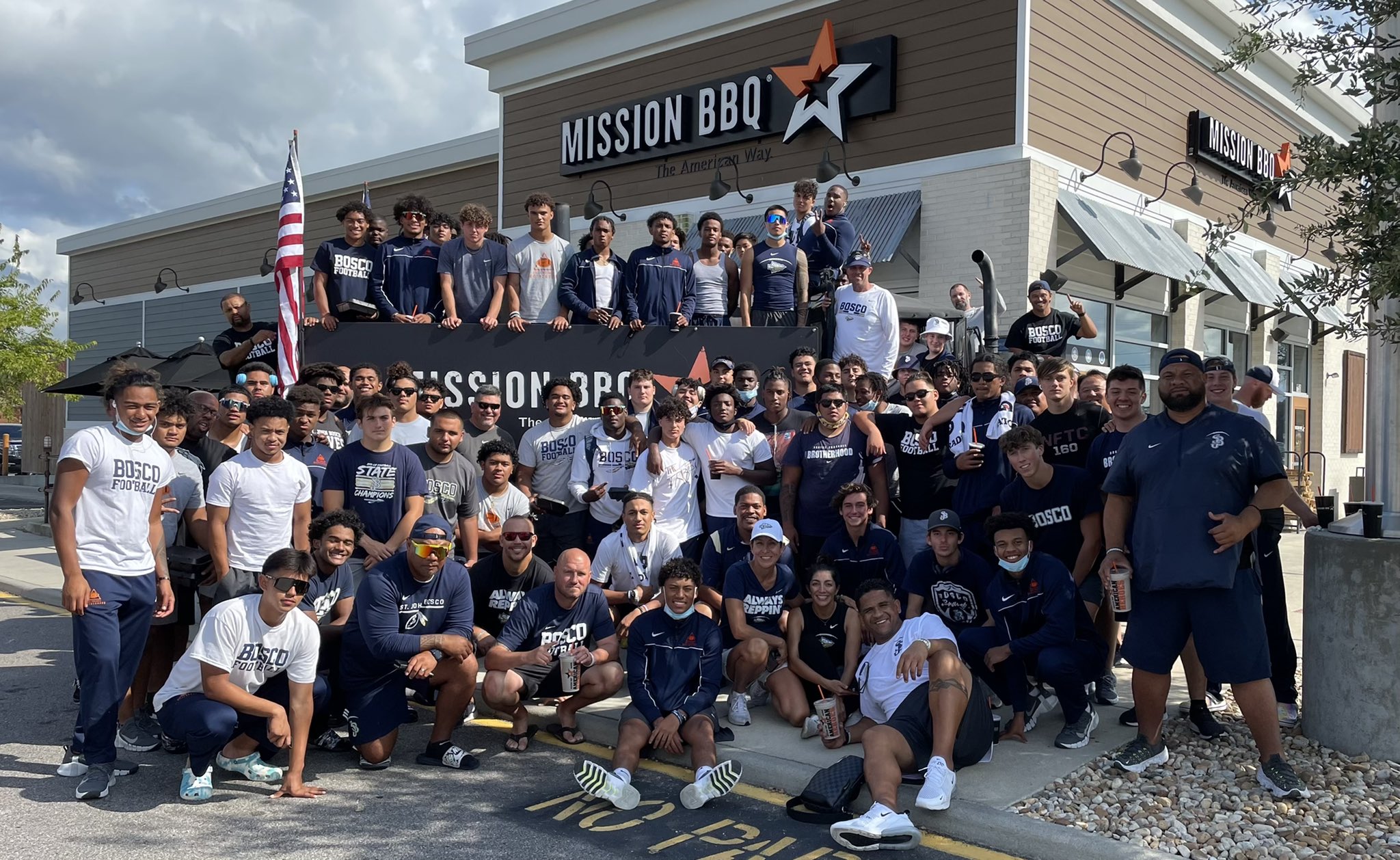 Bosco Football has been known throughout the past decade as being one of the top football teams in the state as well as the nation. This was proven once again when the Braves took a trip to Virginia to play Oscar F. Smith High School.
The game ended up being a lopsided contest with Bosco dominating Oscar Smith by a score of 49-0. However, there was more than just practice in the lead up to the game, as the Braves were able to spend quality time in Virginia.
The Braves departed from Los Angeles International Airport (LAX) on Tuesday night, September 14th, and arrived in Virginia on Wednesday, September 15. Immediately after landing in Virginia, they were transported to Catholic High School in Virginia Beach where they conducted their first practice.
"The practice overall was a good experience. Before the trip, I had never even thought about visiting Virginia, let alone playing football there," said senior Zion Austin, a strong safety for Bosco.
After practice, the Braves ended up going to one of Virginia's finer food establishments, Mission BBQ. With a slogan, "The American Way," the folks at Mission BBQ were appreciative of Bosco and happy that the mighty Braves from Southern California were supporting their business. Afterward, the team headed to their hotel, The Wyndham Virginia Beach Oceanfront, for some much needed rest. FULL STORY
21 Questions With New Activities Director Mrs. Mayra Fernandez
by Andrew Fierro, Managing Editor
St. John Bosco is delighted to welcome Mrs. Mayra Fernandez, Activities Director, Spanish teacher and St. Joseph High School alumnus, to the Brave community.
Q. What college did you attend, when did you graduate, what did you study and why did you choose to study that?
A. I attended California State University, Long Beach (CSULB), and graduated in 2007. Although my original major was math and Spanish was my minor, after a trip to Argentina, I decided to change my major to Spanish. I then graduated with a Bachelor of the Arts (BA) in Spanish.
Q. What brought your interest in becoming an activities director?
A. Although I love teaching Spanish, I also love to plan and organize events. I love supporting my students in and outside of the classroom. I am always at their games and events, so it seemed like the right fit for me.
Q. How did you find St. John Bosco and what made you interested in working here?
A. I attended St. Joseph High School and taught there for 7 years. As a junior moderator, I would plan events with Bosco and I just loved the campus. It has always had a great reputation, so it was always my goal to work here. Also, the fact that it is less than 10 mins away from my house is an extra bonus. FULL STORY
21 Questions With The Newest Member of The Athletic Training Team,Kiana Gleason
by Mathew Parsons
This year, St. John Bosco welcomes Kiana Gleason, certified athletic trainer, to the community.
Q. Where were you born? Where did you grow up?
A. I grew up in Oxnard, California, which is about an hour north of Los Angeles.
Q. Where did you go to college?
A. I got my bachelor's degree from Loyola Marymount University and my master's degree from California Baptist University.
Q. What made you want to work as an athletic trainer?
A. During high school I knew I wanted to do something in the medical field. My high school was small and didn't have athletic trainers, so I had no idea what an athletic trainer was until my mom told me about the profession. I looked into it and loved it. It was the perfect combination of sports and healthcare. FULL STORY
Unsung Hero E-Sports Head Coach Gabe Giangualano
by Matthew Parsons
Head Coach of the E-sports program, General Manager of the soccer team and teacher at St. John Bosco, Coach Gabe Giangualano, has worked incredibly hard over the past few years at Bosco to provide the best opportunities for his students.
Despite not getting much recognition for his work around campus, he is still extremely passionate for what he does and is dedicated to all the boys who practice and work under him.
Before arriving on the Bosco campus as a teacher and coach, Coach Gabe was also, once upon a time, just another student who attended St. John Bosco. As he grew up in a family of nine in West Covina and Anaheim, all of his siblings took the private school route although he was the only one to attend Bosco. Coach Gabe has also had three of his sons attend Bosco, all of them active in the community and part of athletics programs.
As a child, Coach Gabe fell in love with sports, more specifically soccer. He's always had a love for gaming, but his strong passion for E-sports came much later in his life. His love for soccer was ignited as a child when he scored a game winning goal. FULL STORY
21 Questions with New Teacher and Baseball Assistant Coach A.J. LaMonda
by Aeden Alexander, Sports Editor
St. John Bosco welcomes Mr. A.J. LaMonda to the community, a teacher of anatomy and physiology as well as an assistant baseball coach.
Q. What college did you attend and what did you study?
A. I attended Loyola Marymount University, and I studied anatomy, physiology and biology.
Q. Who is your favorite athlete and why?
A. My favorite athlete is Bo Jackson, who is the greatest athlete of all time. Just go watch highlights; the man was a monster in the NFL and MLB. FULL STORY
by Oscar Aranda
Bosco Brotherhood! A common feeling that both Armenian wrestlers, sophomore Grigor Cholakyan and freshman Niko Sahakian, have felt since arriving on the campus of St. John Bosco.
Both wrestlers are underclassmen here at St. John Bosco and are now both experiencing their first in-class studies after being online for the entirety of the past year. Niko and Grigor both agreed that the welcome they have felt at Bosco is like no other, especially compared to the school environment in Armenia.
"At this school, we have a special brotherhood that you may not always find at schools in Armenia. There's no comparison," said Grigor.
These wrestlers also have big academic goals for themselves this year. Grigor and Niko made it clear that the most important thing to them was to maintain a 4.0 GPA status while winning a team and individual CIF-State title. They both realize that they will have to study hard to achieve these goals all while balancing their athletic careers. However, they are unfazed, as they are fueled with the desire to attend an American division-one college. FULL STORY
by Eric Torres, Editor-in-Chief
St. John Bosco welcomes back alumnus Mr. Ruben Solorza, a 2012 CIF Champion in cross country and member of the class of 2013.
Q. Where are you from, and what schools did you go to for elementary/middle school?
A. I am from Whittier, California. I attended St. Bruno's Elementary, in Whittier, from Kindergarten all the way to 8th grade.
Q. Did you play any sports or do any extracurriculars in high school?
A. I tried out wrestling for one season (yikes), and then ran cross country and track for three years after that. I occasionally helped out with The Brave newspaper as well. FULL STORY
ALL STUDENTS GIVEN OPTION TO RETURN TO FULL-TIME, IN-PERSON LEARNING
by Joaquin Medrano, Managing Editor, and Omar Cerezo
After a year of COVID-19 protocols and shutdowns, Bosco is ready to welcome most students back to the classroom next week along with an expansion of continued participation in extracurriculars and the reintroduction of student life events, as L.A county shifted into the "red tier" last week.
Los Angeles County has been in the purple (widespread) tier since March 2020. Recently, many people were shocked to find out that L.A County was moving towards the red (substantial) tier during the third week of March 2021. The progress towards a lower-tier brings new regulations, which has impacted schools in a positive way, as it has allowed schools like Bosco to begin operating at a 75% capacity.
Currently, Bosco is planning to bring most of the student body back to campus, while still offering an online option. This is an effort to accommodate every family and allow them to choose what works best for their schedule and health. Mr. Adan Jaramillo, the newly appointed Interim Principal, has been hard at work, as administration and faculty prepare to welcome back all students next Monday.
"We are having two grades, freshmen and seniors, come back on Monday, and on Tuesday, we start with everyone else," said Mr. Jaramillo. "It is only for the students who selected to on-campus learning back in August and obviously we will still offer the online component because that is an integral part, especially in a global pandemic." FULL STORY
by Joshua Hernandez, Editor-In-Chief
"For our light and momentary troubles are achieving for us an eternal glory that far outweighs them all. So we fix our eyes not on what is seen, but on what is unseen, since what is seen is temporary, but what is unseen is eternal." – 2 Corinthians 4:17-18.
On Friday, February 12, 2021, the St John Bosco High School community lost a giant, a man who truly embodied everything it meant not just to be a Bosco Brave, but a Salesian man.
The life and service of Mr. Ismael "Ish" Fernandez is a story that may be righteously told to future generations of Brave students and staff.
While Ish served the Bosco Community with boundless love and protected students and staff alike with unlimited devotion, he will be remembered as far more than just his official capacity as the Head Security Guard.
Indubitably, there are a multitude of ways that the Bosco Community will remember Ish – his famous Golf Cart being one of them. The signature image for Ish was riding around campus in the cart to ensure the safety of the premises, thus certifying the protection of the boys he never failed to protect.
"Ish was literally the gatekeeper of Bosco. All the students and staff knew him by name and by voice. Amazingly, he knew so many of their names as well. Just as part of the role of the Good Shepherd (in the bible) is to keep the sheep safe, it was Ish's vocation to keep the students and staff of Bosco safe from danger. Ish was easily the most visible person on campus and surely one of the most respected," said Religion Instructor and Football Coach Mr. Joe Griffin.
Yet, while such a memory may be held by so many Bosco students, alumni, faculty and staff, it is not all he'll be remembered for. FULL STORY
by Ryan Tavera
Bosco athlete and scholar Cael Valencia continues to make huge strides in the classroom and on the wrestling mat as he exemplifies what it means to be a Bosco Brave.
Senior Cael Valencia has remained a staple name in the wrestling community currently ranking #5 in the Class of 2021 at 160lbs. In addition, the Bosco Brave is a two-time California state runner up, 2019 Super 32 Champion, and multiple time Fargo Champion.
These achievements to name a few are a testimony of Cael's determination and his commitment to wrestling.
"I'm always working whether it be in my online classes or on the mat but first I always have to eat," said Cael.
As for Cael's wrestling style, it can only be described as explosive and persistent. Cael breaks down his opponents through relentless pressure which is supported by his sharp technique.
"My wrestling style is constant attacking, motion, inside and outside. I think if I just keep constant pressure it's going to open up my game," said Cael.
On the flip side, Cael is also an active participant in school and has many fond memories of Bosco particularly of Mr. Bartelt's class.
"Memories that make me appreciate high school would have to be with Mr. Bartlet and all the help he gave me letting me know I could succeed," said Cael.
Cael believes that he wouldn't be the person he is today if it wasn't for the support of his coaches and teachers and St John Bosco. FULL STORY
by: Andrew Fierro
It looks like we are seeing the best version of Aaron Pico!
Going into this fight Aaron Pico was 6-3 and was coming off of two of his best performances he has had. He started off his Bellator career with a 4-1 record before having two disappointing losses. Despite having a rocky start he seemed to be a changed fighter and looks to be better than he ever has.
The fighter he was facing in this fight named John de Jesus was also coming off of a win with a unanimous decision over Vladyslav Parubchenko where he was dominant the entire fight. The fighter used his wide range of different striking techniques to keep his opponent always on his back foot keeping the fight where he wanted. Though with Pico this didn't work.
About midway through the first round, Pico was able to take John de Jesus to the ground and out wrestle him the rest of the round. It was a dominant round win for Pico and it seemed to be a good start to the fight for him. After this going into the second round he looked to do the same with an early takedown being landed. FULL STORY
by Joshua Hernandez, Editor-In-Chief
Mr. Edgar Salmingo, Jr, an important member of the faculty and staff as the Vice Principal of Academic Affairs here at St. John Bosco High School, plays a key role to ensure that all school-related operations run smoothly. Despite not getting enough recognition as he should, he is extraordinarily committed to the Bosco community, as he spearheads efforts at Bosco to help students and teachers succeed.
Before arriving at St. John Bosco to embark on his journey of becoming a teacher in a Salesian setting, Mr. Salmingo believed he had a different calling as he navigated through life after graduating from college. Born into a family of five with two other siblings and growing up in both Hawthorne and Harbor City, California, Mr. Salmingo poured himself into his education as a kid, prioritizing school over all else.
After finishing middle school, Mr. Salmingo decided to attend Loyola High School, where he excelled as a student. Upon graduating from Loyola, he attended UC Irvine for his undergraduate degree, where he majored in Computer Engineering.
After getting his degree from UC Irvine, he attended Loyola Marymount University, where he got his Credential and Masters in Secondary Education. To further reflect his commitment to education, Mr. Salmingo currently attends Pepperdine University for his Doctorate in Learning Technologies.
Initially, Mr. Salmingo wasn't drawn to Education as a career, first working at Apple as a Genius Administrator, or in layman's terms, a Manager of the Repair Department for Apple Products. Despite being the Genius Administrator at Apple, which was a relatively stable job after finishing his studies, Mr. Salmingo felt as if he wanted to do more with his life. FULL STORY
by: Andrew Fierro
Aaron Pico who is currently 6-3 and on a two-fight win streak fights on Thursday Night for the Bellator organization in the featherweight weight class.

Aaron Pico started off his Bellator career with a 4-1 record finishing all of his fights inside one round using his high level striking and wrestling.
Though his hot streak came to a halt when he crossed paths with Henry Corrales who finished him in the first round. The fight started off well for Pico as he dropped him with a punch at the beginning of the fight, though instead of taking it to the ground he let him back up which proved costly in the end. FULL STORY
by Pedro Ochoa
If someone last year told you that we would be doing all of our classes on our bed via ZOOM, would you have believed them? Of course not. Isn't it weird that most of the time in our physical classes, our teachers would tell us that we had to put our electronics away? And now, they ask us to open our electronics, because if we don't, then we will get marked absent. How things have changed in 2020!
Waking up five minutes before class, in your bed, and in your pajamas is amazing right? Can you imagine being in front of a screen for more than ten hours a day? Well stop imagining it, not only are you doing this now, but most of you were doing it before the pandemic (stop shaking your head – you know I'm right).
Online learning has a lot of positives and negatives. First and foremost, every quarter is different for everyone. There have been many students that are pulling their hair out because they are taking their hardest classes in the first quarter, while some students are sleeping and dreaming of those sheep jumping on clouds because they have free periods. I know this because I was one of those sheep dreamers first quarter, while now I am starting to grow white hairs. FULL STORY
by Nicholas Neoman
The Bosco community is experiencing a divide over the rapid change of quarters this semester, sparking dialogue on whether a quarter system is beneficial or detrimental to both students and faculty during online learning.
Teachers, as well as some students, feel the pinch of a quick turnaround. For a multitude of reasons, they believe that the three day break between quarters one and two was far too short.
When Mrs. Michele Dolphin, a teacher for the Biomedical Pathway and Chemistry, was asked about the single-day grading period, she responded with a sentiment many other Bosco teachers may share as well.
"I ended up not meeting that deadline and so I asked for an extension because it was just impossible, I felt really stressed and overwhelmed," Mrs. Dolphin said.
Mrs. Dolphin represents the general consensus of many teachers at Bosco. Teachers like Dolphin finished administering their finals Thursday afternoon and were expected to grade them by the end of the following day. The tight pinch between academic quarters forced teachers into a frenzy, grading at an alarming rate. Teachers were expected to grade finals within a day and start teaching their next classes a few days later. Much of the teaching staff would have benefited greatly from an elongated break to grade finals and relax before they set out to teach a new set of courses.
Noah Citek, a Junior in the Sports-Medicine Pathway, responded similarly when asked about his view on the short grace period. FULL STORY
By John Udabe
Over the summer, St John Bosco hired on a new President and CEO of the school to bring change to the Bosco community, Dr. Brian Wickstrom.
With a rich resume, Dr. Wickstrom is an exciting and enriching addition to the Bosco community.
Dr. Wickstrom was raised and educated in the state of Kansas, along with his identical twin. As a student athlete in high school, he eventually went on to receive a full scholarship to Kansas State as a Track and Field athlete running the 400 meter. This background makes it easy for him to relate to the load many Bosco student-athletes take up in order to have an opportunity to compete at the next level, as he has experienced first-hand what that feels like.
"You have to learn to manage your time and you have to learn to survive, make friends, get along and build relationships to get through school and set yourself up to be able to have the contacts for the rest of your life," Dr. Wickstrom said. "I think it's very similar to going through the brotherhood of St John Bosco and the value of the relationships and the brotherhood that you make here in school."
At Kansas State, he earned his MBA with a management concentration. After that, he earned a Masters of Sports Administration from Ohio University and later became a Doctor of Education and Educational Leadership from Eastern Michigan University.
"I just knew that I had such a great student experience and student athlete experience, that I wanted to impact students," Dr. Wickstrom says.
Dr. Wickstrom's family is a testament to the emphasis and importance of education on his life. FULL STORY
by: Andrew Fierro
Juan Archuletta, a bantamweight fighter in the Bellator organization, and a role model to Bosco's varsity wrestling team acquires the bantamweight championship with a win over Patchy Mix on September 12.

Almost exactly one year after losing his first title fight against featherweight Patrico Freire, Juan Archuletta challenges for a title once again and this time gets a unanimous decision to take home the championship. His record is now 25-2 and he has only lost one time in the past 5 years.
Archuletta's great ground defense became a pivotal role in his win, with him being taken to the ground early in the first round and having to defend off many submission attempts from his opponent Patchy Mix. Though once he was able to get back to his feet it was obvious that he was in control of the fight with his superior boxing.
Archuletta commented about the difference between wrestling in a regular match and a fight, saying, "it's different because in a fight you're getting punched, you can't just shoot in when you're tired". He cited differences in the amount of things to worry about stating "there are a lot more things to worry about when you're fighting because it's not only about wrestling". FULL STORY
by Aydn Morris
High school student athletes are now panicking as college scholarships won't be any easy to come by this year thanks to the ongoing pandemic.
St. John Bosco High School Athletic Director Monty McDermott, like many student-athletes and parents, is concerned about the matter. Around 500,000 students end up becoming a student athlete in college and from those 500,000 only 150,000 are under an athletic scholarship, according to Mr. McDermott.
"Now it is even tougher to get a scholarship because the number of high school students are rising but the number of scholarships are decreasing," said Mr. McDermott.
Prior to the outbreak only 2% of student athletes were given a scholarship which resorted to only 15,000 students receiving one. It is no secret that it was already tremendously hard to get an athletic scholarship in general, and now it is going to reach a level of toughness we have never seen before.
The California Interscholastic Federation (CIF) has been trying to figure out a way to let as many high school students as possible play their respective sports. They came up with the idea of reducing the sports seasons by only having Winter and Spring seasons, which allowed the fall sports to practice and try out due to not being able to during the summer. FULL STORY
by Nicholas Neoman
Celebrating Halloween in the midst of the COVID-19 pandemic poses a tremendous new health risk. In the wake of a spike in cases nationwide following Labor Day weekend, health experts are concerned with the implications Halloween places on the rate of transmission.
According to NBC Los Angeles, Labor Day saw a massive "uptick in virus cases." Events such as barbecues and public gatherings on Labor Day caused a spike in the COVID-19 infection rate. According to the Blueprint for a Safer Economy, Los Angeles County's cases are hovering around 7 cases per 100,000 people. Health experts fear the COVID-19 infection rate will see exponential growth during Halloween, which may mean the popular holiday will look different for at least 2020.
The Los Angeles County Department of Public Health has placed new guidelines for Halloween in the midst of this pandemic. Social gatherings, such as parties, are now forbidden as close interactions will surely cause a spike in cases. Other traditions like Trick-Or-Treating are strictly advised against. Everyone must be six feet apart, which is simply not realistic. While many restless children will still go door-to-door asking for candy, the Health Department strongly advises to limit the amount of contact. Even small interactions with others, like handing out candy, put people at risk of contracting the novel coronavirus.
Furthermore, the Health Department has deemed online parties and drive-in-movies as safe actions for celebrating Halloween. While many are still very sick of doing everything from a distance, one moment of close interaction can ruin what months of time have built. Halloween floods people with nostalgia of times before this pandemic. Thus, the inclination to return to "normal" will be stronger than usual. But, remember: this can be deadly. FULL STORY
by Ryan Tavera
Since its founding in 1940, St. John Bosco High School has been committed to empowering students to develop and achieve their fullest potential, but due to the recent economic decline caused by COVID-19, St. John Bosco's goal to serve students has been put in jeopardy. Luckily, our community has stayed #BraveTogether to make sure no one gets left behind.
COVID-19 has made nearly 10 percent of our families struggle to make due and pay tuition. Furthermore, the pandemic has resulted in several major fundraising events being canceled. As a result, an estimated $250,000+ was lost that needs to be made up.
Previously, Bosco aided 60 percent of students through its tuition assistance program. Unfortunately, no additional funds are available to help these families. So during these hard times, it is stressed as a faith and school community that we exercise perseverance and offer a helping hand to our fellow Bosco families.
The Brave Together fundraiser serves as a beacon of strength and unity and to inspire others to help one another. FULL STORY
by Emilio Ceja
All of the hard work done for four years of high school by students can in some cases mean nothing if they catch "senioritis".
All of the good grades, outstanding GPA's, and credit for classes can be looked over and ignored if students continue through the last months of high school with this epidemic. The unwillingness to do work the second semester of senior year can not only mean lower grades for students but can also bring much larger consequences to the table.
Throughout my years at St. John Bosco I have seen many seniors change from their academically achieving selves into the sweatpants wearing, sandals rocking, seniors that no longer care about the whole highschool appeal. Many of these seniors sometimes do not realize the real harm that they can cause to their own future by not doing the often simple work that is assigned to them. Once accepted into colleges, the colleges themselves have the ability to revoke your acceptance if your grades are not adequate to maintain acceptance. For many this can be unknown, once they realize the guidelines, it is too late for anything to change and they are stuck without the option to attend a university that they didn't intend on choosing. FULL STORY
by Christian Estrada
With all of Bosco's big sports glory, do not be surprised that an Olympian walks among Braves. Head water polo coach Jeff Powers was inducted into the USA Water Polo Hall Of Fame this past Summer, yet another big athletic splash in the Brave community.
Mr. Powers was born January 21, 1980 in Chattanooga, Tennessee, but went to San Luis Obispo High School and played basketball, soccer, baseball, swimming and water polo.
He started water polo in high school, however, he did not take the traditional route. While Coach Powers understands the importance of hard work in a sport, he believes it is best for an athlete to participate in multiple sports.
"I am a big fan of [athletes] playing multiple sports and just having fun year around, and if you are an athlete you will be fine, it allows you to build character. Once you get to high school then you can start singling out and focusing on one sport. But until then, I say play all the sports that you can. I think you will be a better athlete, and lower your chance of injuries," said Coach Powers. FULL STORY
by Ryan Tavera
November 20, 2019 marked a significant day for many students attending St. John Bosco and their families, as the juniors received their class rings.
Junior rings have been a tradition in many high schools over the years and Bosco is no stranger towards the tradition. The ring is a token of appreciation and congratulations to juniors in the man they are today and the man they are shaping into. It also signifies their progression through high school, and the start of the end of their high school days.
Students were to meet in the Chapel with their family shortly after school ended, and they were seated together while their families sat towards the back of the chapel.
The mass focused on admiring, wishing the junior's a good future. The main difference between this mass and others, was that it had a more professional tone to it, almost like mini graduation.
Following the mass, Mr. Flaherty delivered a speech detailing the significance of the ring and what exactly the purpose of the ceremony is and what it means to him. FULL STORY
by Che Womack, Contributing Writer
With the season of giving nearly approaching, the urge to help others in need comes into full force. However, this desire to assist those who need help is not limited to just the holiday season. It is a way of life that should embody a person's character all year long.
This desire to give is represented in full force by the St. John Bosco Christian Service Program at Skid Row in Los Angeles, California, which takes place throughout the school year.
The St. John Bosco High School Service Program is an aspect of the school that pertains to the student body, reaching out to foundations and helping others in need. Students are required to achieve a certain amount of service hours each year in order to graduate.
However, the impulse to help others does not only come from the faculty and staff but from the student body itself. Many students have dedicated countless hours of their personal time as it genuinely lets them enjoy time away from themselves to help the less fortunate. FULL STORY
by Dominic Sanchez
Ms. Alyssa Skipper, a prominent member of the faculty and staff here at St. John Bosco High School as our Director of Counseling, may not be as well-known to some parents and alumni, but she is a mainstay in the lives of our student body. She plays a dominant role in the community in helping hundreds of students reach their academic potential and goals for the future to come.
Ms. Skipper's journey to St. John Bosco has been drawn out and alluring. She was born one of two daughters in Torrance, California and then raised in Lakewood for the majority of her life. Growing up with a very supportive and loving family who supported her through anything, they would go to any limit to help her succeed with her goals throughout her early life.
After middle school, Ms. Skipper decided to attend Mayfair High School participating in cheerleading and several other clubs. Graduating from high school she chose to go to UC Santa Barbara as an undergraduate and got her Masters at Cal State Dominguez Hills College. She then chose to start majoring in sociology, as well as minoring in applied psychology to broaden her opportunities for the counseling career she's been pursuing.
By the time she was about to leave high school, she knew that being a school counselor was a career path she wanted to be in. Besides working at a few fun jobs on the side during high school in the Summer, like Soak City Water Park, which she definitely did not enjoy.
"It was a terrible first job; I will definitely say that," said Ms. Skipper. FULL STORY
by Aharon Colon, A+E Editor
Not only will there be a battle on the field, but there will also be a battle in the stands.
St. John Bosco's student section, "The Tribe", has had a great year so far planning new themes and showing out at every home game. Here is everything you need to know about them, and what you should expect from tonight's game.
With the emergence of a big social media presence spreading across Twitter and Instagram, The Tribe's stock has risen tremendously over the past 2 years in the eyes of the public.
Starting with our first viral video, ironically at last year's regular season game, the Tribe was seen jumping up and down singing the tune to "Seven Nation Army" in the rain. This was in response to rumors that the game was going to be cancelled, and a high school football fanpage got a hold of the video and posted it. Since then The Tribe has never looked back. FULL STORY
by Kourt Williams
It is difficult to put into words what a game like this truly means. Some are calling this the high school football game of the decade, even the century. From a players point of view, I can tell you this is nothing short of the opportunity of a lifetime.
This is the first time Bosco will play the team in red game at Panish Family Stadium. It's number one and number two. No, not in the state of California, but in the whole United States. I thank God that I can be a part of it.
For the first time in a long time, we are considered the underdogs coming into a football game. We have been waiting for the opportunity to play these guys ever since last Winter, when we lost to them in the CIF-SS Championship game.
You best believe me and my teammates will be coming into the game with a big chip on our shoulders. We know Brave Nation has something to prove. FULL STORY
by Matthew Ruiz
Ms. Jeanne Pantuso is a well-known asset to Athletic Director Monty McDermott, all the sports teams and the staff and faculty members here at St. John Bosco. However, many parents and students don't know who she is nor do they know all the work that she does to help the school's athletic department, students and the overall community here at St. John Bosco High School.
Ms. Pantuso was born into a large family consisting of four brothers and two sisters. Her family has been associated with Bosco for decades, especially because her brothers came to Bosco. One brother, Mr. Jack Hastert, is still an extremely active and involved faculty member for the school, being the head golf coach and a recently retired religion teacher after over 30 years at Bosco. But Coach Hastert is far from the only connection to Bosco for Ms. Pantuso.
"My son Graduated from Bosco in 98' with a football scholarship, and my daughter graduated from St. Joseph's in 00' two years later," Ms. Pantuso said. She's had many family members go through Bosco and St. Joseph's High School whether that be siblings, nieces, nephews and brother and sister in-laws. FULL STORY
by Che Womack, Contributing Writer
The persona of a five-star high school quarterback, especially in the eyes of Hollywood, comes attached with arrogance and an unlikeliness to be deferential of teammates and coaches. This is not D.J. Uiagalelei. A true quarterback has to be someone who has the physical talent and mental fortitude to lead ten other individuals on the field to success. A quarterback is a leader, a headman, a commander. This is D.J. Uiagalelei.
Growing up, D.J.'s world revolved around athletics, family and church. Coming from a religious family, D.J.'s faith was instilled at a young age. His church, Abundant Living Family Church, in Rancho Cucamonga, California, hosts people from all walks of life, as it opens its doors to people of all faiths. Diving deep into his faith, D.J. gave a visual on how his faith drove him to the promised land of virtue and prosperity.
"God has blessed me with a lot, besides being blessed by waking up day-to-day, he has blessed me with an amazing life, an amazing family, and year-by-year, an amazing team," D.J. said. "He has blessed me by being able to play the game of football, by that blessing: He gives me the opportunity to showcase the talent he has given me."
D.J.'s faith and family have driven him to the best person that he can be. Involving himself with Pop-Warner games, youth camps and other virtues that involves him helping others, D.J. chooses to be a part of something greater than himself. FULL STORY
by Kourt Williams
Day 1:
(Wednesday)
As the team and I are ready and set for the trip, eager to start this once in a lifetime experience, first we had to go through the challenge of getting there. I had to wake up at three o'clock in the morning to be able to get to Bosco by four. By the time I got to the school, the majority of the team was already there ready to go. As we drive in the dark on our way to the airport, even though this time of morning is usually peace and quiet, my teammates and I were wide awake, almost as if we were on our way to a party. You could just feel the excitement in the air.
As we arrive at the airport, after talking to my teammates about the trip, this is the first time some of them have ever been at an airport, let alone an airplane. Just the fact, young men in high school get to travel to an island and experience something only a few ever get to do, in all just to play a football game, is something I will never forget, always cherish, and never take for granted. FULL STORY
by Christian Estrada
For our first new faculty interview at St. John Bosco High School of the year, we sat down with administrative assistant Ms. Emma Jean Sparks to ask her some questions and welcome her to the SJB family.
Q: What's your favorite movie?
A: Anything (and everything) from the Marvel Cinematic Universe.
Q: When is your birthday?
A: November 13
Q: What is your favorite color?
A: Blue – the color of the ocean!
Q: What is your Job?
A: I'm working as an administrative assistant – helping with registrar duties while Rubi Araque is out on maternity leave, and also helping Mr. Salmingo with the school's technology update!
Q: How do you like your job?
A: Getting to work with the Bosco community has been such a fun experience. The staff, teachers, and students have all been so welcoming and warm. FULL STORY
by Emilio Ceja and Jesse Neville
Stress levels in teens are beginning to match and even surpass the levels of adults, often in worse conditions than those stressed adults because of the unique social pressures adolescents face. Without a way to cope or handle this stress, many students often become overwhelmed and can fall behind in taking care of their schoolwork, their personal relationships and, most importantly, themselves.
However, students at St. John Bosco have a choice. Bosco began its mental health counseling program began during the 2006-2007 school year, offering a free and personalized counseling service to help with student stress and other issues they may face. Through this program, the students are not treated as "clients," but are treated as a friend that has others around them that they are able to talk to.
The original "Outreach Concern" counselors at Bosco have been replaced by counselors from a new company called Counseling Partners of Los Angeles (CPLA). These new CPLA counselors serve the same purpose as the Outreach ones and help the academic counselors meet all aspects of student needs. FULL STORY
by Elias Gomez
Being a freshman at Bosco is a great responsibility. It is a privilege. In the classroom as well as in the community, where students may don anything carrying the cherished "Bosco" name, they are expected and held to a standard of representing the "Bosco Brotherhood."
These incoming freshmen Braves began the year with a positive mindset and a fresh start with new student orientation. Like many Braves, one freshman, Diego Marquez, says that he is looking forward to Bosco's Pathway Programs.
"The Engineering Pathway is something I am excited for because it teaches me how to be a good leader and to problem solve," said Diego Marquez.
Diego's intellect and willingness to learn will help him, and all freshman, in his progression through respective Pathway Programs, or just balance the classroom with extracurriculars. FULL STORY
by Kristopher Hutson
My recruiting process has been going great. Being recruited and having a chance to go to college for free is a once in a lifetime opportunity.
I got my first offer during my time as a freshman. Receiving that offer is the most exciting thing about this whole process, because that is the main goal for every athlete.
If you only receive a Division-2 or Division-3 scholarship, don't start doubting yourself, because many pro athletes have come from even community colleges. You can go anywhere and ball-out, then transfer to a big-time university to improve your exposure. Never lose hope.
I committed to the University of Southern California early in my junior year. However, after thinking about it hard and talking with friends and family, I realized USC was not a place for me. FULL STORY
by Jacob Jornadal and Sele Pemasa
As easy as it sounds, gaining weight is a bit more complicated than you would think. We are here to inform high school students about the healthy and correct way to gain weight.
Many students today – especially with the ability to drive – have access to all sorts of fast food. Many advisors say to stay away from fast food or to at least limit to once a month.
Other items to avoid is soda. Soda is the highest sugar saturated drink on the market. Consuming these type of foods and beverages will lead to you gaining the unhealthy weight that will produce more body fat rather than muscle, which is what we are trying to avoid. FULL STORY
by Kyle Moats
Ms. Amy Krisch is one of St. John Bosco's hidden gems.

While Ms. Krisch is a well-known face in the staff and administration, she may not be as well-known to many parents and students. This is ironic in that the students at St. John Bosco are the primary beneficiaries of her many efforts and the results her events provide.
I had the privilege of being able to sit and really get to know who "Miss Amy" – as she is affectionately known – is and how important her position is to us at St. John Bosco.
Ms. Krisch's road to St. John Bosco has been equally lengthy and interesting. She was born one of three daughters, in a town outside Philadelphia, Pennsylvania, and spent most of her early childhood there. FULL STORY
by Joshua Lucero and Elijah Ramos
What is the Dark Web? The Dark Web is part of the world wide web that can only be accessed by a special software, allowing participants to be anonymous whilst participating in illegal activities.
The Dark Web is more than just a label that has been given by the feeble minds of those who do not understand the magnitude of this creation.
The "Dark Web" and "Deep Web" can be seen as separate online resources. However, the Deep and Dark Webs are virtual seas where users can access information that they cannot in regular search engines such as Safari, Yahoo and Google.
The dark web is purposely hidden and encrypted from others. These encryptions include sites that distribute drugs, guns and other illegal products. FULL STORY
by Elliston Ospina and Jake Newman
"Through my husband, I was able to see the eyes of Bosco," said Ms. Woods.
Ms. Woods is one of the most beloved members of our school's faculty.
She represents the light and kindness of Don Bosco in her everyday routine.
The legend herself – Ms. Margie Woods – has a very dynamic role at Bosco. She is responsible for attendance control and messages, absences and notes, an everyday, all-day type of task.
Administration requests that she remains in a static position in terms of the tasks that she does, but that doesn't sit well with her. FULL STORY
by Jacob Jornadal and Jake Bailey
In any well-functioning community, there are always certain individuals that keep everything running smoothly, like the oil that keeps the engine running in an automobile.
Within the St. John Bosco High School community, there are many stars – academic and athletic – that shine very bright in all aspects of life, but without the unsung heroes doing the blue-collar work that they do, those "stars" at Bosco would struggle to succeed as much as they do.
Bobby Bernardo is Bosco's "Mr Everything." From maintenance to organizing sporting events, Bobby does just about anything he is asked to do and more with a smile on his face at all times. FULL STORY
by Joshua Lucero
Depression and anxiety are common issues that have infected the youth especially in recent history.
Many believe that depression is simply a choice and young teens overreact to their problems. Depression is a disease that can be caused from a variety of problems. Young teens have transformed from a group of children to mature young adults in this day and age.
Studies show that mature teens care and worry about adult problems such as financial issues, helping siblings, future careers, with this often leading to depression. A popular coping method of depression includes the taking of drugs and alcohol. FULL STORY
by Eddie Torre, contributing writer
Dear Eugene,
A week ago today when I visited, you and Karin were together for Valentine's Day—not
in the most romantic place but rather in a place of healing called Cedars-Sinai hospital.
A week ago today your eyes teared up when you saw the get-well card your Bosco students and band members signed for you.
A week ago today we were making plans for when you got better to go to Gerry's Grill in Cerritos—and, break bread together with other Bosco colleagues on the condition that you would not eat any Filipino food. Ha! FULL STORY
by Ethan Piechota
"His memory of you was joy, you brought him joy."
On Thursday, February 21st, 2019 at 1:25 PM, the St. John Bosco community lost a man who embodied the true spirit of a "Brave."
The life of Mr. Eugene Fabiero won't be remembered just through his love for instruments and music.
He won't just be remembered for his love for traveling and venturing around the world, and exploring new places.
He won't just be remembered for his iconic motorcycle that he rode to school from 90 minutes away every morning.
And he won't just be remembered for his incredible impact on the St. John Bosco High School band program in such a short amount of time. FULL STORY
by Matthew Ruiz, George Holani, Elliston Ospina, and Jake Newman
"Vaping in general is a major health risk to teens and young adults for brain development, addiction, and behavioral risks."
Teenage vaping of nicotine and marijuana can have long-term effects on the brain. When teens and young adults expose their brain to these substances, they are susceptible to side effects that include addiction, mood changes, and permanent lowering of impulse control.
Nicotine can also lead to addictions with more advanced tobacco products. Some evidence suggests that E-Cigarette use is linked to alcohol use and other substance use, such as marijuana. FULL STORY
by Gabriel Botello
Bosco alumnus Alberto Gonzalez and his team dominated the internship competition at Facebook University and got to meet the famous Mark Zuckerberg recently.
Alberto Gonzalez is an alumnus of St. John Bosco High School and was a part of the graduating class of 2016. For two years, Berto has been bouncing around with different majors such as neuroscience and PPE (philosophy, politics, and economics).
As he was still trying to find what he truly wanted to major in, Berto landed an internship in Washington, DC during the summer where he decided to minor in computer science. With this decision, Gonzalez worked on getting an internship for the class the summer after. FULL STORY
by Joshua Adoh
Out of all the retreats that St. John Bosco holds throughout a traditional Braves' four-year experience, Kairos takes the cake.
Going on this retreat is a guaranteed eye-opening experience. I learned many messages, such as how to treat people the right way and how to spread love to others. One major thing I took away however is that you must first love yourself in order to love others. That will stick with me forever.
I have learned the importance of self-love and how it plays a big part in my life as a young man. Ms. (Mama) Valerie Shields opened my mind to the idea of going on this retreat, which helped me understand that I am never alone in this world as long as I have God, my family, and my close-knit friends. FULL STORY
by RJ Johnson
Traditionally, the Brave of the Issue has been awarded to exceptional Bosco athletes and scholars, such as Jaiden Woodbey and Colby Bowman. However, even these illustrious awardees haven't achieved some of what class of 2019 senior Nnamdi Chugbo has in his own time at St. John Bosco.
On December 24, 2017, Nnamdi launched his clothing brand 'Saint' with the release of his "The World is Yours" t-shirt. His inspiration behind "The World is Yours" design came from his feelings toward life.
Nnamdi has always grown up not only believing, but knowing that he was destined for more in life than just traditional standards in which to conform. FULL STORY
by Joshua Lucero
On August 21st, sixth grader Faith Fennidy arrived to school at Christ the King Parish School in Terrytown, Louisiana and received a notice about being in violation of dress code. The Archdiocese of New Orleans stated she was not expelled, but rather "withdrawn" from Christ the King. But what school administration didn't bargain that day was this being the beginning of a problem for the school's haircut policy.
Faith and her family were sidetracked and shaken by the news. Faith left her campus in tears after her natural hair didn't meet her school's standards. However, this was not the first time Faith received notice regarding her hair being in violation of dress code. FULL STORY
by Na'im Rodman
It's that time of year again, and by time of year, I mean Midterms. This time of year can be very stressful especially for athletes that are being checked for eligibility or just for students that want to get their grades right heading into the second half of the semester.
This is the time of the year where you want to establish habits that will be successful during Finals Week in December. Tests can be dreadful for some students who are not the best test takers, struggle in their study skills and preparation, or don't have all the best grades going into the tests. So here's some advice on how to prepare for and ace your exams in the future! FULL STORY
by RJ Johnson
Discussion of a Black Student Union on St. John Bosco's campus has been up for several years, on and off with no one truly taking initiation to get the club started.
With St. John Bosco being such a diverse community and rich in cultural clubs such as Filipino Club, Spanish Culture Club and more, a club to represent African-American culture and pride seemed to be missing.
St. John Bosco senior students Parker Grey and Cole Grey have taken the role of getting a BSU started here on campus. FULL STORY
by Gabriel Botello
"It changed my whole life, I became homeless and jobless. I had possessions in my home that could never be replaced."
With Hurricane Florence affecting residents of North and South Carolina, Bosco religion teacher Ms. Valerie "Mama" Shields reflected on her own story of being a victim of Hurricane Katrina in 2005.
Going through a hurricane is extremely tragic, and many people living in California are fortunate enough to have avoided the experience. Residents must leave their belongings, their money and most importantly their homes while evacuating. For some people, it's the home they grew up in. FULL STORY
by Caleb Wiley
Colby Bowman transferred to St. John Bosco High School after his freshman year and immediately fit into the winning culture at Bosco on and off the field.
Bowman heard about the Brave football powerhouse not only from all the friends he had going to the school, but also through playing against (and getting beat by) Bosco during his freshman year at JSerra.
"After playing against Bosco my freshman year, I knew right away what school I was going to next year. The way they played like a team and with passion really caught my attention," said Bowman. FULL STORY
By Naim Rodman & Jacob Jornadal
Every year young men come from all over to join the Bosco community, whether it's from a different country, a public school, a private school, or even home school. Three weeks have gone by since these students have begun their journey as Bosco Braves.
As new transfers or freshmen, it can be hard to adjust to dress code, Mass, new academic and athletic standards and just Salesianity on the whole.
Students coming from private school are used to uniform rules because of their last schools policies. FULL STORY
by Joshua Lucero & Lucas Garrison
By attending St. John Bosco High School, students have to comply with the school dress code. The past few years these rules have been overlooked. So far in the 2018 school year, there has been a clear reinforcement to these rules.
School Vice Principal of Student Affairs Mr. Jaramillo has been tasked with the job to have the structure of the school run fluidly. A former dean on campus, Jaramillo is familiar with the rules and regulations on campus.
"My job is holding up the stage and making sure the lights work on the stage," says Mr. Jaramillo.
These school requirements of clean shaving, tucked in shirts and belts are all major cultural changes on campus. Mr. Jaramillo is not trying to make the lives of students difficult, as he tries to bring equity and unification to the school community. FULL STORY
by Kyle Moats and Victor Curie

Calling all Braves! To all interested in acquiring a new skill, joining a tight-knit campus community, or just looking to have an all-around good time with classmates, Bosco's music department is the right fit for you!
When people hear of St. John Bosco High School, the words that are often automatically associated are sports, academics, and the Salesians. However, while each of these aspects is an integral part of the Bosco experience and community, one component that does not receive as large of a spotlight is our school's marching band and liturgical choir.
Due to many of the music program's members being in last year's graduating class, the department has been left shorthanded this year. In an interview with Bosco's music drector Mr. Eugene Fabiero, he expressed his thoughts over his department's current predicament. FULL STORY
by Ethan Piechota

Every day, Jaiden Woodbey drives to school here at St. John Bosco high school from his home in Fontana, California.
The one-hour drive every morning is tough for the star football player and track-and-field standout, but represents the commitment and dedication Woodbey has as a Bosco Brave and member of the community.
"It's tough, but then again I have a goal, so it's not really that hard," said Woodbey about the drive. "I have a reason why I'm doing it, so it makes it that much easier."
It's not easy to be a 5-star recruit and one of the top defensive backs in his class, while in the process exemplifying what it means to be a Bosco Brave. Woodbey graces the campus every day as a role model for everyone. On and off the field, he's a true 5-star recruit. FULL STORY