Sports
by Lucas Garrison, Sports Editor
Just like Football season, the Braves take down Monarchs. They now have taken down the Monarchs to become the best team in the CIF Southern Section for Football, and now have knocked off the Basketball powerhouse to become the best team in the Trinity League, for the time being. The Bosco Braves Friday night, marched into the Bosco Thunderdome, and completely dominated the Monarchs. Bosco was lead by their typical team leaders, however, the big reason for the win, was the dominant defense.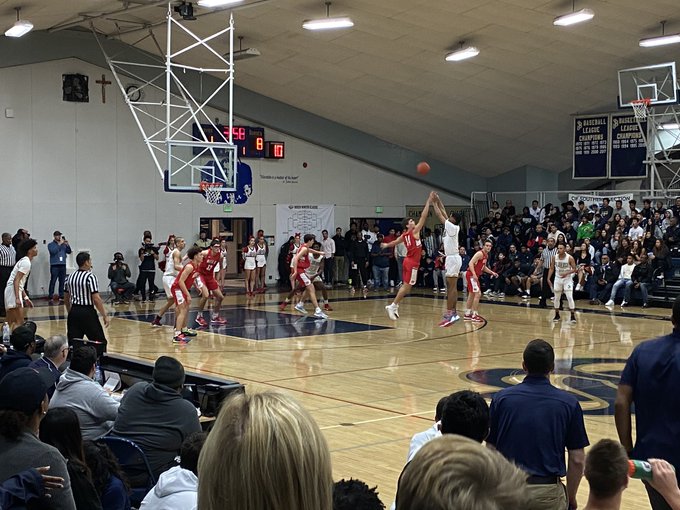 Photo by Bosco Basketball Twitter
From the opening tip, the Braves' on-ball defense was smothering the Monarchs offense. The Braves won the opening tip and laid in a nice swish. For the majority of the game, the Braves team seemed well gelled together and looked like guys that had been playing together for the past 10 years.
In the first quarter, the Braves were led by Wynton Brown and Josh Camper. Wynton led both teams in rebounds posting 8 rebounds. Brown was the team leader in rebounds, with 8, but the Braves as a team were unstoppable on the glass as they dominated by posting 37 rebounds.
Mater Dei did finish the game with 26 rebounds, however, the majority of the rebounds did not come until the 4th quarter. Mater Dei posted a total of 32 rebounds. The Monarchs though did not seem to be gelling together well as a team. Throughout the game the constantly looked for one player, and his name is Devin Askew. FULL STORY
By Johnathan Gonzalez
St. John Bosco's varsity soccer led by Coach Dave Sabet has been on a tear this season with an outstanding record of 14-2-2, and a league record of 2-0-1. The Braves are coming in with fire to prove to their rivals within the state and the very tough Trinity League that they are very here to win it all and become a team that can challenge for a State title.
While not having the greatest season last year, the Braves have proved that it was a fluke and are coming off a big win in the Trinity league against JSerra Catholic (San Juan Capistrano) in winning a close 3-2 game. They have returned to the top and will continue to fight until they bring home the Trinity League title.
This year's team is playing with a higher level of confidence than previous years and junior Gabriel Torres believes it is a key to their success.
Junior Gabriel Torres said, "Coming into this year I did expect to have run that we are having. I believe with all the talent we have on the team this year we all play with major confidence in one another," said Gabriel Torres.
St. John Bosco's soccer team has been embracing the Bosco brother-hood. They act as if they are brothers, not just friends and classmates or teammates they play as brothers on the field and in the class having each other's back no matter what. Junior Christian Briseno really likes how the team is playing but understands they must stay consistent if they want to win titles. FULL STORY
by Lucas Garrison, Sports Editor
Braves versus the "Team in Red:" a rivalry as old as time. One will stand, one will fall. But who will come out on top?
(Photo by calhisports.com)
The Braves are riding the wave of two wins which came against Orange Lutheran, and most notably a win versus the Servite Friars. The final score of the road win was 71-67. The team was lead by Josh Camper, and Wynton Brown who combined put up 24 points. Brown was also the leading rebounder with 14 rebounds, Holm was right behind him with 9 rebounds as the Braves dominated the glass against the Friars.
However, two days after the Braves defeated the Fiars, the Braves took on the Lions of JSerra and were defeated by a score of 55-54. The game came literally down to the wire as star Isaiah Holm attempted a buzzer-beater, however, it bounced up and down four times before it bounced off the back iron for a miss. A true killer for the Braves.
"It looked good, it felt good, and it was continuing to bounce up and down and roll around like it was so sort of joke. Until it finally hit the ground. It hurt I felt like I let my team down. But it is what it is nothing I can change now," Holm said. FULL STORY
by Lucas Garrison, Sports Editor
Championship weekend continues to loom on the horizon, and we could potentially see a rematch of Super Bowl 1, which would make Roger Goodell ridiculously happy. On the other hand, we could see the "feel good" story of the year surprise all the doubters and make it to the big dance. Whatever teams move onto the Super Bowl will provide some high-end entertainment for viewers across the world.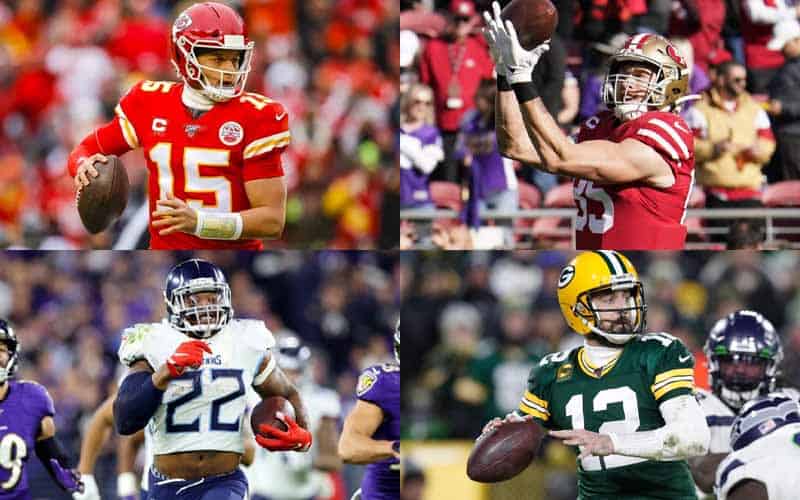 AFC
Titans vs. Chiefs, arguably the most unpredictable match up, takes place Sunday at 12:05pm (PST). The Titans are rolling on the offensive side of the ball because of one man. The man nicknamed "Tractorcito" finished the regular season as the league's leading rusher and has been steamrolling over defenses this postseason.
Derrick Henry ran the ball 64 times over the last two playoff games and put up 377 rushing YDs, but wait he only has 1 TD. How have these Titans knocked off the Patriots and the Ravens? The answer: head coach Mike Vrabel, who continuously this season has proved he can coach.
He's adjusted his defensive scheme each game this postseason and made the decision to put the ball in Ryan Tannehill's hands week 6 and make him the starter for the remainder of the season. Vrabel continues to show that if you run a balanced offense, and adjust your defense each week to who you are playing, you will consistently contend against any team. The Titans will be a headache for Andy Reid and the Chiefs this week. FULL STORY
by Lucas Garrison, Sports Editor
LSU overcomes shaky start to roll over the Clemson Tigers. Joe Burrow was nothing short of immaculate for the majority of the game as Coach O gets his National Title. However, this game has seemingly ended with two things, one Joe Burrow sealed himself as the number one pick in the 2020 NFL Draft. The second fact being, is Trevor Lawrence as great as we thought he was?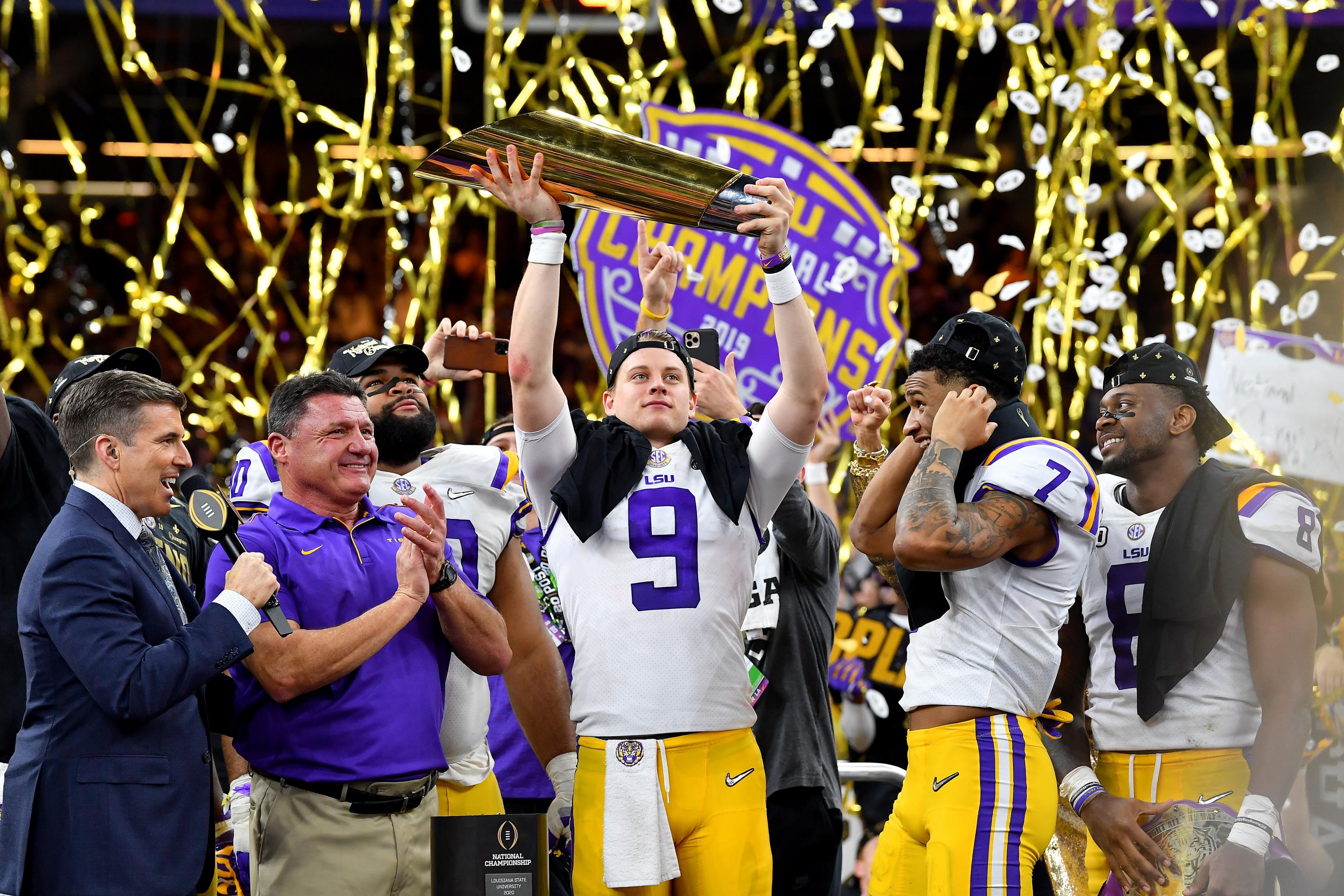 In the first quarter, LSU was struggling to keep pace with Clemson as it looked like Trevor Lawrence and Clemson were gonna keep up their undefeated streak. The Clemson Tigers and LSU Tigers both began the game with back to back defensive stands and punts. Until Clemson was able to strike first with a 1 yard Trevor Lawrence run for 7. This touchdown left a lot of questions in LSU fans and the announcers' heads, what is happening to Joe Burrow, as he was making passes out of character. This included missing wide-open receivers, and through a very wobbly ball.
Then in the blink of an eye, Joe Burrow answered Trevor Lawerence TD with a 52 yd back shoulder through to Ja'marr Chase. Chase had an impeccable game finishing with 9 receptions, 221 receiving yards, and 2 touchdowns.
However, the seemingly unstoppable LSU Tigers all of the sudden were facing down the barrel of a 17-7 deficit with 10:38 left in the second quarter. LSU then would answer with a Joe Burrow TD run, a Ja'marr Chase TD reception, and a Thaddeus Moss TD reception to go up 28-17. All this offensive success, however, was backed by their outstanding defense. FULL STORY
by Lucas Garrison, Sports Editor
The Houston Astros are the first of the two teams being investigated for cheating in the 2017 and 2018 World Series against the Dodgers. The second team hailing from the great cheating region of New England, the Boston Red Sox. Ken Rosenthal broke the news around 11 AM (PST). The headline news is that the Astros have fired Manager, AJ Hinch, and General Manager Jeff Luhnow.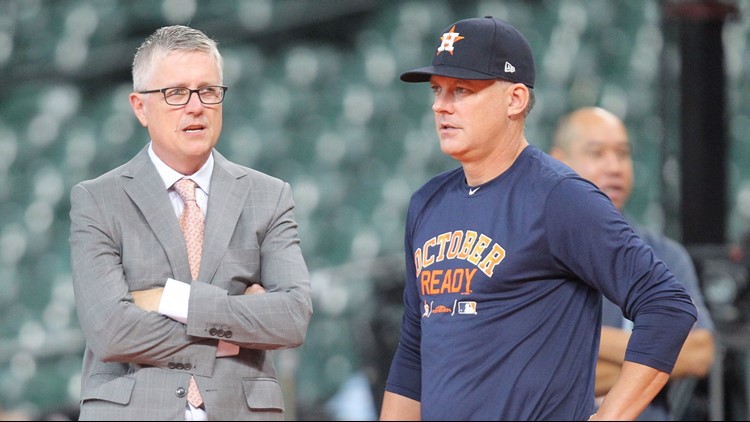 The punishment laid down by the league front office, prior to the firings included a 1-year suspension for both the Astros Manager, AJ Hinch, and General Manager Jeff Luhnow. The Astros has also been stripped of their 1st and 2nd round draft picks in the 2020 and 2021 draft. The draft picks being that of the heftier portion of the punishment as MLB teams rely heavily on those draft picks to build their "Farm System"(Minor League). The Punishment also included an additional 5 million dollar fine.
Now the suspension does not include any players. At the time, Carlos Beltran was a player on Astros. Since then Beltran has been hired as the new manager of the Mets. So far, it has been made clear that Beltran will not face any sort of punishment, and any chance of that changing is truly unrealistic.
The other big news looming with the punishment of the Astros is that of Alex Cora, the manager of the Red Sox who was a bench coach for the Astros when they were caught with the initial cheating scandal. Cora and the Sox were accused of cheating by using an illegal video replay room to steal signs during their 108 win regular season, which would result in a world series win for the organization back in 2018. On Tuesday The Athletic reported that three anonymous sources had come forward with proof and allegations against the Red Sox. FULL STORY
by Hunter Richardson, Assistant Sports Editor
The time is now for the Braves, with everything on the line and the "ultimate goal" closer in grasp than it has been in six years. Saturday night the Braves look to win the CIF State Championship and National Championship against Concord De La Salle.    
Brave nation is buzzing after one of the best games in Bosco and CIF History, defeating the "Team in Red" 39-34 to win the CIF-Southern Section Championship. For this program, winning that game was more than just beating a rival. It exorcised the demons of last year's CIF-SS Championship game as well as another loss to the "Team in Red" earlier this year in Trinity League play.
The opportunity that faces the Braves tonight is a special one with two of the biggest prizes in high school football on the line: a chance to capture the State Championship and National Championship for the first time since 2013. They only have one obstacle in front of them and that is the Spartans of De La Salle.
De La Salle has been a powerhouse name in California high school football for years, dominating the Northern Section as a familiar opponent to whoever comes out of the South. The Spartans are currently 12-1 and ranked 8th in the nation. The Spartans are one of the most disciplined and well-coached teams in the country, so this will be no easy task for the Braves.
For the Braves, this game will be the last for the seniors are lead out on the field by head coach Jason Negro. The graduating class for Bosco football is one of the most talented this school has ever seen. This will be the last high school game for players such as quarterback D.J. Uiagalelei, wide receiver Kris Hutson, defensive tackle Kobe Pepe, defensive back Kourt Williams and offensive lineman Drake Metcalf. FULL STORY
by Robert Johnson
The Los Angeles Lakers are officially back, as they continue the best start to a season in the illustrious history of the franchise.
The Purple and Gold have a current record of 22-3. This year has proved to be not only the changing but tipping point for the Lakers franchise. The Lakers began the season with the addition of key players such a Dwight Howard, Danny Green, and Anthony Davis which have been a major contributing factor to the Lakers' success.
Without a doubt, LeBron James and Anthony Davis have been the best duo in the league with James averaging 25.9 points, 6.8 rebounds, and 10.8 assists, while Davis averages 27.7 points, 9 rebounds, and 2.7 blocks.
LeBron James has been in full effect offensively thus far, averaging the most assist in a regular season for his career with 10.8, which currently leads the league. Now having the experience that a young Lakers team desperately needed last year, LeBron has seemed more comfortable in the Laker offense under new head coach, Frank Vogel.
The Lakers have also shown a significant improvement on the defensive end, which Vogel is known for, with Vogel previously being the Indiana Pacers head coach known for giving Lebron James' Heat team problems on the defensive end back in 2013. FULL STORY
by Matthew Ruiz
As Fall rolls into Winter, the NCAA has turned the wheels on allowing athletes to get paid for their likeness, name and image, which marks a major shift in the rules. 
Even though these athletes are still amateurs and still student-athletes, the NCAA wants to move in a different direction in January of 2021. A decision was announced on Tuesday, October 29, 2019 by the NCAA Governing Board.
According to NCAA Board of Directors Member Michael V. Drake, "Action directs each of the NCAA's three divisions to immediately consider updates to relevant bylaws and policies for the 21st century."
Some guidelines the NCAA has released:
Assuring student-athletes are treated similarly to non-athlete students unless a compelling reason exists to differentiate.
Maintaining the priorities of education and the collegiate experience to provide opportunities for student-athlete success.
Ensuring rules are transparent, focused and enforceable and facilitate fair and balanced competition.
Making clear the distinction between collegiate and professional opportunities.
Making clear that compensation for athletics performance or participation is impermissible.
Reaffirming that student-athletes are students first and not employees of the university.
Enhancing principles of diversity, inclusion and gender equity.
Protecting the recruiting environment and prohibit inducements to select, remain at, or transfer to a specific institution. FULL STORY
by Lucas Garrison, Sports Editor
The Braves marched into Cerritos College on Saturday with one goal in mind against the "Team in Red": Revenge. They emerged from the ashes of a barn burner as your 2019 CIF-Southern Section Champions after mounting an epic comeback, putting them in the driver's seat for a consensus national title with one more win over Concord De La Salle in the CIF-State Championship. 
In Trinity League play, the "Team in Red" took down the Braves at Panish Family Stadium. Looking back on that first meeting, the Braves looked lost on the defensive side and at times struggled to move the ball up and down the field. The beginning of Saturday's game looked the same.
The Braves within the first three minutes of the game gave up two passing touchdowns to the "Team in Red." The first was a 62-yard pass from Bryce Young to receiver C.J. Williams. Then, after forcing a punt, the "Team in Red" got the ball back and marched down the field, which would result in yet another passing touchdown for the Alabama-commit to take a commanding 14-0 lead in the first quarter.
In the Braves stands, it was so quiet you could hear a pin drop. Brave faces showed frustration, shock and pure disappointment. That's how a majority of the first half felt.
With six minutes to go in the first quarter, Logan Loya marched out and drilled a line drive 33-yard field goal to put the Braves on the board. FULL STORY
by Hunter Richardson, Assistant Sports Editor
The Braves find themselves one game away from a potential rematch with the "Team in Ted." Tonight they face off against the explosive Corona Centennial Huskies in the Semifinals of the Division I CIF-SS playoffs. 
Bosco football rolled through their opening-round opponent, Calabasas High School, winning 63-7, and this week they will have to keep their momentum flowing against the highly skilled Huskies squad. The Huskies, coming into this game at 9-2, ran through their league going undefeated with none of those games being close. The same goes for their opening-round matchup versus JSerra where they rocked the Lions 56-0. Both the Braves and the Huskies are riding heavy momentum into tonight's game, which should be an explosive offensive night for both sides.
The Huskies are a loaded squad with a high octane offense that can put up points against any defense in the country. Corona Centennial is averaging a mindblowing 54 points a game, so tonight is going to be a very tall task for Coach Negro's defense. The Husky offense is also balanced averaging over 225 rushing and passing yards per game, respectively. Tonight might have to be a game where the offense wins in a shootout.
The Huskies, after winning a coin flip, also have home-field advantage, which poses another challenge for the Braves playing away from Panish Family Stadium after a long road trip. Despite the trek for Brave Nation, the faithful will certainly show out to support their team in the biggest game of the year so far.
The Braves and the Huskies have faced each other quite a few times in the last few years in the CIF playoffs. It is nothing new to see these two teams reach the semifinals, and the last time they faced each other in 2017 the Braves won easily by a score of 62-34, again in the CIF semifinals. FULL STORY 
by Kourt Williams
This past Saturday, the University of Alabama played against Mississippi State. Late in the first half, Tua Tagovailoa, Alabama's starting quarterback was tacked by two Mississippi players and resulting in a drastic injury; a dislocated hip. Sources declare he will undergo surgery and be out for the remainder of the season. 
Alabama's head coach Nick Saban speaks on the impact an injury like this has on the team, "…we lost a great leader, a great player, we're all hurting." Saban goes on to say, "I feel bad and I'm hurting for him. I called him to cheer him up, and he then cheers me up."
An injury of this magnitude is detrimental to the football program just because of the major role Tagovailoa plays for the team. He has been the starting quarterback for two years, therefore the team has become accustomed to his style of play and methods of leadership. Now with him gone, and with a new, less experienced quarterback to fill his shoes, it will be interesting to see how to team does or doesn't recover from this detrimental change for the remainder of the season.
Tagovailoa suffered a dislocated hip, which ironically is the same injury, NFL player, Bo Jackson suffered in the prime of his career in 1991. There has been speculation around this injury because this injury cost Jackson's entire career, despite him being well in his prime. There has been concerns for Tagovailoa as to whether or not he will be able to fully recover and even be able to step on the football field as the Alabama starting QB again. FULL STORY
by Lucas Garrison, Sports Editor
The Braves basketball season kicked off yesterday with hopes to return to championship glory. Head coach Matt Dunn will have a multitude of players this season who were on the team a season ago, when the team qualified for the CIF-SS Open Division Playoffs, most notably senior guard Josh Camper, junior guard Lamaj Lewis and recent commits Isaiah Holm (Chico State) and Wynton Brown (Northern Arizona). 
Camper, the presumed leader of the team, will be looking to continue his dominance around the three-point line after a junior campaign where he average double figures. Camper, however, will not be a one-man wrecking crew. He will be accompanied by big men Holm and Brown, whose versatility and skill offensively will create matchup problems for a lot of teams this season, as well as by the slashing, play-making ability of Lewis.
Expect these names to carry the offensive load for the Braves, while their core of big men, which also includes sophomores Jeremiah Nyarko and Christian Estrada, who is expected to return in December after breaking his leg in the middle of last season. FULL STORY
by: Lucas Garrison, Sports Editor, and Travien Sears A and E Editor
The Second-seeded Braves, walked into Panish Family Stadium Friday night with one goal in mind: Destroy. As the Braves are coming off yet another impressive season, tenth year head coach Jason Negro and the Braves will look to make another CIF Championship appearance this season, which hopefully will result in another state, and possibly national, championship.
Friday night the Braves ran out of the tunnel lead by stars, Kobe Pepe, Kourt Williams II, Drake Metcalf and D.J. Uiagalelei. Now, the Braves did, however, start the game off a little bit slow, giving up the first touchdown to the Coyotes. The early touchdown can be credited to some pregame nerves, because after that initial touchdown, the Braves came down with the hammer on the offensive and defensive side of the ball.
The Braves lock down defense started with limiting the Coyotes to no more touchdowns the remainder of the game. However, Calabasas quarterback Jaden Casey did throw another touchdown, but to Bosco's defensive back Josh Alford for a pick-six. Alford, Williams and Pepe led the defense with a shutdown mentality. FULL STORY
by Hunter Richardson, Assistant Sports Editor
The Braves, coming off a disappointing 38-24 loss against Mater Dei, have an excellent opportunity for a quick bounce back in the final regular-season game squaring off tonight against Santa Margarita.
Last week was a difficult one to swallow for the Braves with much anticipation built into that game and falling very short against Mater Dei. Luckily the season is not lost as the Braves stay the number two ranked team in the country and have tonight's match up and the playoffs with another potential Mater Dei match up to look forward to.
On to tonight, it is the Homecoming game for the Bosco Braves, which is bringing the entire Bosco community past and present together for tonight's game. It is always a special night as alumni and current students all come together to celebrate the special community and tradition that this program and school have built. As for the game to be played on the field tonight, if the Braves are amped up and ready to put last week behind them, we might be in for a big-time performance in favor of the Braves. FULL STORY
by Lucas Garrison, Sport Editor
On Tuesday, October 29, 2019, St. John Bosco's football stars, Kourt Williams, II and D.J. Uiagalelei, were invited to the Army All-American Bowl, in San Antonio, Texas.
Both of these players have not only exceeded on the gridiron, but also in the classroom. Such a prestigious honor is not just given but earned. Anyone can be a true football talent, however, to be a part of the All-American Bowl, you need to also be a true champion in the classroom.
D.J. and Kourt have proven over the last two years to be leaders of the number two team in the nation. D.J., who is the number one ranked pocket passer in the nation and will be attending Clemson in the Spring of 2020, has posted 2623 passing yards, 29 passing touchdowns and two interceptions. He also has posted solid grades throughout his four years here at St. John Bosco High School. FULL STORY
by Joshua Whitfield
St. John Bosco Water Polo is one of many sports programs that are underrated and under-publicized. The St. John Bosco water polo varsity is led by head coach Jeffrey Powers. The Braves record this season for league was (0-4) and (7-18) counting their pre-season games. Coach Powers has been leading the Braves for many years, honing and developing many Bosco water polo players to take them to greater heights.
Coach Powers was recently inducted into the USA Water Polo Hall of Fame as part of the 35th induction class in June of 2019.
"It was an honor, that's not why you play the game but it is nice being recognized for some of your achievements," said Coach Powers.
While Coach Powers was honored with this highly prestigious achievement, it didn't interfere with his main priority, leading and coaching the Bosco Braves to make his players the best they could be.
The Varsity team consists of 13 players, the three Senior players Lucas Garrison, Ryan Mowl, Gabe Garcia, and Kyle Perera. The remaining of the team consists of juniors, Parker Moore, and Ethan Olney along with six sophomores on the varsity line up. The sophomores competing on varsity are Anthony Best, Joshua Joson, Lucas Okampo, Christopher Valente, and Jack Woodson. With only one freshman on the team named Matthew Cassas. Coach Powers believes the team has made great improvements from last year.
"There was a lot of guys that showed improvement from last year, Parker Moore showed a lot of improvement, some of the freshman that came out like Matthew Cassas he showed a lot of improvement but everyone improved, I think Gabriel Garcia had a really solid season, he played well and was always fighting," said Coach Powers. FULL STORY
by Travien Sears, Assistant A+E Editor
The Super Bowl of High School Football ended in a 38-24 loss for the Bosco Braves. The "Team in Red" defeated the undefeated Bosco football team to move on to 9-0, 4-0 in the Trinity League, while putting the Braves at 8-1 on the season, 3-1 in the Trinity League, and Brave Nation in a minor depression right before the Homecoming week. 
Despite leaving Panish Family Stadium with a loss, quarterback D.J. Uiagalelei throwing for two of the Bosco's three touchdowns and passing 283 yards and rushing 39 yards.
Senior wide receiver Logan Loya received for 109 yards, with Junior Jode McDuffie not far behind him with 99 yards.
The game started off fairly slow for the Braves. Starting with the ball to open the game, the Braves punted after a three and out, as the "Team in Red" immediately came back with a touchdown. There was energy in the crowd, however, on the field, the Braves seemed a step off, a vibe that was seemingly present for the entirety of the first half.
However, the second half saw a different mindset for the Braves. They played more as a team and as a team that was ranked as No. 2 in the nation. The Braves had a few opportunities in the fourth quarter where they could've come back and tied the game to go into OT, but an interception late in the game iced the victory for the "Team in Red" in this year's most anticipated high school game to date, that is until these two teams meet up again in the CIF-SS playoffs. FULL STORY
by Hunter Richardson, Assistant Sports Editor
Tonight is number one versus number two: the game of the year in a rivalry that goes deeper than just the history of these two schools. This, even more than years past, is the true Super Bowl of High School Football.
The game everyone has been waiting for is finally upon us, as the Braves take on the number one ranked "team in red" in a game that has had Brave Nation buzzing ever since last year's crushing defeat in the CIF-SS Championship game. Tonight's game will be the largest crowd ever to attend a game at the new Panish Family Stadium, with it being the first time the "team in red" graces the field at the beautiful new stadium. This game is high school football at its finest with the top two teams in the country doing battle in the most high profile rivalry in California and the whole country.
This rivalry has produced some of the best games Southern California has witnessed, and this year's game might well be between the best two teams that have ever faced each other in a high school football game. Tonight's game will feature almost 50 players that have either Division 1 offers or have already committed, a showcase of the best talent the nation has to offer.
Among all the talent matchups that are taking place tonight, everybody's eyes will be on the quarterback matchup between the two top-ranked quarterbacks in the country, the Braves D.J. Uiagalelei and the "team in red's" Bryce Young. These quarterbacks are also committed to the two best college football programs in the country, with Uiagalelei committed to Clemson and Young committed to Alabama. FULL STORY
by Isaiah Holm
With the season tipping off tonight, NBA fans everywhere are beginning to get excited for this year. This summer's free agency was arguably the greatest off-season free agent market ever, with Kawhi Leonard and Paul George going to the Clippers, Anthony Davis joining Lebron at the Lakers, and Kevin Durant breaking up the powerhouse Warriors and joining Kyrie Irving at the Nets. This has created insane hype for the season, as there are more than just a couple teams that are title contenders going into the 2019-2020 season. Here are The Brave News' "way to early" predictions of what will go down: 
Western Conference Playoff Picture:
Houston Rockets
Denver Nuggets
Los Angeles Clippers
Portland Trailblazers
Utah Jazz
LA Lakers
Golden State Warriors
New Orleans Pelicans
Eastern Conference Playoff Picture:
76ers
Bucks
Pacers
Celtics
Raptors
Heat
Nets
Pistons
Western Conference Champions: LA Clippers
The Clippers have a returning team filled with role players that complement their two new superstars, Kawhi Leonard and Paul George perfectly. In addition, they have an amazing coach Doc Rivers which can lead them through a stacked Western Conference.
Eastern Conference Champions: Milwaukee Bucks
The Bucks have the reigning MVP in Giannis Antetokounmpo and the return of a lineup that made the Eastern Conference Finals last year, the Bucks are the favorites to win the East. Their only real competition is the 76ers, however, they lost Jimmy Butler and JJ Redick, which will make it tough to compete with the Bucks this year.
NBA Champions: LA Clippers
Finals MVP: Kawhi Leonard
With Kawhi Leonard and Paul George and a strong supporting cast, the Clippers have the perfect lineup to shut down the Bucks in the Finals. Last year Kawhi got Finals MVP and if he shuts down Giannis as he did in the Eastern Conference Finals last year with Toronto, he will get MVP honors again. FULL STORY
by Travien Sears, Assistant A+E Editor
One might say that the order restored to the football galaxy last week against JSerra found higher order on Friday night in a Brave routing of the OLu Lancers.
The now 8-0, 3-0 Bosco Braves performed as fans and football enthusiasts expected and then some against the currently 4-4, 1-2 OLu Lancers, who were coming into Friday's game hot off of a 28-14 win against Santa Margarita. Hot themselves off of a big 49-10 win against JSerra, the Braves proved on Friday, yet again why they are ranked No. 2 in the state and No. 3 in the nation.
"Basically our game plan for this week was to dominate from the start, and finish it off strong in the end and that's what we did. As a team, I think we did that perfectly," said  starting senior center Che Womack.
The Lancers' lone light on this Friday night was a fourth quarter touchdown in garbage time. Following a pass interference penalty, the ball at the Braves 2-yard line, freshman quarterback Carson Conklin threw for OLu's only touchdown for game. However, even that bright spot was short-lived. Under excessive pressure, OLu's kicker missed the ensuing PAT.
The Braves got off to a phenomenal start, quarterback D.J. Uiagalelei made three passing touchdowns in the first half alone. The first touchdown of the game was a 3-yard rush made by UCLA commit, #24 Nathaniel Jones with #17 Logan Loya following through with the clean PAT. About 6 minutes later, Uiagalelei threw a 51-yard bullet to #88 Beaux Collins for another touchdown. FULL STORY
by Hunter Richardson, Assistant Sports Editor
The Braves, coming off an explosive performance versus JSerra, look to avoid a trap game tonight meeting the Lancers of Orange Lutheran before the eventual game of the year next week against Mater Dei.
The Braves are coming off one of their most impressive outings last week, where they silenced anyone doubting how good this year's squad truly is. This week Head Coach Jason Negro will need his team ready to avoid a let down against a team that has had a less than stellar season thus far in Orange Lutheran.
The Lancers of Orange Lutheran enter this game with a 4-3 record coming off a win last week by a score of 28-14 against Santa Margarita. Offense has been a bit of a struggle for the Lancers this season only averaging 20 points a game, and to beat the Braves, you must score points. Orange Lutheran has struggled against high caliber teams this season losing to Mater Dei 51-14, Narbonne 38-0, and Corona Centennial 56-14. Tonight will be a difficult task for the Lancers attempting to break this chain of lackluster performances against top teams, as they try to slow down the number two team in the country in the Braves.
Bosco comes into this game with a 7-0 record and a plus 200 point differential mostly dominating their way through this season. The main thing to focus on tonight will be if this team can handle business and not have a let down looking forward to next week's showdown with rival Mater Dei. Coach Negro's squad is firing on all cylinders with Mater Dei a week away from coming into Panish Family Stadium. FULL STORY
by Travien Sears, Assistant A+E Editor
The Braves (6-0, 2-0) rushed right into Friday night's Trinity League matchup on the road against the JSerra Lions (5-2, 1-1) after coming off a nail-biting 27-26 win over Servite, securing what can only be described as a "statement" win.
"There was some order restored back into the galaxy tonight," St. John Bosco's Head Coach Jason Negro said. "I'm really pleased with the way we played tonight. It was a very clean game, well-officiated and JSerra is a good football team. I was just really glad to get out of here with a win and stay healthy."
The Lions had a clean and challenging receiving end that definitely woke up the Braves defenders in the start of the game, especially when the Lion's Sammy Green returned the opening kickoff of the game an impressive 86 yards to the Braves 13-yard line which then set up quarterback General Booty who set left and executed the 13-yard touchdown pass to Chris Street putting the Lions at the best possible start of a 7-0 lead just 24 seconds into the game.
The Braves, however, couldn't allow JSerra to keep that lead for long, putting on an absolute show on the offensive side of the ball. Braves Senior Quarterback DJ Uiagalelei found a way to almost always make his O-line look solid, from hitting up receivers, giving the ball to the RB's or even running the ball himself. One of the most impressive and unexpected runs from Friday nights game was when Uiagalelei ran a 73-yard touchdown less than three minutes into the game to quickly tie the scoreboard at 7-7. FULL STORY
by Hunter Richardson, Assistant Sports Editor
The Braves, coming off a tough win against Servite, head down to highly ranked JSerra tonight in one game that could turn into another classic Trinity League battle. 
The Braves survived a tight 27-26 victory against Servite in the opening game of league play. Coach Jason Negro's team battled through tough officiating and a hostile opposing crowd to come out on top and maintain a perfect 6-0 record.
Quarterback D.J Uiagalelei had arguably his toughest outing of the season with only a 53% completion percentage in the game, while still throwing three touchdowns and preserving his zero interception statline on the season. Running back Nathaniel Jones had his breakout game of the season so far running for 82 yards on 12 carries. Defensive tackle Kobe Pepe once again led the team in tackles with eight and defensive back Jake Newman had the only interception of the game. FULL STORY
by Lucas Garrison, Sports Editor
After what looked to be a very promising season, the Dodgers take an early exit out of the 2019 postseason. The Dodgers walked into this series against the Nationals, however, once again Dodgers manager, Dave Roberts, managed himself out of the playoffs. It wasn't just a bad call in game 5, it was a coalition of poor judgment resulting in bad calls time and time again, in this series.
The Dodgers sit today, at home, and will be asking themselves the question of what happened. How did we get ourselves in this situation? The big questions Dodger fans are asking themselves are, why is Roberts still our manager, why was Clayton Kershaw put into this situation and why can't this team get over the hump? The sad thing is that the Dodgers seem to be stuck in this endless cycle of entering the season with huge expectations, and then just fall short every year.
The Dodgers this offseason will also have multiple questions regarding what they are going to do with this absolutely horrible pitching staff. Now, the starting pitching is just fine, they are able to go deep into games until leaving it up to their absolutely horrible bullpen. This season the bullpen seemed to be the endless cancer of this franchise. They have had to time and time again rely on players that are inconsistent, and just plain sad. Players like Pedro Baez and Joe Kelly this season left so much to be desired. Baez who was coming off of a career year a season ago, this season was unreliable, and just plain unable to get the job done. Now to Kelly the blockbuster offseason signing for the Dodgers who was supposed to bolster this bullpen, and make this Dodgers team unstoppable. However, he was unable to perform this season. All aspects of Kelly's pitching this season resulted in complete mediocrity. FULL STORY
by Lucas Garrison, Sports Editor
Week Five has come to a close, and there seems to be a lot more questions than answers. The fact that the Cowboys cannot seem to defeat a quality opponent, are the Steelers down to their third-string QB, and what are we supposed to make of the Colts?
The Cowboys this season are now sitting at 3-2. The sad fact of the matter is those three wins came against the Redskins, Giants, and Dolphins. The two loses, however, came against the Saints and Packers, both of which are the only quality opponents the Cowboys have faced this year. The Cowboys this season seem to have forgotten that they have Zeke Elliott and that needs to be the forefront of their offense, especially given that he's now the highest paid running back in the league after a long offseason hold-out.
If this team is to be more competitive, Jason Garrett and Kellen Moore need to realize that Ezekiel Elliott needs to be the number one option for them, then Dak and Amari, otherwise, this team will be unable to succeed as a viable contender for the Super Bowl. FULL STORY
by Lucas Garrison, Sports Editor
October has fallen upon us, and yes that means the most important time of the month is here: Halloween? NOPE, it's postseason baseball. The usual teams are atop their divisions, with the Dodgers of the National League, and the Astros, and Yankees, of the American League. Of course, these teams would be the obvious favorites, but there are several sleeper teams that are viable contenders.
NATIONAL LEAGUE
The National League now is a completely different story when comparing the National League to the American League. The Dodgers enter into October, as the heavy favorite to represent the National League. Now yes, the National League has other teams that will be able to provide a tough time against their other opponents, but in my opinion, there is no other team that will be able to take the National League away from the Dodgers. FULL STORY
by Hunter Richardson, Assistant Sports Editor
The Braves open Trinity League-play tonight with Servite on the road, attempting to once again conquer the toughest league in the nation. The Braves have three road games to start league-play with the currently number two ranked team in the nation looking to repeat as Trinity League champions. 
Coach Jason Negro's team is coming off a dominant nonleague run going 5-0 in easy fashion against high quality out-of-state opponents. The Braves took down three tough east coast squads in Don Bosco Prep, Dematha and Our Lady of Good Counsel at home, running through the opposition with a stout defense as well as an explosive offense at the helm of second year offensive coordinator Steven Lo. On the road during non-league play, the Braves gave opposing fans a show in two commanding victories against Mililani of Hawaii and Liberty of Nevada.
It is time to turn the page for the Braves, as they are looking down the familiar slate of games in the hardest football league in the country, the Trinity League. The Braves are beginning league-play with three consecutive road games versus Servite, JSerra and Orange Lutheran. This is a difficult challenge that Coach Negro's team has to deal with before the inevitable game of the year against the number one team in the country, league rival Mater Dei. FULL STORY
by Timothy Levine, Executive Editor, and Isaiah Holm
With the 2019-2020 school year in full swing, there comes a new set of athletic seasons for St. John Bosco, but this year they will be one big change that comes from the California Interscholastic Federation, CIF. 
In a unanimous vote, the CIF Federated Council approved a new rule that starting this year will ban California teams from playing high schools around the country that don't compete in their state championship playoffs. This rule will have a huge impact on certain sports at St. John Bosco and affect California athletics as a whole.
CIF has some clear reasoning behind this rule, which includes their belief in the balance of academics and athletics. These schools are allowed to recruit and promote their athletics in ways that schools under CIF are simply unable to. Monty McDermott, the Director of Athletics at St. John Bosco, believes that these academies can sometimes barely be recognized as academic institutions.
"They do not have any transfer rules, academics are not their first priority, they are boarding schools. It is probably not a good idea to play those types of schools if you can even call them high schools," said Mr. McDermott. FULL STORY
by Ryan Tavera
The Cross Country team has set big goals for this year and are training their hardest to make them a reality, with head coach Tim McIntosh leading the team the runner's hopes are high for the upcoming season. 
2018s Cross Country team performed very well, placing second in the league. Head coach Tim McIntosh hopes to repeat the success they had last year and go beyond what is expected from the team.
"High expectations for this year, felt last year was very young they really developed a lot in track and this year our goals we want to win the league and get up on that podium at CIF and State," said Coach McIntosh.
The Cross Country team has high expectations for the upcoming season, every runner is preparing themselves for the upcoming season both as a team and individually. FULL STORY
by Hunter Richardson, Assistant Sports Editor
Bosco football flies across the Pacific to take on Mililani of Hawaii in Bosco's first true road test before the beginning of Trinity League play.
This week the Braves are playing the second half of a "home and home" series against one of the top teams in Hawaii in Mililani. Last year the Braves defeated the Trojans by a score of 52-14 in a game where the Trojans started fast, but the Braves ended up dominating using their size and speed.
Coach Negro's team seeks to replicate last year's success against the Trojans with a solid performance in the "Aloha State" before they get a bye week prior to the start of league play.
The Braves have had a dominant start to the season in the non-league games with a 4-0 record and a plus-128 point differential. Bosco football has made an early statement this season for being the top team in the country alongside league rival Mater Dei. FULL STORY
by Hunter Richardson, Assistant Sports Editor
The Braves return home this week as they invite another top cross-country opponent in the Falcons of Our Lady Of Good Counsel from Maryland.
Bosco football, led by head coach Jason Negro, look to take down another top 25 team this week in Our Lady of Good Counsel, who boasts a stout defense only giving up a combined seven points in their first two games of the season. The Falcons who are 2-0 on the season come in attempting to be the first team to knock off the Braves at home at Panish Family Stadium.
This will be the toughest opponent for the Braves this season so far as they look to continue their hot start to the season coming into this game at 3-0. The Braves have dominated the opposition so far this season, outscoring their opponents by a combined score of 140-35, and they will seek to continue this trend against the Falcons.
The offense will have their work cut out for them as they are going against a defense of the Falcons that have dominated their first two opponents on that side of the ball. The offensive line of the Braves have a large task ahead of them to keep this defense of the Falcons at bay and give the high-octane offense and skill players of the Braves a chance to get in space and use their speed to take control of this game. FULL GAME
by Lucas Garrison, Sports Editor
Football is back, baby, and in a big way! In the AFC, the Patriots looked unstoppable, and in the NFC, the Cowboys showed themselves to be a real Super Bowl contender, with their quarterback Dak Prescott proving he deserves to be a top three paid quarterback in this league.
Those were the two teams that stuck out in week one as the best in their conferences, respectively. However, there are several other teams to be on the lookout.
The Baltimore Ravens are stronger than last year. The Jacksonville Jaguars did not need to pay for Nick Foles, and the Steelers will struggle without the "Killer B's."
The Jags lost former Super Bower champion Eagles quarterback Nick Foles until at least week eleven, but back-up Gardner Minshew still went out and had a solid stat line: two touchdowns on 275 yards passing with an 88% completion rate. As long as the Jags can continue to have solid production from their defense, running back Leonard Fournette and back-up quarterback Minshew, I fully expect this team to return to the glory of 2017. FULL STORY
by Kourt Williams
One of football's most notorious injuries is a torn ACL, which stands for the anterior cruciate ligament. This injury will have any athletic player no matter the size, on the sidelines for an entire season, if not longer.
Just ten days ago, The University of Alabama head coach, Nick Saban confirmed, Dylan Moses, the team's starting middle linebacker suffered a torn ACL two days prior to their first game of the season opener against Duke University. Also on two Saturdays ago, starting USC quarterback J.T Daniels suffered a torn ACL and is reportedly out for the remainder of the football season.
Nick Saban holds Alabama to a high standard, and even with the loss of Moses, he still believes his team has what it takes to play at a continued high level.
"It is also a character check for everybody on our team, to be able to keep the faith, to respond to adversity the way they need to, to accept the challenge, and rise above the challenge," Saban said, according to NBC sports. FULL STORY
by Hunter Richardson
The Bosco Braves will take the show on the road this week as they head to Las Vegas to take on Liberty High School Friday afternoon as part of the 2019 Polynesian Football Classic.
Tomorrow afternoon will be the first road test of the season, as the Braves head to Vegas to take on Liberty High School from Henderson, Nevada. The Braves look to build off of their explosive outing from last week with a repeat performance against the Liberty Patriots in week three.
Week two of Bosco's football season came to an end with an emphatic throttling of brother school Don Bosco Prep by a score of 56-21. The Braves came out firing early as Coach Negro's offense put up 42 first half points and proved to be too much for the Ironmen.
Clemson-commit, quarterback D.J. Uiagalelei, recorded five total touchdowns in the first half and only needed one drive in the second half to tack on his sixth of the game. The story of this game can be summed up in D.J.'s touchdown run late in the first quarter when he ran through practically the whole defense of Don Bosco, carrying tacklers with him on his way to the endzone. This play showed how the Braves flexed their muscles throughout the entire game on both sides of the ball. FULL STORY
by Lucas Garrison, Sports Editor, and Timothy Levine
This is not just your typical Bosco football game, as the Braves will be taking on their brother school of Don Bosco Prep from Ramsey, NJ. The Braves will look to continue their season on a hot streak by opening the season 2-0 against national competition.
Many questions surround tonight's Salesian Bowl match up. This game will not just be exciting with the east coast-west coast Bosco rivalry, but it will serve to answer two key questions surrounding this season of Bosco football.
Question 1: Will the Braves be able to start the game strong on offense, as opposed to last week's slow start against DeMatha (MD)? Question 2: When will we see Bosco's star running back Nathaniel Jones? FULL STORY
by Lucas Garrison, Sports Editor, and Joshua Lucero
Week 1 of the Bosco football season has come to a close. Bosco was able to conquer DeMatha this week by a final score of 35-7. Coach Jason Negro was able to lead his team to a strong finish with 28 straight points even with the team coming out very slow in the first quarter.
The Braves were lead by a strong coaching staff, good play calling, and a great starting quarterback. D.J. started off slow and with the Brave offensive line, there were certain times early on it looked completely broken, however, they were able to bounce back in the second half as Bosco exploded offensively. D.J. was able to take control of the game once he was able to get comfortable in the pocket. Uiagalelei having 17 completions in 37 attempts for 322 yards and two touchdowns. Even though he settled into a big night, D.J. shouldered all the blame for his slow start.
"I think that was solely on me. I was missing a lot of my receivers on their targets. I was missing easy throws that I should have been making. Once I started hitting my receivers they just did what they do best. We were able to work together and the offensive line was able to create holes for the running backs," said D.J. FULL STORY
by Lucas Garrison, Sports Editor
Let's start off by calling tonight's matchup between the defending Trinity League Champion Bosco Braves and DeMatha (Hyattsville, MD) on ESPN 2 exactly what it is: a high school football game headlining week 0 of the college football season. 
DeMatha has made the cross country trip, as the Braves look to spoil the Stags' California dreams from the opening snap. Not to mention, with the national TV presence, the home crowd for this game is expected to be absolutely bonkers from the second Bosco walks out of the tunnel to their new Nike sponsored hype video to the last whistle signaling a Brave victory. FULL STORY
by Hunter Richardson
Episode three of this season's Hard Knocks featuring the Oakland Raiders offered an inside look into the wild drama that is Antonio Brown's feet and helmet sagas, as head coach Jon Gruden continues to be the hilarious highlight of the show.
Despite being the most entertaining coach on the show by far since head coach Bill O'Brien of the Houston Texans, coach Gruden shared the spotlight in episode three with impressionist Frank Caliendo, who impersonated the coach in a team meeting.
But it is Antonio Brown who continues to find headlines in the news with his frostbitten feet and his ongoing helmet grievance with the NFL, whose new helmet rules outlaw the headgear he's worn since his entrance into the league in 2010. The episode mostly shared behind the scenes highlights with the star wideout, whose past week delivered hope for Raider fans and, most notably, coach Gruden. FULL STORY
by Ethan Piechota and Caleb Wiley
by Caleb Wiley
After two straight good seasons, the St. John Bosco baseball team never reached their full potential as they took a step down with a 4-12 record and a last place spot in the Trinity League.
The Bosco baseball team had incredibly high hopes going into this season. They were second in league the year before and felt like they had even better talent this year, especially with the return of senior star David Hays and the addition of freshman pitchers Louis Rodriguez and Julian Orozco.
However, the team never seemed able to piece everything together as a whole. As a result, the losses came in fast.
"We had the talent this year, we truly did. We had talent on both sides but we just didn't come together as a team," said senior Sebastian Orduno. FULL STORY
by Lucas Garrison and Joshua Lucero
Now that Bosco's swimming season has come to an end, it's time to cover how the team was able to conclude the season.
The Braves started the year very strong, going undefeated outside of the Trinity League.
The team was lead by Patrick Burke, Pablo Perez, and Jack Pearce, who all posted personal bests in their respective events this year
They also all qualified for CIF, along with two relay teams. Head Coach Jeff Powers (Olympian, USA Water Polo Hall of Fame) described the season as a very large success.
"Everyone had a personal best by the end of the year, and that's all you can ask for as a coach," said Powers. FULL STORY
by Jacob Jornadal and Jake Bailey
The St. John Bosco lacrosse team took the 2019 season by storm with their best season in recent history.
The team had a comfortable balance of young, ambitious players as well as older, more experienced leaders such as captains Mitchell Myers and the Dolphin twins – Isaiah and Miles. Both Myers and the Dolphin twins will be taking their talents to the Ivy league next year and playing lacrosse at the next level.
"The season went great, we finished 15-2 and had a whole lot of fun as a team," said Myers.
Mitchell has shined as a starter and mass producer for SJB Lacrosse over the past three years. He had high hopes for his team going into this season, and lead the program in a winning direction this year. FULL STORY
by Christian James
Los Angeles has always been centered around the Lakers due to their amazing legacy, especially this season after acquiring superstar, LeBron James.
This put the Lakers back into the spotlight while the Los Angeles Clippers were hidden in the shadows. Many people counted out the Clippers ever since they traded away their franchise player – Blake Griffin – to the Detroit Pistons in exchange for Tobias Harris, Avery Bradley, Boban Marjanovic, and future draft picks.
The Clippers had a solid group, but many would still look down upon them. ESPN predicted that the Clippers would only reach 33 wins this season, being one of the worst teams in the Western Conference. This doubt gave the team a chip on their shoulder, motivating them more than ever. FULL STORY 
by Ethan Piechota and Caleb Wiley
by Lucas Garrison
With the 2019 NFL Draft just hours away, here are my picks and thoughts for the ever-important first round tonight.
(Arizona Cardinals trade with Raiders. The Cardinals will receive the 4th overall pick, the 27th pick, the 140th pick, and a 2020 fourth round pick.)
1. Oakland Raiders: (needs) DE, RB, LB, DB
Selection: QB Kyler Murray, Oklahoma
The Raiders select Kyler Murray. Jon Gruden seems to grow fonder and fonder of Kyler, and lacks trust in Derek Carr. Expect Carr to be traded.
by Ethan Piechota, Caleb Wiley, and AJ Castillo
by Ethan Piechota and Caleb Wiley
by Christian James
The Virginia Cavaliers have made the 2019 NCAA tournament one to remember.
Last year, during March Madness, they experienced a shocking defeat to the 16th seed, UMBC, ultimately eliminating them in the  first round of the tournament. Virginia came back to redeem themselves and compete for a national title, putting last year's nightmare behind them.
This year, with Ty Jerome, De'Andre Hunter, and Kyle Guy, Virginia showcased a well-balanced team full of scorers. During this years March Madness, the Cavaliers went through all adversity that tested them, but they persevered through these trials. Virginia barely escape defeat against Auburn in the Final Four, with Kyle Guy hitting three clutch free throws to seal the win in the final seconds. FULL STORY
by Enrique Gutierrez and Lucas Garrison
The MLB Season has begun and teams are getting ready to compete for a chance at the World Series title.
American League – Enrique Gutierrez
AL East
Tampa Bay Rays: Last year, the Tampa Bay Rays stunned MLB fans around the world. In a very tough and competitive division, the Rays placed third but still managed to win 90 games and stay above .500 by 18 games. In 2019, the Rays enter the year with high expectations. One of the players the Rays are looking for to be consistent is AL Cy Young Award winner Blake Snell. Blake Snell was a breakout star for the Rays and has been an underdog pitcher in the AL being undermine by Justin Verlander, Chris Sale, Gerrit Cole, and Luis Severino. The Ray's front office extended Snell's contract to 5 years/ $50,000,000 guaranteed. The Rays began Opening Week beating the Houston Astros in 3 out of a 4 game series and beat the Colorado Rockies in 2 out of a three game series. Some players to keep an eye out this year in Tampa Bay are the fireball reliever Jose Alvarado, the acrobatic Center-Fielder Kevin Kiermaier, power hitting Catcher Mike Zunino, veteran Starting Pitcher Charlie Morton… FULL STORY
by Caleb Wiley and Ethan Piechota
by Kyle Moats
As the NBA Season winds down, it is safe to say that many teams are disappointed in their overall performances. Is this a trend in professional sports as a whole? Can it be that it no longer becomes about the monetary backing teams have to build a dynasty? How does it affect us here at home?
With just two days left in the regular season, here are some – but not all – examples of where some of the outlying teams (out of California) are at today with the field at-large.
The Charlotte Hornets, Detroit Pistons, and Miami Heat all are jostling for the final playoff spot in the Eastern Conference. These last two days will bring one of these three into the playoffs, and two fishing. FULL STORY
by Caleb Wiley and Ethan Piechota
by Samuel Rodriguez
Our very own Bosco Baseball team has very high hopes set for the future of their season. Despite the future looking brighter as each player works harder and harder, the Braves had a rough beginning to their 2019 season.
As of right now, the team is 1-5 in Trinity League with a lone, crucial victory over Jserra, The team is 7-11 overall.
"With these past few losses, coach has been pushing us a lot harder. He expects a lot more out of us and I know that we can do so much better than we are playing," said senior shortstop and captain Derek Delgado. FULL STORY
by Ethan Piechota and Caleb Wiley
by Caleb Wiley and Ethan Piechota
by Jake Bailey and Jacob Jornadal
The young and hungry St. John Bosco volleyball team is ready to attack the fast approaching 2019 Trinity League season, looking to build on their previous productive season under new head volleyball coach Shane Beatty.
"We're looking to bounce back from a down year, placing fifth in league. We want to improve that position significantly, and we have a good group of guys that are getting after it every day," said the newly appointed Beatty.
The Braves finished in the bottom half of the Trinity League last year but showed spurts of phenomenal play, which Coach Beatty intends to capitalize on, and make the precedent for this year. FULL STORY
by Christian James
The Golden State Warriors seem to be on their way to an easy three-peat, but will their chances of making history be thrown away by a single player?
Some people wonder if Draymond Green is more of a blessing or a cancer to the Warriors.
The Golden State Warriors are the popular pick for winning the 2019 NBA Championship, considering they signed another All-Star, Demarcus Cousins, to their already loaded team.
Before Cousins, the team already consisted of four All-Stars, Klay Thompson, Draymond Green – and two former MVPs – Stephen Curry and Kevin Durant. Currently, the Warriors are the number one team in the Western Conference with a record of 45-21. FULL STORY
by Caleb Wiley and Ethan Piechota
by Kyle Moats
After disappointing finishes from both teams, the Los Angeles Dodgers and Angels started off 2019 MLB Spring Training with high hopes of a fresh start for the new season with a new team.
The Dodgers went into this spring training looking to bounce back from yet another World Series loss with some good trades and pickups during the offseason. Although many players from last years' 40-man roster are returning, key additions were needed to make a 2019 World Series appearance a possibility.
With the signing of Joe Kelly, Boston Red Sox former ace reliever, and Jaime Schultz, who they acquired from the Tampa Bay Rays, they are hoping for more depth from the pitching staff. FULL STORY
by Jalen Manson
The St. John Bosco Wrestling team had many young studs, winning many individual championships. However, the team took 5th place in there California state wrestling meet this past weekend in Bakersfield at Rabobank Arena.
State champions Sonny Santiago and Nathan Haas went on to win their state finals match in a very close battle. With Santiago going into overtime to win and Haas closing the deal with seconds left on the clock to bring home the championship, the players went all out right down to the wire.
The Bosco Wrestling team got 2nd at the 2019 C.I.F Duals. Through league, C.I.F, Masters and State the wrestling team finished 2nd place at all qualifying tournaments as a team. Also, with eight state qualifiers and four state placers which breaks the record from the previous year with four state placers at the state tournaments out of the eight who competed this weekend. FULL STORY
by Nikolas Molina
Three weeks into spring training, Bryce Harper has reportedly agreed to a 13 year, $330 million contact with the Philadelphia Phillies.
According to The New York Times, the deal was confirmed by a person with direct knowledge of it, who was granted anonymity because the Phillies had not yet announced it.
The length of this contract and Harper's age (26) ultimately leaves him to spend the rest of his career with the Phillies.
This is the largest contract to ever be signed in the MLB and in North American sports, beating Manny Machado's recent 10-year, $300 million and Giancarlo Stanton's 13-year, $325 million extension. FULL STORY
by Ethan Piechota and Caleb Wiley
by Kyle Moats
St. John Bosco continues its strong presence in college athletics with 16 football players continuing their educational and athletic careers at higher levels.
Winter Signing Day was very exciting day for Bosco Football, its players, families, and the Bosco community as a whole. Here are the athletes that signed back on February 6th, as well as the early enrollees already at their chosen schools.
Within this first-class group of athletes, every journey has its own story.  Every student-athletes tale is unique culminating in this day. Childhood dreams, maybe early sparks of talent or even lately realized and honed skills. Tragedy, loss, setbacks, rare opportunities and hope all act as factors. FULL STORY
by Ethan Piechota and Caleb Wiley
by Caleb Wiley
After a disappointing 0-3 outing in the Open Division Playoffs, the St. John Bosco basketball team has a chance to immediately turn it around with an opportunity to win a Division One State Championship this month.
In a season where the sky was the limit, the Bosco Braves have been through seemingly endless adversity. They lost both top big men – Jonathan Salazar and Christian Estrada – to injury. Many close losses against top teams have coincided with this team as well.
The name of the game for the Braves is going to be how well they can get back up when they are down. Going through many struggles have made this team persevere and grow closer together. They will have to do this once again after going winless in their Open Division pool. FULL STORY
by Enrique Gutierrez
Shortstop Manny Machado set a record deal last week when signing with the San Diego Padres on a 10-year, $300 million contract, the biggest in the history of North American sports.
On February 19th, 2019, Manny Machado signed the biggest contract in American sports history. Entering free agency, Machado expected a long-term contract worth around $300 million.
MLB fans around the world woke up to the news of Manny Machado signing to the San Diego Padres last Tuesday. FULL STORY
by Caleb Wiley and Ethan Piechota
by Ethan Piechota and Caleb Wiley
by Caleb Wiley
The St. John Bosco basketball team now has made the CIF Southern Section Open Division for two years in a row, and they are even more prepared and ready to make a long run and hopefully bring home the trophy.
Along with making Open Division, the team also are Trinity League champions for the first time in school history. Bosco is proud of what the team has done, and bringing a league title back is no small accomplishment.
"I couldn't be more proud of that, this is the year where everybody said that the Trinity League was as deep as its ever been," said varsity head coach Matt Dunn. FULL STORY
by Caleb Wiley
After picking up LeBron James in the off-season, the Lakers look to be back and better after record lows in 4 consecutive years. However, things have not gone exactly as planned.
When LeBron James – who is widely regarded as the best player on the planet – chose to come to LA to play with the Lakers over teams who have better talent such as the 76ers, it became the story of the year. For someone who is as great as LeBron to go to the Lakers who through the years have had many legends walk on the court with the purple and gold, it seemed like it was fate.
This decision received many different types of reactions from all fan bases. Many people believed that he made the wrong choice and he'll never make it to the NBA Finals again. FULL STORY
by Lucas Garrison
The Super Bowl is over, which means yet another NFL season has come to a close. However, the game was nothing short of a big disappointment screaming for something exciting to happen.
Everything from the game itself to the commercials was just straight up underwhelming. To start off with the commercials, they don't grab your attention like they used to due to the simple fact that they are not entertaining anymore. Not to mention they killed off everyone'vorite knight, the Bud Knight.
The Super Bowl halftime show was a straight up dumpster fire. Maroon 5 – who hasn't been relevant in years – was chosen this year off of a very short list of talent to perform. FULL STORY
by Christian James
The NBA trade deadline comes to a close on Thursday, February 7, at 3:00 p.m. E.T. and many teams are going to try to put together their final rosters to make a push for a late playoff run. 
There has been a lot of rumors and speculation about where players would end up. This all has been a result of star players like Kristaps Porzingis requesting to be traded which happens to be the first blockbuster move of the trade deadline season.
The New York Knicks agreed to trade Porzingis, Courtney Lee, Tim Hardaway Jr., and Trey Burke to the Dallas Mavericks… FULL STORY
by Nnamdi Chugbo
Over the month of January, Houston Rockets guard and reigning NBA MVP James Harden has been on an insane run of elite scoring.
Harden is averaging a whopping 43.6 points per game and has led the Rockets to an 8-6 record, even though their roster was torn apart by multiple injuries. Scoring numbers similar to this haven't been seen since March of 1963, when legendary big man Wilt Chamberlain averaged 45.8 points per game.
The Rockets guard did not go a single game in January without scoring over 30 points. Harden is currently on a 24-game streak of 30+ scoring numbers, which began back in early December. Again, the only player who has ever touched records above these is Wilt Chamberlain… FULL STORY
by Lucas Garrison
Why, why, why? Well, it's the time of the year that people across the world have been dreading.
The NFL season is coming to a close, but don't worry because we have two of the best teams squaring off in the Super Bowl. It's Sean McVay and Jared Goff against Bill Belichick and Tom Brady. The ultimate battle of the young generation versus the old generation.
Not only is this a rematch of the teams when Brady and Belichick won their first Super Bowl, starting arguably the greatest dynasty in sports, but the big question surrounding this Super Bowl is Tom Brady… FULL STORY
by Ethan Piechota and Caleb Wiley
by Ethan Piechota
After facing clear mid-season adversity as a result of injuries and close losses, Bosco basketball has rebounded and re-established themselves as clear contenders in Southern California.
When star big man Jonathan Salazar went down with an unfortunate season-ending injury, everyone began to count Bosco basketball out.
"St. John Bosco is just not the same team without injured Jonathan Salazar," said LA Times writer Eric Sondheimer on Twitter. FULL STORY
by Caleb Wiley and Ethan Piechota
by Enrique Gutierrez
The St. John Bosco soccer team continues to have a productive season with many more achievements compared to previous years, even though they are not looking so hot mid-season.
Through the heat and rain, the Bosco soccer team grinds day-in and day-out working hard to prepare themselves for tough competition. Coming into their 2019 season, the Braves knew their competition was nothing to sleep on as many of their match ups are unpredictable.
Currently, the Braves are in progress of competing in their Trinity League games against rival teams. The team's record during the preseason was 9-6-1. FULL STORY
by Ethan Piechota and Caleb Wiley
Soundcloud – 1/10/19
by Lucas Garrison
The time has come. The NFL Playoffs have begun, and they have been nothing short of thrilling so far.

The AFC is still up in the air with who will be representing them in the Super Bowl. However, with the Chicago Bears being eliminated, it seems that the New Orleans Saints are the leading favorites to represent the NFC on the biggest stage in sports. FULL STORY
by Ethan Piechota and Caleb Wiley
Soundcloud – 12/13/18
by Ethan Piechota
After a strong 5-0 start, the St. John Bosco Braves basketball team headed up to Sacramento to play in the Fr. Barry Tournament at Jesuit High School, where they would take on top-ranked teams across the state.

 
The Braves beat St. Mary's by 26 points to start off their tournament run, a great all-around team win with seniors Chris James and Jonathan Salazar both scoring 14 apiece to lead the way. Everyone contributed as the Braves coasted to a victory.
Bosco then took on Mitty in the semifinals, a close, down-to-the-wire game. They ultimately came out on top, winning 61-54 with James leading the way with 20 points. FULL STORY
by Caleb Wiley
After coming off a very successful season one game away from the Division One State Championship game in California, the top-ranked St. John Bosco basketball team comes in with the highest expectations this program has had in years.
This team is the deepest team Bosco has had in a while. They have players like forward Jordan Brown and guard Gabe Campos, who can get on the court and do other things than scoring, like defending and hustling. They understand winning.
"We have have a lot of guys who do the little things very well. They can come into the game and be impactful right away," said senior starting point guard Chris James. FULL STORY
by Caleb Wiley and Ethan Piechota
Soundcloud – 12/5/18
by Lucas Garrison
The NFL's 13th week kicked off with a bang last Thursday with a matchup between the New Orleans Saints and the Dallas Cowboys, two divisional leaders in the NFC.
This game had huge playoff implications, as New Orleans looked to stay atop the NFC, and the Cowboys looked to stay atop the NFC East. The Cowboys shut down the Saints great offense and held Drew Brees to just ten points, asserting their dominance as contenders in the NFC.
NFC
The entire NFC is looking like a total crap shoot with which six teams will make the final cut. FULL STORY
by Ethan Piechota and Caleb Wiley
Soundcloud – 11/29/18
by Caleb Wiley and Ethan Piechota
Soundcloud – 11/20/18
by Ethan Piechota
The St. John Bosco Braves took care of business once again in Simi Valley last night, defeating Oaks Christian 56-10 to advance to the CIF Southern Section Finals.
The start of this game didn't go extremely smoothly for the top-ranked Braves, as Oaks Christian came out strong and tied the game at seven early on.
Braves quarterback DJ Uiagalelei threw just his fourth interception on the season and Oaks running back Zach Charbonnet ran for a 61-yard touchdown.
However, the Braves took control and dominated the game from that point on. FULL STORY
by Ethan Piechota and Caleb Wiley
Soundcloud – 11/14/18
by Ethan Piechota
The number one ranked St. John Bosco Braves remained undefeated and continued their state and national championship journey with a 56-6 victory over San Clemente High School last night.

The San Clemente Tritons came into Friday's CIF Division 1 Quarterfinal matchup against the Braves winners of six straight and South Coast League champions. However, they were no match for the best high school football team in the nation.
The Braves put on an absolute show on the defensive side of the ball, with recent All-American commits and cornerbacks Trent McDuffie and Chris Steele leading the way. FULL STORY
by Ethan Piechota
Following a 49-0 beatdown of Serra in round one of the 2018 CIF Division 1 Southern Section playoffs, the St. John Bosco Braves will travel to take on San Clemente High School this Friday.
The St. John Bosco Braves are the clear number one team for high school football in America. This season, they've faced very little competition in many matchups, but the road gets harder from this point on.
Quarterback DJ Uiagalelei has been unbelievable all season for the Braves, currently posting a ridiculous 38 touchdowns to just two interceptions on the year over 2610 yards.
St. John Bosco running back George Holani has been a workhorse all year as well, posting a 9.3 average in yards per carry and scoring a total of 21 times. Receivers Kris Hutson, Jake Bailey, Colby Bowman, and Jude Wolfe have been huge all year as well, collectively combining for 31 of Uiagalelei's 38 total passing touchdowns. FULL STORY
by Caleb Wiley
Coming into their 2018 season with just two returning seniors, the St. John Bosco Cross-Country team overachieved all year, finishing second place in the loaded Trinity League and now running for the CIF playoffs.
Any team lacking experience will go through challenges, no matter how talented or how
hard they work. That's exactly what the Bosco Cross-Country team suffered through this
season. Early on in the year, the team showed their inexperience on the track, starting out not very strong.
"We started the season very slowly with us being a very young team. Struggles were definitely there," said Head Coach Tim McIntosh. FULL STORY
by Ethan Piechota and Caleb Wiley
Soundcloud – 11/8/18
by Ethan Piechota
This Wednesday at St. John Bosco High School, seniors Chris Steele and Trent McDuffie were both honored with 2019 High School Football All-American Game invitations.
Steele and McDuffie have been anchors all year for a top-ranked Bosco defense, both playing cornerback for the Braves the majority of the year.
The two have made a dominant duo at the position, affecting the passing game of opposing teams week-in and week-out. FULL STORY
by Lucas Garrison
It's been a crazy eight weeks in the 2018 NFL season, with a new rise of dominant teams as well as several disappointments. Here's my favorites and sleepers for the rest of the year in each division.
AFC NORTH
Favorite: Pittsburgh Steelers
As predicted by many, the Steelers were able to bounce back from their slow start. The absence of star running back Le'Veon Bell has not affected them in any shape or form on the field. Second year back James Conner has been a pleasant surprise for the franchise. Throughout the first 8 weeks of the season, Conner has 743 rushing yards and 9 touchdowns. FULL STORY
by Ethan Piechota
The St. John Bosco Braves opened up their promising postseason Friday with a dominant win over the Serra Cavaliers, winning 49-0 in easy fashion at Panish Family Stadium.
The national and state championship quest is on for the number one nationally ranked Braves, who asserted their dominance with a controlling victory in their first round affair against Serra.
The same formula for success was used in this one for the Braves: start quick and let the defense control the tempo and pace of the game. FULL STORY
by Caleb Wiley
The nation's top-ranked high school football team, St. John Bosco, takes on Serra High School in the first round of what the Braves hope to be a deep run to the CIF State Title and National Title.
The Braves currently sit comfortably at the number one spot of almost every single poll in America behind a 10-0 record. No doubt the Braves have high expectations from their fans and from themselves as well.
The team dominated almost every game in the regular season with ease. Even with top ranked teams Mater Dei and Orange Lutheran in the way, Bosco easily navigated and beat both talented teams by more than 20 points. FULL STORY
by Ethan Piechota and Caleb Wiley
Soundcloud – 11/1/18
by Ethan Piechota
The 10-0 St. John Bosco Braves are the clear number one team in the nation for high school football and are in prime position to win a state and national championship this year.
The Braves dominated nearly every regular season opponent they faced this year, with their closest win being their opening Trinity League matchup against a good JSerra team. Mater Dei, the often regarded number two team in the nation behind Bosco, was easy work for the Braves as well, as they blew out the Monarchs 41-18 on the road.
Quarterback DJ Uiagalelei, number one in his 2020 class out of all quarterbacks, was unreal all regular season, posting a 73 percent completion percentage and throwing 34 touchdowns to just two interceptions. FULL STORY
by Ethan Piechota
The St. John Bosco Braves defeated the Servite Friars 56-0 on homecoming night at Panish Family Stadium, finishing their regular season at 10-0 and as Trinity League champions.
It's safe to say that a national championship and a state championship are very real possibilities for the number one team in America, the St. John Bosco Braves.
The Braves put a stamp on their undefeated regular season with a 56-0 beatdown of Servite, lead by quarterback DJ Uiagalelei's 287 yards and four touchdowns. FULL STORY
by Ethan Piechota and Caleb Wiley
Soundcloud – 10/23/18
by Enrique Gutierrez and Kyle Moates
The Boston Red Sox eliminated the defending 2017 World Series champion Houston Astros and the Los Angeles Dodgers won a tough 7-game series against the Milwaukee Brewers to clinch a World Series birth for two consecutive years.
Boston Red Sox
The Boston Red Sox have been favored to win the 2018 World Series all season long. After the regular season ended, the Red Sox finished with a 108-54 record, one of the best marks in MLB history. They came into the playoffs knowing where they stand as a team and their goal was to win a World Series this year. FULL STORY
by Ethan Piechota
The St. John Bosco Braves improved to 9-0 on the year and continued their quest for a national championship with a 49-14 rout of Santa Margarita on Friday.
Coming off an emotional victory last week against Mater Dei, St. John Bosco showed no signs of a hangover and kept their foot on the gas, defeating Santa Margarita easily.
Quarterback DJ Uiagalelei continued his unreal season, going 10 for 13 from the field and throwing for 255 yards and two touchdowns, only playing roughly a half of the game as well. FULL STORY
by Nikolas Molina and Elliston Ospina
Nike's 30th anniversary of the 'Just Do it' campaign sparked a lot of controversy concerning their newest poster boy, Colin Kaepernick, who himself is a flashpoint of political division in an America more polarized than ever.

"Believe in something. Even if it means sacrificing everything,"
This quote was used for their new advertisement with a picture of Colin Kaepernick's face in the background. People are complaining that he has not sacrificed anything compared to other football players–players like Pat Tillman, who left the NFL to sacrifice his life in the U.S. armed forces. FULL STORY
by Ethan Piechota
The St. John Bosco Braves defeated the Mater Dei Monarchs 41-18 last night at the Santa Ana Bowl, making it clear to everyone who the top team in the nation is for high school football.
If there was any dispute over who's the clear number one team in America, it's now settled.
It was a total beatdown from start to finish from the Braves, clearly outplaying the Monarchs in all three phases of the game.
Mater Dei's weak pass defense was no match for Bosco five-star quarterback DJ Uiagalelei, who went 15/21 for 278 yards and FIVE touchdowns. Uiagalelei made it clear who was the best quarterback on the field last night, and maybe even in high school football. FULL STORY
by Ethan Piechota
The St. John Bosco Braves will take on the Mater Dei Monarchs tonight at Santa Ana Stadium after last night's scheduled game was canceled due to lightning and thunder in the area.
How long has it been since California even got that much thunder and lightning? How long has it been since that much rain poured down?
It feels almost wrong that a game so highly-anticipated has to be pushed back and waited for another day. But the game will happen. FULL STORY
by Enrique Gutierrez
The Milwaukee Brewers dominated the Colorado Rockies in a quick three-game sweep, clinching a spot in the NLCS to go against the Los Angeles Dodgers, who come off a four-game series victory against Atlanta Braves.
Milwaukee Brewers
Milwaukee continues their hot stretch as they bring the regular season momentum into the postseason with an 11-game win streak. After Milwaukee won the NL Central tiebreaker, they faced the Colorado Rockies in the Division Series. The Brewers swept the Rockies as they held Colorado to two runs in three games. Rocktober did not last for long as their offense stayed quiet. FULL STORY
by Ethan Piechota
The undefeated and top-ranked St. John Bosco Braves will take on their storied rival, the Mater Dei Monarchs today in the high school football game of the year at the Santa Ana Bowl.
If there was ever a time for the Bosco community to be more connected and unified together with one goal and one purpose, it's now. FULL STORY
by Nikolas Molina
With Khabib Nurmagomedov being a dominant top position grappler and Conor McGregor being an insane kick boxer, this match was destined to be one for the books.
It took roughly less than 30 seconds for Nurmagomedov to set up an attack for the first time, a single leg that was awkward. McGregor defended it well and did nothing for a while. Once Nurmagomedov was on top, he started to work towards his favorite leg triangle, and McGregor tried to counter by wall-walking. FULL STORY
by Ethan Piechota and Caleb Wiley
Soundcloud – 10/11/18
by Lucas Garrison
So far, the 2018 NFL season has been a rollercoaster ride, as teams that very few people thought would be contenders are proving everyone wrong.
The Chicago Bears, Cleveland Browns and Cincinnati Bengals have all proved that they are contenders in the league this year. On the flip side, your typical top contenders such as the Pittsburgh Steelers, New England Patriots, Atlanta Falcons and Philadelphia Eagles have all had shaky starts and are struggling.
Below are bold predictions for the rest of the season and some thoughts on what the NFL might look like by February. FULL STORY
by Ethan Piechota
On October 5th, the St. John Bosco Braves remained undefeated and beat Orange Lutheran 63-28 at Panish Family Stadium behind three special teams touchdowns. 
The Orange Lutheran Lancers came into this highly-anticipated Trinity League matchup against the Braves ranked 10th in the nation, and they played Bosco tough for the first two and a half quarters.
Braves junior sensation DJ Uiagalelei showed out again, completing 22 of 27 passes for 264 yards and three touchdowns. Uiagalelei again played clean football, with no turnovers to his name. FULL STORY
by Caleb Wiley
Number one ranked St. John Bosco came into their season with national championship expectations, and have so far been undefeated heading into their toughest stretch of the year in the Trinity League.
Coming in with high hopes for a national championship run this year, the Braves did not take long to get things rolling. In their home opener and first game played in their new stadium, the Braves routed Timpview High School from Utah 49-0.
"It went great, the guys were super excited to open the new stadium up and we had a lot of energy. It definitely showed out there," said Offensive Coordinator Steven Lo. FULL STORY
by Ethan Piechota and Caleb Wiley
Soundcloud – 10/3/18
by Kyle Moates
The start of October means the start of postseason MLB baseball, and we're in for a wild ride this month.
Already, the top team in the National League and World Series favorite Chicago Cubs were knocked off last night in a wild card game against the Colorado Rockies.
The Cubs lost 2-1 against the Rockies in 13 innings in a game that was a pitching clinic from both teams. This Cubs team had a lead in their division heading in to September, but ended up blowing that lead and letting the Milwaukee Brewers claim the NL Central title on the last day of the regular season. FULL STORY
by Ethan Piechota
The number one ranked St. John Bosco Braves defeated the JSerra Lions on Friday in their Trinity League opener behind four touchdowns from George Holani.
Welcome to the Trinity League. A quest for a national championship is never easy through one of the best leagues in high school football across the country.
It wasn't a pretty win from the Braves last night, but the most important thing to realize at this time of the year is that they got the win and battled through some intense adversity from a talented JSerra squad. FULL STORY
by Nikolas Molina and Elliston Ospina
On Friday, September 21st, top-ranked IMG came over from across the country in Florida to take on the #3 Mater Dei Monarchs in the game of the year so far.
This was easily one of the most publicized matches in the nation this year for football. Every seat was sold and many coaches and scouts were in attendance from all places, coming to see all the talents showcasing their skill. Many viewers tuned into the game to see the combined 50 players with full-ride scholarships take the field. FULL STORY
by Ethan Piechota and Caleb Wiley
Soundcloud – 9/29/18
by Jalen Manson and Jake Newman
The 2018 St. John Bosco High School Cross-Country team led by Head Coach Tim McIntosh has already participated in two meets to being their season, performing well in both.
In the first meet on September 1st, the team ran in the Jeff Nelson: High School Invitational at Griffith Park. The team ran hard and earned a hard-fought 4th place finish overall.
"It was a very tough course there at Griffith Park," said senior team captain Zeke Delgado. FULL STORY
by Caleb Wiley
The 2018 Women's US Open Final ended in a controversial loss for superstar Serena Williams, another situation amplified by gender equality that took the sports world by storm.
We live in a world where in recent history, humans have been oppressed and discriminated against because of the color of their skin or their gender. It was difficult for people who were treated poorly and discriminated against to be successful in society, not to mention the harsh backlash they received for trying to break racial barriers in sports. FULL STORY
by Ethan Piechota and Caleb Wiley
Soundcloud – 9/21/18
by Ethan Piechota
The number one high school football team in America dominated again last night in West Hills against Chaminade, winning 56-20 and capping off an undefeated preseason before league play begins.
Bosco started hot again behind star junior quarterback DJ Uiagalelei, who led the team to a huge lead at halftime. Uiagalelei is still near-perfect on the season, going a ridiculous 52/69 in passing attempts with 16 touchdowns through the preseason.
The Braves offense got a great contribution from senior running back George Holani last night, who punched in three touchdowns on the ground for the team, all in the first half. Junior Keith Savage also had a rushing touchdown. FULL STORY
by Ethan Piechota and Caleb Wiley
Soundcloud – 9/12/18
by Ethan Piechota
Another week, another dominating performance for the number one team in the nation the St. John Bosco Braves.
At this rate, Bosco should only have their games played for one half, because every game is over by then. The Braves defeated the Division 4 Paramount Pirates by a score of 56-12 last night at Panish Family Stadium, pushing their record to 4-0 on the season.
The Braves led this one 49-0 at halftime, as backup quarterback Isaiah Saldana had already come in to relieve DJ Uiagalelei midway through the second quarter. Uiagalelei finished the game going 6-8 with 74 yards, 4 of his completions going for touchdowns. FULL STORY
by Lucas Garrison
With the 2018 NFL Season finally upon us, we break down the sleepers and the favorites in each division as we get ready for an action-packed year.
AFC North
Favorite: Pittsburgh Steelers
As always, the Pittsburgh Steelers will be a premier team in the NFL and are favored to win their division. However, with the absence of Le'Veon Bell, it does raise some questions about the team. Bell has already been ruled out for Week 1's game against the Cleveland Browns. The Steelers draft class this year was exceptional for the fact that they covered their needs on the offensive and defensive side of the ball. First round pick Terrell Edmunds will have time to develop behind top-ten safety Morgan Burnett. The Steelers addressed long-term potential issues at wide receiver and quarterback as well in the draft. They brought in receiver James Washington and quarterback Mason Rudolph from Oklahoma State. It should be very interesting to see how the Steelers perform this year in the wide-open AFC.
Sleeper: Baltimore Ravens
In past years, we've see the AFC North come down to the wire in a fight between the Steelers and Ravens. This year, it's expected that the Ravens offensive unit will finally be able to complement their stellar defense. With the additions of receivers Michael Crabtree, John Brown, and Willie Snead, longtime quarterback Joe Flacco… FULL STORY
by Ethan Piechota
The St. John Bosco Braves dominated their opposition for the third straight week, defeating Mililani High School from Hawaii 52-14 and showing why they are the clear number one team in America.
The number one ranked quarterback in high school football goes to St. John Bosco High School. Braves junior standout DJ Uiagalelei was unstoppable last night, completing 26-32 passes for 373 yards and SIX touchdowns. Uiagalelei threw as many incompletions as he did touchdowns, which is just absurd to think about.
Stanford-bound senior wide receiver Colby Bowman finally had the breakout game he needed to get his season going, catching seven passes for 130 yards and three of Uiagalelei's six touchdowns. Bowman, a recent Brave of the Issue on our site, put on a memorable display last night for all Braves fans to see. FULL STORY
by Caleb Wiley
Colby Bowman transferred to St. John Bosco High School after his freshman year and immediately fit into the winning culture at Bosco on and off the field.
Bowman heard about the Brave football powerhouse not only from all the friends he had going to the school, but also through playing against (and getting beat by) Bosco during his freshman year at JSerra.
"After playing against Bosco my freshman year, I knew right away what school I was going to next year. The way they played like a team and with passion really caught my attention," said Bowman. FULL STORY
by Ethan Piechota and Caleb Wiley
Soundcloud – 8/31/18
by Ethan Piechota
The St. John Bosco Braves football team takes on Mililani High School from Hawaii tonight at Panish Family Stadium as the #1 ranked team in the nation looks to move to 3-0 on the year.
Dominance. Complete and total dominance has been on display from Bosco's top-ranked, lockdown defense throughout the first two weeks of the season.
The offense, led by quarterback DJ Uiagalelei, has put up numbers as expected, scoring 49 and 56 points in their first two games respectively with high-powered games from skill position players George Holani, Keith Savage, Kris Hutson, Jude Wolfe and Jake Bailey in each.
However, Bosco's national championship chances rest in the hands of the team's defense. The unit has forced 9 turnovers throughout their first two games, taking pride in wearing and flaunting their "turnover chain" on the sidelines. FULL STORY
by Jalen Manson and Michael Beltran
Two seasons ago, the St. John Bosco High School cross-country program was at an all-time low, finishing last in the Trinity League.
For 25 years prior to this dreadful season, the team was virtually unstoppable, winning 25 straight league championships and earning a reputation for their "streak" of league titles. However, last season the team made a statement and regained dominance in the Trinity League by taking first place and restarting the notion of "the streak" around Bosco.
This year, with a great coaching staff and competitive returning seniors such as team captain Zeke Delgado and junior Kevin Aguilar, the team will look to continue to move forward and dominate.
"The team has worked very hard this summer and they are ready to compete for the league championship and be a force in CIF and state," said Head Coach Tim McIntosh. FULL STORY
by Nick Hernandez
This season, the St. John Bosco High School Water Polo team has great expectations for a very competitive year in the Trinity League.
"We have hopes to make CIF and win it all, or at least go very far," said Head Coach Jeff Powers.
Last season, the young and inexperienced Bosco water polo team held a record of 8-19. Aside from being extremely young, the team was plagued with constant injuries throughout the season.
"Last season could've gone better but injuries really hindered our chances of making a good playoff run," said senior team captain Patrick Burke.
Through a year full of injuries and a roster full of young and inexperienced athletes, the team's subpar and lackluster record last season didn't come as a shock to many people. They were in many close matches last year that ultimately just did not go their way. FULL STORY
by Ethan Piechota
The St. John Bosco High School football team rolled over Garces Memorial High School last night in Bakersfield, CA by a final score of 56-0.
Two weeks. Zero points allowed by the number one team in the nation for high school football. The national championship run is a very real notion for the Braves this year, and they are off to a terrific start.
Similar to last week's high-energy affair against Timpview, the Braves started quick and didn't look back the rest of the way. FULL STORY
by Ethan Piechota
The St. John Bosco Braves started their national championship run yesterday with a 49-0 triumph over Timpview High School from Utah.
This game was over midway through the 2nd quarter, as Bosco led 28-0 following another touchdown strike. The festivities started early and went through the night, as the Braves entire student body, faculty, coaches, and players welcomed the new, beautiful Panish Family Stadium.
The athletic stadium is a state-of-the-art piece of work, beautifully designed for all athletic teams within Bosco to use for their seasons. FULL STORY
by Caleb Wiley
The 2018 St. John Bosco football team has extremely high expectations, with QB Dj Uiagalelei being in his third year and highly experienced now, along with a long list of returning players from the previous season.
MaxPreps has the team at the number one spot nationally for high school football, a big time thing. The coaching staff and players will have to keep their focus and not let the hype get to them if they want to achieve greatness this season.
Coming off last season's defeat in the CIF Southern Section Championship game to rival school Mater Dei, the team has held the feeling of losing and is motivated to come back stronger than ever. Uiagalelei states, "It's definitely motivation for us to come back out this and finish it this time." FULL STORY
by Tommy Fiero

Fantasy Football Sleeper Picks
Football season is approaching, meaning it's time to set up leagues and draft your teams. Primarily focused on getting the best player possible in the draft, many forget the importance of late-round picks and how waiver wire pick-ups like last year's Alvin Kamara or Kareem Hunt can change the entire outcome of the league. Looking forward to this years draft, it is important to research potential sleepers.
Quarterback: Derek Carr
Having been out of football for a little over a decade, new Oakland Raiders Head Coach Jon Gruden is ready to elevate Derek Carr's game. Many forget Gruden still worked the booth and had access to teams' practices days leading up to each game while working for Monday Night Football. FULL STORY
by Caleb Wiley
The past season for the St. John Bosco basketball team was its best in a while. This team had many accolades and achievements that not many thought were possible coming into the year. Even though they had their ups and downs, the season was not a let down as they overcame many obstacles.

 
When this team was at its peak, it was really fun to watch. The team had a great record of 25-8 and had the most wins against open division teams in California. The league record of 6-4 was not the greatest, but getting 3rd in the very tough Trinity League is not something to be ignored.
The feather in the teams' cap was of course beating our rival school Mater Dei for the first time ever in the sport with a 60-51 win. This really had a big impact on the students as well as the Bosco community in general. People now began to obtain an idea of just how good this team could be. FULL STORY
by Ethan Piechota
Two seasons ago, the dominant run of 25 straight league championships by the St. John Bosco Braves Cross Country team was snapped with a disappointing 6th place league finish.
Last season, the Braves showed resilience, yet came up short; finishing 2nd place in the Trinity League. The cross-country program at Bosco can be viewed as one of the greatest programs of any sport in Trinity League history. Finally, this season, dominance has been restored in the league, as the Braves took first place back, marking the beginnings of a new streak for several years to come.
This team brought a lot of talent win a league championship this year. Colby Corcoran, Albert Serrano, Diego de la Torre, Diego Gonzalez, and Raymond Solorza were part of a strong group of senior runners that lead the way all season for the team. Zeke Delgado, a junior, and Gabriel Cordova and Alexander Frias, both sophomores, were a big part of the team's overall success this season as well. FULL STORY
by Caleb Wiley
The 2017 water polo season was a tough season to say the least. Finishing up with an overall record of 11-13 and going winless in league, along with a no-show in CIF, the season was somewhat disappointing. The team faced a lot of obstacles but nonetheless fought through and played with their best effort in every game.

 
The 11-13 record along with no wins in league was not completely shocking: "Sure, the outcome is not what we hoped for, but there were many factors to having that record," said Varsity head coach Jeff Powers. The team had injuries and a lack of experience that ultimately factored in the outcome of the team's record.
"With only two returning seniors on the team, we really missed the leadership and experience out there late in the season," said Coach Powers. Leadership is really a necessity in team sports such as water polo. Senior captain Gabe Chaine really helped the underclassmen learn and grow in the sport. Unfortunately, Gabe suffered an injury in the middle of the season. FULL STORY